Potholes and other road defects are an increasing problem on Britain's roads, causing damage to vehicles and presenting a potential safety hazard whether you are on four wheels or two.
The RAC tracks how many of its members break down as a result of them with the quarterly RAC Pothole Index. We've even created a guide to potholes and other different road defects you might encounter.
They are a persistent concern for motorists, bikers and cyclists and although it is up to highways authorities to fix them, you can do your bit by reporting those you see - which is free and easy to do on this website.
With that in mind we have compiled a guide to potholes, from reporting them to claiming damage, to help make drivers' lives easier.
Report a pothole
We've partnered with FixMyStreet to make it quick and easy for you to report a pothole you see, or indeed any street problem such as street or traffic lights not working, obstructions and broken pavements.
Enter the location of the problem below and hit 'Go'. You don't need to know the exact address:

You'll be passed to FixMyStreet from where you can send a report and track its status.
If the pothole you want to report is on a motorway or major A-road in England, you can also contact National Highways on 0300 123 5000 or visit https://report.highwaysengland.co.uk.
For road defects in Scotland, you can also report problems on the MyGov website, and for those in Northern Ireland use NIDirect.
Making a pothole claim
If your car is damaged by a pothole, you may be able to claim compensation. The chances of being successful in claiming compensation will significantly depend on whether the pothole has already been reported.
Councils have a statutory defence in that they cannot be held liable for a defect they are not aware of – either because it has not been reported to them or it has not been picked up their own system of inspection and maintenance.
To make a claim you must address it to the right authority. Sending it to the wrong place could mean your claim is delayed or doesn't get looked at. If the pothole:
In your claim, tell them about the issue and, if they believe you have a valid claim, they will normally send you a damage report form. You will then have to fill the form in and send it to the address on the form. As well as any evidence you've collected as listed above, you'll need to provide:
Copies of estimates or invoices for repairs to your vehicle
A current MOT certificate
Photos of the damage if you have them
REMEMBER: Trespassing on a motorway is a criminal offence. Don't visit or try to photograph the location where your vehicle was damaged.
If you have fully comprehensive insurance, it might also be possible to make a claim via your insurer for the damage to your vehicle.
Pothole damage
If your vehicle is damaged due to a pothole:
Take notes – When you are parked somewhere safely, write down all the key details including the location of the pothole, its rough size, shape and depth. If it is safe to do so, make a simple sketch of the area showing the position of the pothole including any surrounding features. It is also worth taking a photograph of the offending pothole
Have witnesses – Wherever possible, get the details of any witnesses who saw the incident. This might help your claim
Get garage quotes – Make sure you get quotes for all repairs. Keep all quotes, bills and garage receipts safely in one place and make copies of them to support your claim
Weigh up the pros and cons – It may not always be worthwhile making a claim for compensation if the amount is below a certain level. Before attempting to make a claim, do your research first as it could be a costly, time-consuming process
Make your claim – A step-by-step guide is below
Prepare for rejection – The highways authority may defend the claim under section 58 of the Highways Act and their right to statutory defence. If they can prove they have a regular inspection and repair system in place, they may be able to reject your claim
Do your research – before going back to the authority to discuss the claim further, review the guidance provided on their website, check what the council is liable for and verify if they are carrying out a reasonable system of inspection and repair
Be willing to negotiate – If the highways authority makes you an offer, you should seriously consider it. You may be able to negotiate but while you can claim the cost of repairs, you won't necessarily be compensated for additional travel expenses or the inconvenience caused.
Consider the small claims court – If your claim is rejected, you may be able to go to the small claims court. If you choose to, seek legal advice as you could end up incurring legal costs
Keep calm – Always try to remain calm and professional when dealing with the highways authority. And keep copies of all the letters and emails you send and receive – if you do go to court, you will have to provide a record of all your correspondence
RAC Comprehensive Car Insurance Plus has been given a 5 Star Rating by Defaqto. Get a quote online today.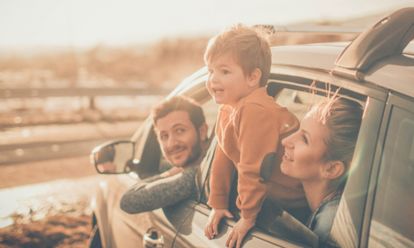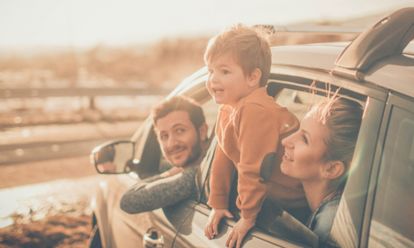 How bad is the pothole problem? The RAC Pothole Index
The RAC uses its database of breakdowns attended each year to update the RAC Pothole Index, an ongoing monitor of the state of the UK's roads.
The index is a measure of how often, on average, an RAC member requests roadside assistance for a breakdown where the fault was of a type where damage from a pothole or other road surface defect was the most likely cause, i.e. damaged shock absorbers, broken suspension springs and wishbones and distorted wheels. This 'call-out rate' is aggregated over the previous 12 months to remove seasonal effects.
The index uses the call-out rate at the start of 2006 as a benchmark and the value of the index is therefore a measure of how likely a motorist's vehicle is to suffer pothole damage compared to 2006. Thus an index of 1.2 would mean the likelihood of pothole damage had increased by 20% compared to 2006.
The Index shows there was a steady deterioration in the condition of roads between 2005 and 2010 as highways authorities' budgets were tightened and many cut back on preventative maintenance. After 2010 it suggests there has been some overall improvement in road quality, but progress is heavily influenced by extreme weather and the availability of emergency funding from central government.
How do potholes form?
Potholes are caused when moisture gets into the cracks in the road which expands when it freezes.
The holes get bigger as vehicles drive over them damaging the structure of the road below its surface layer.
Potholes are always a fairly round shape because they stem outwards from the area of the least resistance (the initial crack).
This means when damage continues and a pothole grows it acts like a hole where the ground falls into the area of the least resistance and shortest path from the weakest point (the existing crack), forming a circular or oval shape.
Adverse weather conditions and repeated freeze-thaw and wet-dry cycles make the pothole situation much worse.
However, it's not just the weather that is to blame for the problem.
The RAC believes the rise in potholes across the UK has stemmed from many cash-strapped councils' reactive 'patch and dash' approach which means rather than resurfacing roads properly, potholes are repaired individually in a hurry, and sometimes in wet weather, leading to them quickly breaking down and reappearing.
Planned preventative road maintenance would, in the longer-term, be a more efficient and cost-effective way of dealing with the issue.
What damage can potholes do to your car?
According to the RAC's tyre partner, ATS Euromaster, hitting a pothole can cause a number of wheel and tyre problems.
Initial impact on a vehicle can cause buckled wheels, cracks, lumps in the tyre, cracked alloys and it can knock out the tracking and wheel balancing.
Reports have found that a third of all recorded vehicle damage is as a result of potholes.
In more severe cases, it could lead to drivers losing control of their vehicles and being involved in an accident.
Advice to drivers when encountering potholes
The following tips may help if you are driving on roads with potholes:
Maintain your distance – Leave plenty of distance between your car and the vehicle in front so you can see potholes in advance.
Keep your eyes peeled – Protect yourself and your car by keeping an eye out for potholes and watching your speed, particularly in wet weather when deep potholes may be hidden beneath puddles.
Stay alert – Be aware of other traffic or pedestrians on the road before changing course to avoid a pothole.
Watch your speed – Striking potholes at higher speeds can cause more damage to your vehicle.
Avoid unnecessary braking – Try not to apply your brakes when driving over a pothole. When you brake you tilt the vehicle forward placing more stress on the front suspension.
Drive over potholes with care – If you have to drive over a pothole, allow the wheel to roll freely into the hole.
Hold the steering wheel correctly – Make sure you are holding the steering wheel properly – '10 to 2' hands position – when driving on a road with potholes – failure to do so may mean you lose control of your vehicle.
Safety first – If you wish to inspect any damage to your car, ensure that you stop in a safe place.
Recovering lost parts – If your vehicle sustains damage while travelling, such as a lost hubcap, ensure you stop in a safe location before attempting to recover it.
Get your car checked out – If you have hit a pothole and suspect your car has sustained damage, we recommend you get the vehicle checked out by your local garage. Ask them to verify if there could be any other issues such as problems with tracking and wheel alignment, tyres or suspension.
Check tyre pressures regularly – checking your tyre pressure regularly to ensure safety as a line of defence against potholes. Recommended tyre pressures can be found in your vehicle's handbook and on the label located inside the driver's side door frame or door post.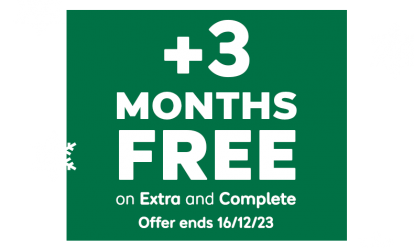 With 12 months of cover, new customers get an extra 3 months for free*.
*Added after 12 months, excludes Basic cover. New customers only. Ends 16/12/23, 7am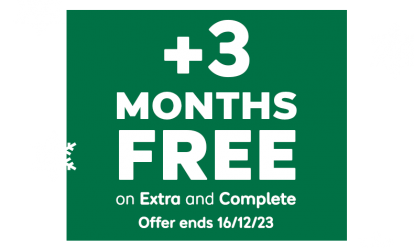 Can I claim for damage caused by potholes?
Yes, you can claim damage caused by potholes on your vehicle.
To do this, you will need to contact the local councu lor organisation responsible and inform them what the damage was, why you think they are responsible, the specific location where the damage took place, and the date and time the damage was caused.
The Government has a list of contacts, should you be looking to claim for damages.
How big does a pothole have to be to claim for damages?
The general rule is that there must be an imperfection in the road of more than 1 inch (40mm) - however, this can vary depending on where it is and what shape it is.
When you make a claim, you should collect phtographic evidence of the pothole and any other relevant details.
Pothole problems: Top 10 worst affected areas in Britain
In April 2023, a Freedom of Information (FOI) request revealed the worst impacted areas of Britain by the plague of potholes on our roads.
Brits have to contend with more than half a million potholes across the network of major and minor roads – and the problem is only getting worse.
In total, the 81 councils reported 556,658 potholes in the financial year 2021/22, up from 519,968 in 2017/18.
The news of the most impacted areas followed a statement by the Asphalt Industry Alliance, who revealed that it would cost more than £14 billion to fix every pothole. This is an increase of £1.5 billion compared to the previous year.
Councils across the country had their pothole budgets slashed by half a billion pounds – meaning that the issue is set to get even worse for drivers.
Data obtained by the Liberal Democrats through the FOI request highlighted the regions with the longest average times to fix potholes and the longest times to fix individual potholes. It also revealed the regions with the highest reported number of potholes.
Areas with worst average times to fix a pothole
| Newham | 56 days |
| --- | --- |
| Lambeth | 50 days |
| Stoke-on-Trent | 48 days |
| Norfolk | 39.93 days |
| North East Lincolnshire | 34 days |
| Westminster | 30 days |
| Southampton | 29.95 days |
| West Sussex | 29.66 days |
| Hammersmith & Fulham | 28 days |
| Suffolk | 26.9 days |
Areas with longest average time to fix individual potholes
| Stoke-on-Trent | 567 days |
| --- | --- |
| Westminster | 56 days |
| Norfolk | 482 days |
| East Sussex | 463 days |
| Wiltshire | 453 days |
| Warwickshire | 304 days |
| Lambeth | 300 days |
| Suffolk | 296 days |
| Shropshire | 285 days |
| West Sussex | 273.48 days |
Most potholes per region
| Derbyshire | 90,596 |
| --- | --- |
| Lancashire | 67,439 |
| Northumberland | 51,703 |
| Surrey | 43,191 |
| Cornwall | 24,191 |
| North Yorkshire | 22,094 |
| West Sussex | 21,785 |
| Staffordshire | 20,764 |
| Somerset | 19,299 |
| East Sussex | 13,081 |