Breakdown Cover Features
RAC Business Breakdown cover provides you with cover for your business vehicles. Our Breakdown Cover options are designed to help you stay in control, meet the changing demands of managing your vehicles and keep your business moving. All of our cover comes with a range of free perks.
Flexible payment options
Manage your cashflow and choose between monthly, annual or 24 month policies
Accident Care
Get FREE access to RAC Accident Care. If you have an accident on the road we'll come to your rescue - even if the accident was your fault.
Online vehicle management
Set MOT reminders, update your details and amend your cover with our free online portal
Business Club
RAC Business Club puts you in complete control of your business vehicles. This easy to use online tool will help you manage your vehicles more efficiently. Business Club can help you to:
Reduce costs, with member offers
Stay in control, with automatic reminders for MOT's, servicing and tax renewals
Save time, with all your vehicle details in one place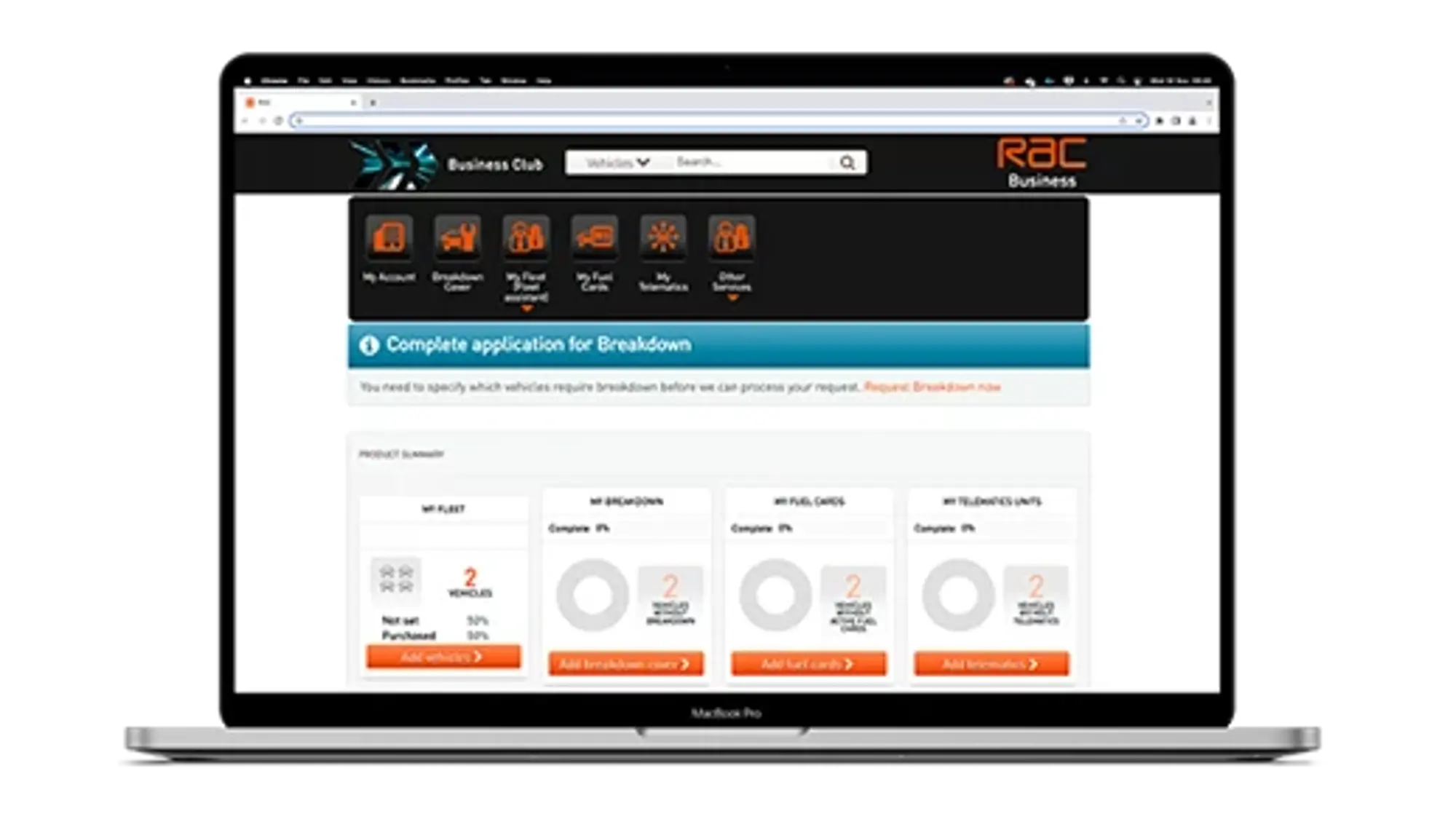 Universal Spare Wheel
We can keep you on the move after a puncture thanks to the Universal Spare Wheel all our Patrols carry.
Increasingly, cars are being sold without a spare wheel included as standard. This is often a big surprise to motorists who look for it when their vehicle gets a puncture. The RAC Universal Spare Wheel was designed to tackle this problem and help prevent our members from being caught out.
When a Universal Spare Wheel is needed, our Patrol will fit it swiftly and then get in touch with the nearest local approved tyre specialist on your behalf. 
Accident Care
With RAC Business Breakdown cover you get FREE access to an end-to-end Accident Management service.
Unlike most breakdown providers, if you have an accident on the road we'll come to your rescue - even if the accident was your fault.
If you are involved in an accident on the road, remember to call us first. We will then be able to make recovery arrangements immediately and can take care of your insurance claim from start to finish once we have assessed liability for the accident. 
Onward Travel
Onward Travel is the optional extra that can help keep your business moving, even when your vehicle isn't.
We do more to make sure you can carry on with business as usual. Unlike our competitors, we offer replacement vans as well as cars if your vehicle can't be fixed at the roadside.
You can count on getting the right vehicle for the job with our Onward Travel option
We're the only breakdown provider to offer van for van replacement
You can transfer your load to a replacement van
No hidden delivery or collection charges
Get in touch
Prefer to speak to one of our team? No problem, enquire below or give us a call on 0330 159 0975
Get a quote
Build your cover now to get a quote in minutes.
For our most up to date pricing, click get a quote below to build your cover.