Connect360 Vehicle CCTV: fleet dashcams
From capturing footage to monitoring fatigue, there's a solution to your business needs.
Get the complete picture of your fleets' time on the road. Use captured footage to support insurance claims and identify liability. With our range of options, including forward-facing, rear-facing, in-cab, and fatigue monitoring cameras, you'll be covered from every angle.
Get a clear view
All cameras are 1080p HD with light correction technology, so your footage will always give the best representation of what's happening on the road.
Prevent accidents
Our cameras come equipped with our Advanced Driver Assistance System – notifying drivers of potential hazards and giving a crucial 2-second early warning.
Stay in the know
Integrated with the RAC Connected fleet management software, you'll get alerts whenever a hazardous driving event happens, with instant access to the footage.
In-cab driver fatigue system
Keep drivers focused
There are many ways a driver can take their attention off the road. Detect if drivers are distracted or fatigued with continuous scanning.
Improve safety
Keep drivers safe with audible in-cab alerts to focus on the road or take a break. They'll activate whenever your drivers show signs of distraction or tiredness.
Save time
Combining dashcam footage with AI technology and telematics data, AI gives a better understanding of events without you having to sift through video footage.
Front-facing camera solutions
Front-facing camera: use footage captured to support any first notification of loss to an insurer and identify liability, especially in a non-fault accident. An essential fleet management tool to coach your drivers, adjusting high-risk driving behaviour which could result in an incident. Or use it to understand the impacts of road and traffic conditions through live-streaming direct from the camera.

Internal camera: capture in-cab footage to understand what's happening in fleet vehicles and get greater detail of events surrounding an accident.

Driver fatigue alert system: support your drivers on the road with the in-cab fatigue monitor. It will alert your drivers as they become distracted, bringing their attention back to the road.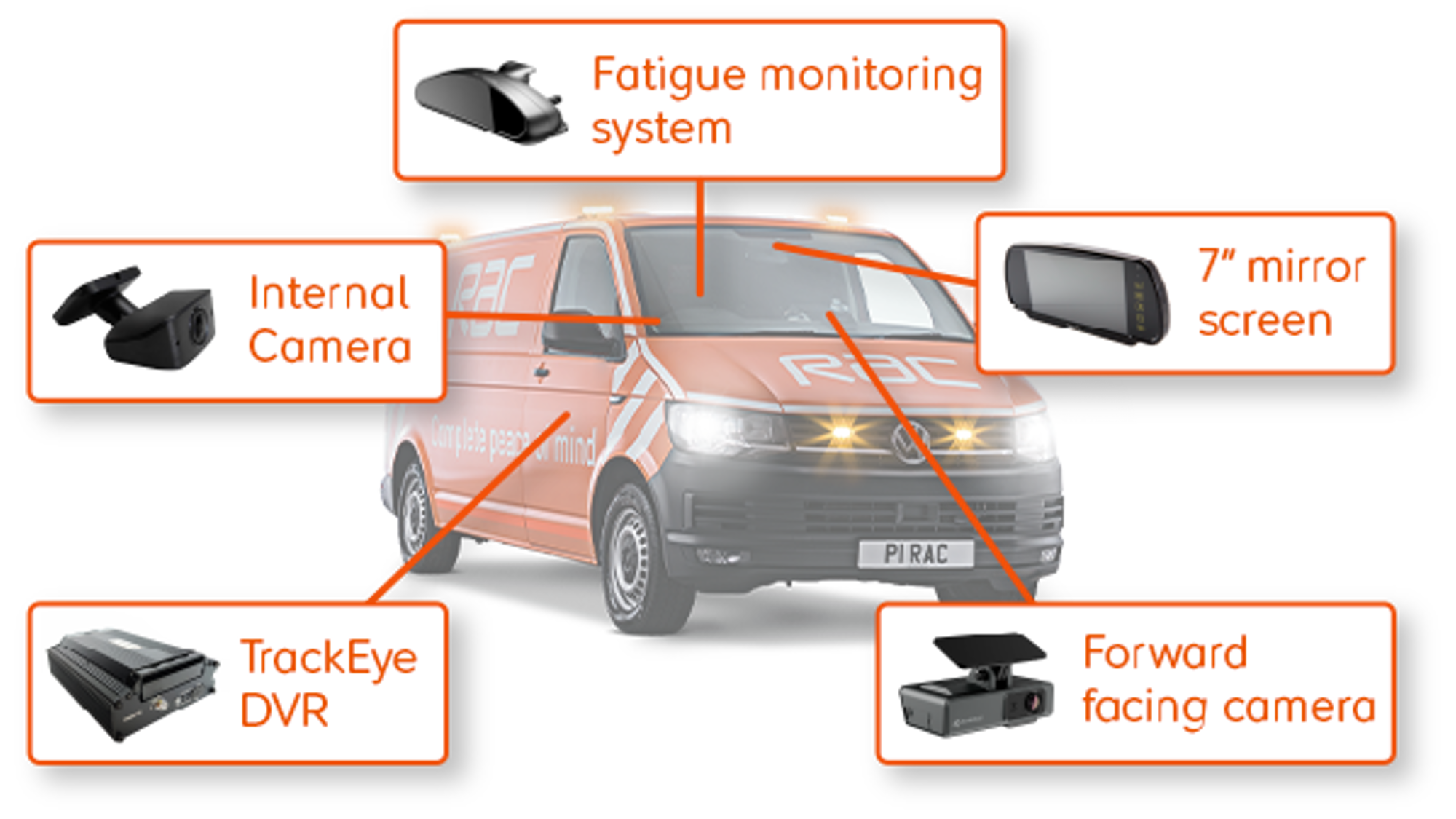 Rear-facing camera solutions
Comprehensive coverage: get a full view of your driver, and what's behind them. Give your drivers better visibility with real-time footage.
Non-fault evidence: combine front- and rear-facing camera footage to support insurance claims, so you can focus on taking care of your driver.
Blind spots revealed: a driver's vision is restricted, especially in the blind spot on the rear passenger side. Rear-facing camera footage supports a complete view before, during, and after an accident.
1080p HD camera: ensuring the same high-quality footage as your forward-facing camera solution, the 1080p resolution will make sure you can capture details such as number plates clearly.