Mobile mechanic
We bring the garage to you
With servicing and repairs at home or work
Why choose RAC Mobile Mechanics?
Don't waste time getting your vehicles to the garage. Our mobile mechanics bring the garage to you! They can service or repair your vehicles at home or work, at a time to suit you. We're here to keep your business moving.
We come to you
Get a service or repair at home or work, no garage needed.
12-month parts guarantee
All parts fitted as part of a service or repair come with a 12-month guarantee
No waiting around
Just book a time that suits you and we'll be there - while you carry on with your day.
Find an RAC Mobile Mechanic for your business
I can't say thank you enough for the wonderful service that I received, a lot of useful information and recommendations for what needs to be done. Mechanic turned up and got straight to work on my vehicle, got it running very quickly. I am very keen to use this service again.
Andrew
West Midlands
What our mobile mechanics can do
While you get on with your day, at home or work – your car's in safe hands with our fully trained mechanics.
Full Service
A comprehensive set of 43 checks to make sure your car's safe and working correctly. It should take around 1 hour 45 minutes. Recommended every 12 months or 12,000 miles. This includes road testing, under the bonnet checks, exterior checks and safety feature checks.
Also included is a full diagnostic check, this is a full engine management system check, looking for electrical issues and any problems flagged up by the electric control units on the engine, the power steering, transmission, sensors and more.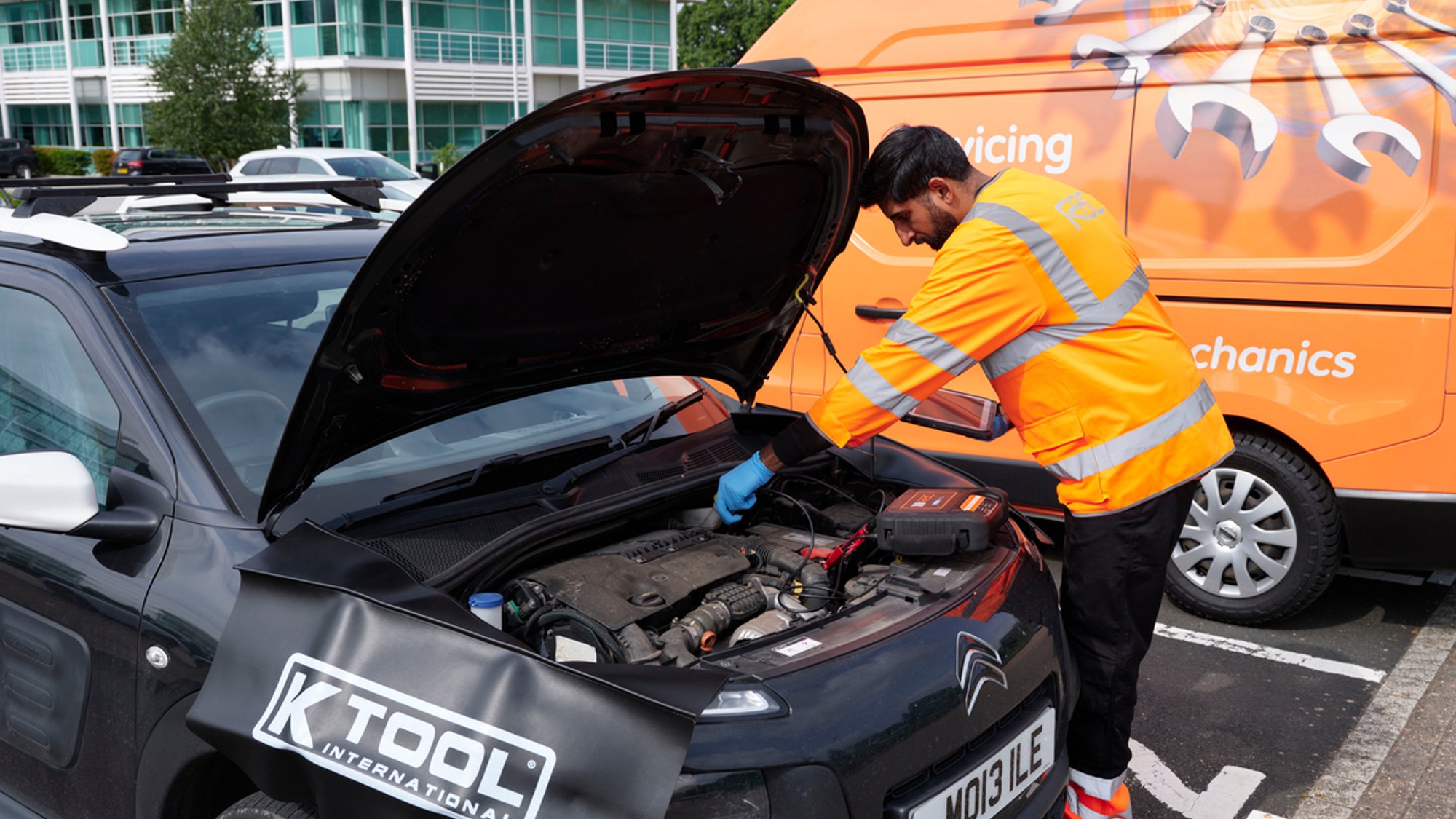 Interim service
A series of 39 checks to keep your car running smoothly between full services. It should take around 1 hour. Recommended every 6 months or 5-6,000 miles.
Vehicle diagnostic check
A comprehensive check of your car's onboard engine management system using a specialist diagnostic computer. A diagnostic check can uncover hidden errors before they become expensive problems.
And much more
Our mobile mechanics can replace your springs, oil and filters, or brake pads and discs. Or they can give your car a full vehicle health check. All without going to a garage.
How to book a mobile mechanic
Including the kind of service or repair you need.
Choose a date and postcode
We'll come to you at your home or work.
You'll receive an email with everything you need to know.
Book an RAC Mobile Mechanic today!
Make sure your car or van is parked on a flat even surface, isn't on the road, and your mechanic can access all sides
Your mechanic will call when they're on the way
Hand over your keys, and they'll get to work on your vehicle
Frequently Asked Questions
Most mobile mechanics can do standard servicing checks and repairs like changing your oil or replacing your brake pads.
RAC Mobile Mechanics can carry out full services, interim services, full diagnostic checks and oil changes. They can also make some repairs, including replacing your brakes, springs and filters.
We'll check your brakes, battery, tyres, steering, suspension, radiator, lights, wipers and more, just like in an interim service. And on top of that, we'll also carry out a full charging system test, check your engine bay pipes and hoses, inspect your air filter and replace it if necessary, and run a full diagnostic test to check for any hidden problems.
And as with an interim service, we'll also change your engine oil and oil filter, and make sure your brake fluid and windscreen wash are topped up.
Plus we'll top up your power steering fluid if it's running low. And as with an interim service, we'll run a general road test before and after to make sure everything's working properly.
In general, our mobile mechanics aim to complete a full service within 1 hour 45 minutes. But depending on things like what car you have and where it's parked, it can sometimes take longer.
For example, on some types of car it might be harder to access the oil filter. And if the car isn't parked in a safe location it might need to be moved, which takes time. We'll let you know roughly how long we think it will take on the day, to make sure it's as convenient as possible.
We might notice additional repairs your car needs during the service. If so, we'll quote for this work – if we can do it on the same day, and you're happy with this, we'll do this extra work after your service. Of course that can add to the time it takes to work on your car.
Our full service doesn't include a gearbox oil change – just a standard oil change and oil filter change.
But it's easy to have your gearbox oil changed at an RAC Approved Garage.
We'll always use the grade and specification of oil that your vehicle's manufacturer recommends, at no extra cost.
This makes sure your warranties are still valid. Many providers charge extra for larger vehicles, like vans, that might need more oil.
But we won't charge you more for any additional oil that you need. No matter what type of vehicle you have.
Yes. Once we've finished repair work, you'll get a full post-repair report, along with an invoice.
With a full service, you'll get a full service sheet breakdown which lists any further work your car might need now or in the near future.
We'll also talk this through with you on the day to give you complete peace of mind.