If you're one of the tens of thousands travelling to Glastonbury, our guide will help you get there and back with minimal fuss.
Whether you're driving by car, using public transport or just worried about leaving at the least busy time, all the advice you need is below.
Or, you can check out our quick links nav here, to help you jump to the right section:
Getting there by public transport
---

The Glastonbury Festival takes place near the village of Pilton in Somerset and is actually closer to Shepton Mallet than Glastonbury!
It's considered the largest greenfield festival in the world with some 175,000 music fans expected to converge on the 900-acre site.
So how do you get there in the easiest way possible? Here are your options:
Firstly, it's worth preparing yourself for the fact that however you tackle the journey to and from Glasto, the chances are at some point you'll be met with delays.
So remember to pack separate food and water specifically for long traffic jams.
Delays could be slightly worse this year with the added security measures organisers have put in place following recent threats to national security, but the following tips will help make your journey as efficient as possible and ensure you are well-prepared for any eventuality.
Anybody who has driven in the west country will know that sat navs aren't 100% reliable, and Glastonbury is no exception.
The organisers point out: "your satnav will not get you all the way to the Festival site, but to the start of the Festival signage" so here's how to get to the signage:
Bellow are the directions you should follow until you reach the official festival signage:
From London: M3, then A303 and A37. (Sat nav TA11 7DP)
From Swindon: M4, then A350 and A361. (Sat nav BA4 4LY)
From the North East: A1 or M1, then M25 to M3 (J12), then A303 and A37. (Sat nav TA11 7DP)
From the Midlands: M40 and A34, then A303 and A37. (Sat nav TA11 7DP)
From the North West: M6 and M5 to A39 (J23), then A361. (Sat nav BA6 9XE)
From Wales: M4 and M5 to A39 (J23), then A361. (Sat nav BA6 9XE)
From South West: M5, then A30 and A303 to A37. (Sat nav TA11 7DP)
Local traffic using A37 north or A361 east. (Sat nav BA4 4LY)
Follow these until you find the festival signs, but remember it's important that you approach the site on the side that you want to park (either the east or the west side).
Glastonbury's traffic problems are exacerbated by drivers using local roads to reach the opposite side of the site.
So make sure you decide which side you need to approach, based on the direction you are coming from and the campsite you would like to stay in before you leave.
*Hint hint* if you're travelling from London or the South East, use the A303/A37 and park on the east side of the festival.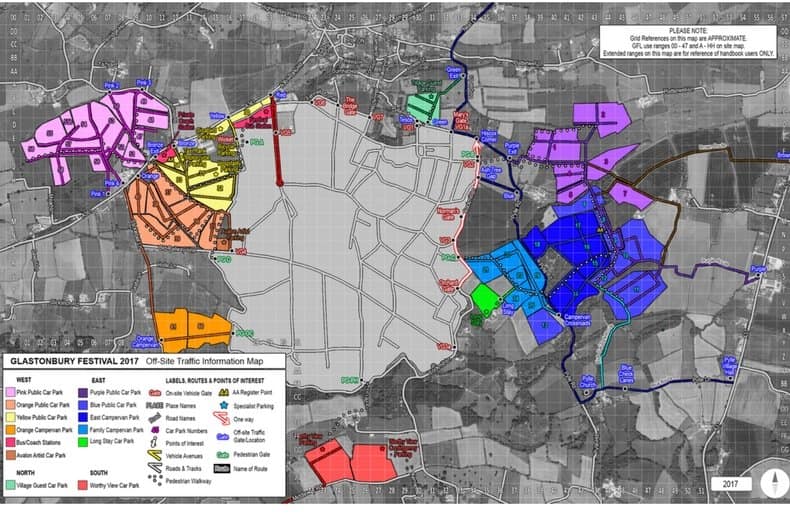 There are three public car parks on the west (pink, orange and yellow) and three on the east (purple, light blue and dark blue).
Follow the signs and directions provided by the parking staff to the nearest car park.
Unfortunately you will not be able to decide on the car park that best suits your camping needs, as you will be ushered in to the most appropriate route to a car park by the parking stewards, to minimise congestion.
It is strongly advisable not to deviate from the stewards instructions as you will only cause more delays.
A good guide to the different routes/entrance gates and the menaing of their colours can be found here.
The only decision you can really make to influence your parking is choosing in advance what side to approach and therefore park on (as stated above) - so it is highly advisable to pick your campsite in advance and aim for the side it is on.
Here's the 2017 site map.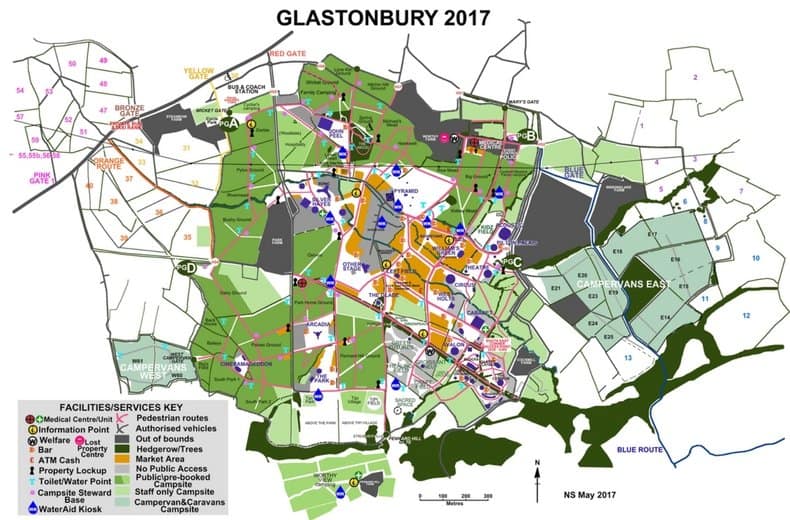 The organisers also point out that those who parked on the east side of the site in 2016 enjoyed the shortest queues at the pedestrian gates and minimal delays when exiting on Monday.
Car parks will open at 9pm on Tuesday 20th June, giving festival-goers the chance to arrive throughout the night.
Remember though, there will be no entertainment or facilities (other than toilets) available until the gates open at 8am on Wednesday 21st June and visitors are advised to remain with their car until then.
There are various main entrances for cars, depending on your chosen route to the site.
In all cases, you should stick to the route, as it's highly unlikely that you'll save time by seeking an alternative route.
In fact, you'll simply add to the congestion, so be patient and follow the signs and directions provided by the parking staff.
Between 7am and 2pm Wednesday is the worst time to arrive
The worst time to arrive by car is likely to be between 7am and 2pm on Wednesday 21st June, while history suggests that the A39 will be busier than the A37, so time and plan your route to Glastonbury accordingly and check regular traffic updates before you plan on leaving.
When choosing where to park read our advice on how to avoid getting stuck in the mud, as there are a few preventative measures you can take into account before you leave your vehicle for the weekend.
And make sure you make a detailed note of where you park your car before you leave it. It will make a huge difference when trying to find it again before leaving.
This one's not even on the list, it comes so far before the list it gets its own section, guarded by a doorman with a megaphone shouting: "DON'T FORGET THIS."
It is of course, your tickets. Sure it's obvious, but the last thing you want is to arrive at the gate only to find that your Glastonbury ticket is sitting on the kitchen table at home, it has happened and will happen again to some poor soul somewhere.
While you're at it, check that you have your parking pass, which should have been sent with your admission ticket.
As well as the standard essentials, tent, sleeping bag, roll mat, spare clothes and toiletries, here's 20 more things you might not have considered.
If you've gone with a budget tent that doesn't have a separate entrance, take a spare ground and some sort of canopy.

Having a mildly sheltered entrance to carry out the ceremonial putting on and removing of the wellies will make life so much easier when getting up in the middle of the night for a wee.

Not to mention it will help keep your tent a little more mud free.

​Muddy clothes, empty cans, used face wipes - a bin bag or two will prove a welcome addition when trying to organise what your life has become after entering the world of the festival.

They also make good makeshift rain macs.

Bring a reusable water bottle, which you can refill using the many free taps on site. And try to remember to fill it up before you go to bed - your hungover self will thank you the next day.

With the elation of arriving at a festival, many are quick to forget the slog of setting up base, specifically carting all of your camping gear from your car to your campsite.

A folding trolley to help with the luggage run is a lifesaver and will make the camp set up run much smoother. Just make sure you get one with fairly large wheels for the grassy/muddy terrain.

When you're looking to freshen up your look before your evening out or first thing in the morning, sticking your head under an ice cold tap isn't everyone's favourite option. So for those looking for a cheat (men and women) pack a bottle of dry shampoo, you can buy a bottle for as little as £1.50 from most supermarkets.

A torch will be required when you're stumbling back to your tent in the evening, or for making a hasty dash to the toilet at 3am.

At some point you will need to use the loo, and there's no guarantee they'll be stocked with a fresh roll, so take your own. You'll have signed the 'Love the Farm, Leave no Trace' pledge, so you know that peeing on the land is not permitted either. Use the toilets provided.

​Essential. Camping is mucky stuff.

If you require medication, don't forget to pack it. The Glastonbury Festival has a very clear prescribed medicines policy, so be sure to read it before setting off. A pack of headache tablets and some plasters might come in handy.

​So so versatile, an absolute must for any festival-goer. Whether it's wiping your hands free of mud, cleaning up before eating or use them as a shower substitute, an abundance of wet wipes will most definitely come in handy.

We'd advise packing a waterproof coat and a warm jumper, but you'll also need a change of clothes and underwear. Pack a spare bag for your dirty laundry, along with a clean pair of shoes for the journey home.

Obviously there's plenty of delicious sustenance to enjoy at the festival (around 250 stalls to choose from) but make sure you've got some emergency supplies left in your boot or at the bottom of your bag.

It'll be a God send on your drive home if you get stuck in traffic. Just don't tell your drunk self, you don't want to wake up to find out your half cut alter ego has raided all your travel snacks!

We'd recommend packing dry snacks, such as muesli bars, dried fruit and nuts.

Whether it's to help you get to sleep or to shield your ears from certain bands, a set of earplugs should come in handy.

A hat will be useful for keeping your head dry if it rains or providing some shelter from the sun. As a bonus, it will hide your 'festival hair' if you forgot to pack any shampoo.

Glastonbury and wellies go together like Sonny & Cher, Paul and Simon and DJ Luck and MC Neat. Whatever the weather, it will be muddy!

Original ID documents are required for hospitality tickets, 'Challenge 21' alcohol sales, the lead booker for coach packages, and Sunday tickets. A photocopy of ID is sufficient if a child is under 12 but looks older.

Contrary to popular belief, the sun does shine at the Glastonbury Festival, so, ladies and gentlemen of the class of 2017, wear sunscreen.

At some point you'll probably want to share a selfie on Twitter or post a photo on Instagram, so don't forget your smartphone. You might even need it to make a telephone call! Grab a portable phone charger while you're at it.

Sure, you'll be taking a bag or two to Glastonbury, but a secondary backpack will be useful for carrying many of the items mentioned above. If nothing else, it's a useful means of carrying your Scrumpy.

You may have heard that it gets muddy at Glastonbury, so if you're driving to the festival, a tow rope might be advisable. If you get stuck in the car park, it will be easier to convince a friendly 4x4 driver to give you a tow if you've got a rope to hand.
Now that you know what to take, it's important to remember how to pack your car.
Needless to say, if you're going to require something on the journey make sure it's easily accessible.
It's a good idea to lay out all the items near your car, just to make sure it will all go in.
Simply throwing everything in the back is counterintuitive – release your inner geek and use those Tetris-style packing skills!
Start by placing the heavier items at the back of the boot, nearest the rear seats.
This maintains an even weight distribution throughout the vehicle, making it easier and safer to drive.
Don't pack items higher than the top of the rear seats, as these will obstruct your view and could fly forward under heavy braking.
If you're arriving at night, make sure the torch is easily accessible, and leave gaps between bags in case you pick up items on the way.
Have you considered car sharing?
Glastonbury works with GoCarShare to connect drivers heading to the festival with other festival-goers who might need a lift. Sharing a car will reduce congestion while doing a little for the environment.
Temporary car insurance provides cover for anything between one and 28 days and is ideal if you're looking to share the drive to and from Glastonbury.
Immediate cover is available online and you only pay for the number of days you need.
Plan ahead by arranging the cover before the festival, or buy online on the day if you find yourself in need of a designated driver.
---

If the thought of packing the boot or spending hours sat in traffic has put you off the idea of travelling by car, there are plenty of public transport options.
National Express will be running coach services from various locations throughout the UK and you'll be dropped off by the entrance gates.
Come Monday morning, when you're tired and a tad deflated, you can let the coach take the strain.
There are too many options for us to list here, but services arrive from 4.30am on Wednesday 21 June from 75 different locations.
If you want to leave Glastonbury early, coaches depart from 4pm on Sunday 25 June and from 2am on Monday 26 June.
As a National Express customer, you'll be entitled to carry two 20kg bags in the hold and one small item of hand luggage on board.
Rucksacks, tents and foldable trolleys can be stored in the secure hold and you're advised to label your luggage.
Alternatively, the Brighton Peace and Environment Centre (BPEC) is running a coach service from Brighton and other selected routes.
In both cases you're advised to book early to avoid disappointment.
The best railway station for access to Glastonbury is Castle Cary and a free shuttle bus will be running between the station and Worthy Farm throughout the festival.
The bus arrives and departs from Gate A and operates from Wednesday to Monday when trains are running.
On Sunday and Monday a bus service will run from the festival bus station at Gate A to Bristol Temple Meads. The cost is £15 for a single ticket.
Check the Glastonbury Festival website for a full timetable.
Buses are available to and from Bristol, Bath, Castle Cary, Glastonbury town, Shepton Mallet and Wells.
Check the Glastonbury Festival website for times and prices.
The 'Bike to Glasto' scheme provides free storage throughout the Glastonbury Festival, along with a return luggage service from one of more than a dozen drop-off locations in Bristol and across Somerset.
There's a small charge for the service and bookings can be made via biketoglasto.co.uk.
The Glastonbury Festival site is just a few miles south of Route 3 of the National Cycle Network, which runs between Glastonbury and Wells.
The Glastonbury Festival operates a 24-hour 'Drop and Collect' service with a 24/7 bus that runs to and from Gate A.
It opens at 12.01am on Wednesday 21st June and will remain open until 6pm on Monday 26th June.
To get to the 'Drop and Collect', head towards Evercreech on the A371 and follow the signs marked 'Drop and Collect' or 'DC'.
There are serviced brick-built toilets and a burger van on site.
Alternatively, the Ashcombe Park+Ride offers parking just off the A361.
Spaces are available for ticket holders only and the site is open from Monday 19th June to Monday 26 June.
A shuttle bus will operate to and from the festival from Wednesday to Sunday.
UPDATE: Park and ride spaces at Ashcombe park and ride are now fully booked.
---

Some people aren't aware you have to pay for a parking permit separately from your ticket.
Parking passes are only issued to ticket holders and are only bookable after you pay the balance for at least one of the admission tickets on your booking.
Passes cost £45 and cover you from Tuesday, 20th June until Monday, 26th June.
Car park passes will be sent out with your festival tickets (unless booked separately).
You can purchased passes from Seetickets.
All car park tickets should have been dispatched by 12 June.
Parking outside the festival

There are four main entrances for cars, depending on where you are travelling from. Follow the 'P' signs to get to the nearest available spaces and respect any instructions given to you by parking staff.

Parking at any time is dependent on the traffic conditions at the time, so you're unable to plan to park in a particular area other than parking on the east or west side. The organisers recommend following the blue route (from the A303 and A37), where there is more parking and fewer queues.

If you haven't booked a campervan/caravan ticket, you're out of luck, because all tickets sold out in October 2016. However, cancelled bookings are placed back on sale immediately.

Separate fields for ticket holders are available adjacent to the main site, but sleeping in vehicles in the other car parks is strictly forbidden. Regular checks are made by security patrols.
---

You can leave the festival at any time, as cars are parked with a decent amount of turning space between the rows.
Note: you're unlikely to return to the same space, so be sure to let your fellow festival-goers know that the car has been moved.
Anybody leaving Glastonbury between 8am and 5pm on Monday 26th June can expect long delays of up to nine hours when leaving the car parks.
Leaving between the hours of 1am and 7am is advisable.
Journey times on the A39 back to the M5 can be a couple of hours, while reaching Bristol via the A37 could take up to four hours. Heading south on the A37 and then east or west via the A303 is often the best option.
Alternatively, take the A361 towards Frome and then A350 towards Swindon. The festival traffic plan will direct vehicles from each parking area in different directions, which should help to reduce the level of congestion.
If you're intending to leave at silly o'clock on Monday morning, you'll be pleased to know that the McDonald's located 10 miles away on the A303 is open 24 hours.
The nearest motorway services are on the M5 at Taunton Deane (Roadchef), Bridgwater (Moto) and Sedgemoor (Welcome Break). Heading north you'll find services on the M4 at Leigh Delamere and A34/M4 at Chieveley.
The A303 is well served by petrol stations and roadside cafes, along with the excellent Solstice Services at Amesbury, which includes a Costa, McDonald's, KFC and a Co-op.
The organisers have been working with local farmers and owners to improve car parks, including the laying of 4km of stone farm tracks and the changing of layouts to reduce congestion. Sadly, the organisers aren't able to do anything about the weather.
While your wellies will be able to cope with Glastonbury's legendary mud, for your car it might prove to be more of a challenge.
We can't guarantee you won't get stuck, but there are a few things you can do to lower the risk.
Firstly, park as close to a stone track or metalled road as you can and avoid parking in a drip where a pool of water might form. Parking at the top of a hill will also give you a better a chance of escaping should the heavens open.
Remember those clean shoes we advised you to pack for the way home – here's where they'll come in handy.
Before you enter your car, whip you wellies off and put them in a plastic bag.
While you're at it, do the same with any dirty clothes to avoid getting mud on your seats.
Stay calm
If you suddenly find yourself stuck it can be very tempting to push your foot down hard in an attempt free your car quickly before it sinks any further.
Unfortunately this only make matters worse.
Before you do anything, stop the car, politely ask your passengers to get out and ensure they are a safe distance from the vehicle.
With the weight of the car now reduced it should reduce the chance of the vehicle sinking further into the mud.
Avoid wheel spin
Your car has a better chance of moving if the tyres have some room to manoeuvre.
To achieve this, move your steering wheel back and forth to create the necessary room.
Push gently on the accelerator and move as slowly as possible, using the weight of the vehicle to get some traction.
For automatics, put the car into its lowest gear; for manuals, use the highest possible gear (2nd or possibly 3rd) and gently release the clutch.
Deflate tyres
Whilst rocking the car back and forth, swiftly change from reverse to drive.
Do this no more than eight times as you can risk damaging your car.
If this fails to free the car, increase the surface area of the tyres by releasing a small amount of air from them.
Then dig out an area around the tyres and place something under them to provide further traction, be it branches, boards, old blankets or even car floor mats.
Return to the vehicle and once again push gently on the accelerator, moving as slowly as possible until the tyres get some traction and you are able to accelerate out of the hole.
Check the car
After your vehicle is free, remember to inflate your tyres to their appropriate pressure.
Be sure to drive slowly to shed the excess mud from your tyres, before returning to drive at the normal speed.
It is also recommended you stop at a safe place to inspect your vehicle for damage.
Brake lines are particularly vulnerable in these situations and must be fixed immediately if they are damaged.
---
Almost 20% of accidents on major roads are sleep-related, which are most likely to result in a fatality or serious accident.
If you get up early to avoid the traffic you're putting yourself and your passengers at risk.
The Department for Transport's Think! campaign recommends avoiding long trips between midnight and 6am, when you're most likely to feel sleepy.
Consider sharing the drive with a fellow passenger.
If you start to feel sleepy on the way home, find a safe place to stop and drink two cups of coffee or a high-caffeine drink.
Take a 15-minute break to allow time for the caffeine to have an effect.
If you're intending to make an early start on Monday morning, do not consume any alcohol the night before.
There will be a heavy police presence in and around Glastonbury, so you're risking prosecution as well as putting lives at risk.
The organisers advise festival-goers to "get it sorted ASAP" if your car needs attention, "so it will be ready when you need to leave".
A locksmith will be situated by the Bronze Gate if you lose your key or lock them in the car.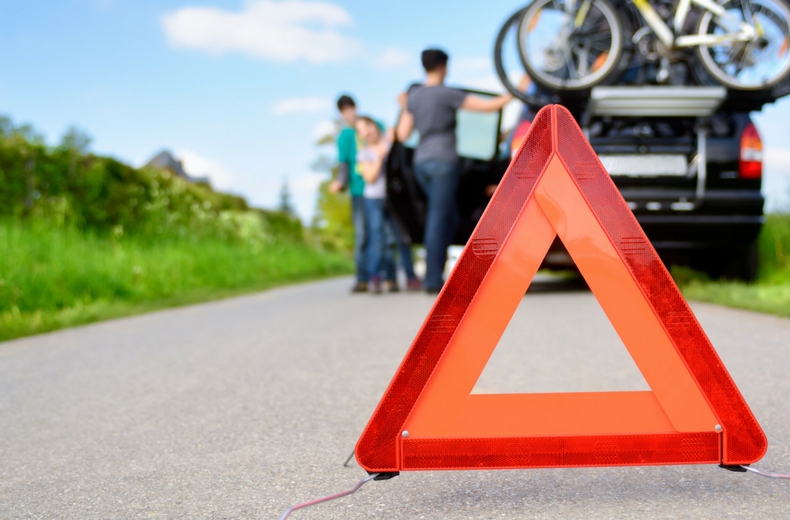 There are a few preventative measures you can take before leaving for the festival, to give you a better chance of ensuring your car doesn't suffer a breakdown en route or while you're there.
Batteries are the number one cause on the list of summer breakdowns and the chances are a few will be caused by headlights or interior lights left on, or a battery that cannot cope with being left parked in a field for a few days.
Avoid a problem by getting the battery checked prior to setting off for Glastonbury and replacing it before the long trip.
As a rule of thumb, a battery should be replaced every three years.
A trip to Glastonbury could highlight problems with your tyres, so get them checked out before the festival.
Look for cracked or aged rubber, and ensure that your spare tyre is legal and inflated to the correct pressure.
If your car is full of passengers and luggage, be sure to adjust the tyre pressures before you leave.
All that traffic heading into the festival site is likely to put a strain on your clutch.
If it feels heavy, has a high biting point or slips when you accelerate, the chances are it will need replacing.
If it's displaying these warning signs before Glastonbury it is unlikely to cope with the congestion.
You might also experience a problem with the alternator, with hot weather and excessive demand from electrical items highlighting any weaknesses.
If the red battery light is flickering or fully illuminated stop and call the RAC.
It won't be an immediate fix, but a patrol will be able to tow the car to a local garage for it to carry out the necessary repairs.
For more information, check out our five most common summer breakdowns, and how to avoid them tips.
If the worst does happen, don't panic.
If you're on the motorway or in a busy traffic spot, find a safe place to stop – the hard shoulder or a layby if possible – and switch on your hazard lights.
Exit the vehicle from the passenger side and move yourself and your passengers away to a safe location (behind the barrier if you're on a motorway).
Once everyone is safe contact your breakdown provider.
We'd suggest having the number pre-programmed in your list of contacts, with your membership card in your purse or wallet.
For more information on what to do in the event of a breakdown, check out our guide to staying safe.
Want more useful content like this sent straight to your inbox?