Driving advice for every country in Europe
Find up-to-date driving laws and advice for any country in Europe before you visit, including any accessories you may need to purchase. Don't forget the RAC provides European breakdown cover while you're driving in Europe.
Driving in Serbia
Population: 7.1m
Area: 88,361 square kilometres
Currency: Serbian dinar (RSD)
Coronavirus update
Please be aware that driving in Europe may be restricted at the moment.
Check the Foreign travel advice section of the GOV.UK website for up to date advice on all European countries.
Despite a troubled past, modern Serbia is popular with adventurous travellers –with its idyllic countryside and buzzing capital, Belgrade, making it perfect for those seeking an authentic slice of Balkan life well away from the crowds.
If you're planning a road trip to Serbia, it's essential you're fully prepared ahead of time as driving there has many differences to the UK.
To make your journey east as safe and stress-free as possible, we've put together a guide to everything you need to know before you go, from required documents to rules of the road.
Driving a rented vehicle? Jump to the advice for driving a hire car in Serbia section.
RAC European Breakdown Cover (Basic and Comprehensive) provides a wide range of benefits should you breakdown in Serbia to ensure you stay safe, whether you travel to the area regularly or are just going for a short spell.
To supplement this, RAC also offers travel insurance. Cover will include medical expenses, baggage, personal money and belongings, among many other benefits.
Our short-term car insurance product is perfect if you're looking for flexible and comprehensive cover for between 1 hour and 30 days.
Things to take when driving in Serbia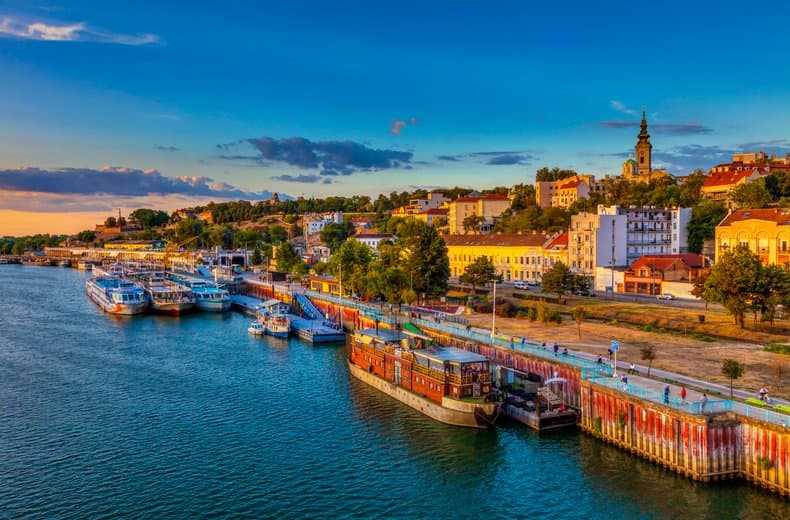 Documents for driving in Serbia
A valid, full UK driving licence (you must also be 18 or over)
Your motor insurance certificate
The V5 registration document for your own car or the hire car paperwork for a rental
Do I need an insurance green card?
From 2nd August 2021, drivers will no longer require an insurance green card for taking their vehicles to Serbia.
Driving in Serbia packing checklist
Aside from the documents above, there are some legally-required items you must bring with you to drive in Serbia.
Unless your headlights can be adjusted, it's a legal requirement to carry headlamp converters (stickers for your headlights when driving on the right, so your lights don't dazzle motorists coming the other way).
A warning triangle is also compulsory to carry in vehicles in case of a breakdown.
Winter tyres and snow chains if you're driving between 1st November to 1st April. Chains must be kept in your boot at all times and used where indicated by road signs
It's also recommended to have:
Spare bulbs for your car's external lights
A fire extinguisher
A first-aid kit
A reflective jacket
An International Driving Permit - find out more here
You can pick up all the car kit you need from RAC Shop.
Rules of the road in Serbia
Drive on the right
Be 18 or over
Make sure everyone in the car wears a seatbelt at all times
Wear a crash helmet if you're riding a motorcycle
Use daytime running lights or dipped headlights day and night
Ensure your car is covered by third-party insurance recognised in Serbia, the legal minimum cover for residents and visitors, so check with your provider before you travel
If you're caught committing a driving offence while driving through Serbia, you'll be given an on-the-spot fine
Children aged from 3 to 12 can't travel in the front seat and must use an appropriate seat restraint in the back
A person will be considered to be under the influence of alcohol if the percentage of alcohol present in their blood is 0.03% or higher. There is a zero-tolerance policy for certain drivers, including newly-qualified drivers, professional drivers, and HGV drivers
Trams have priority over all other vehicles. Priority must also be given to cyclists using cycle tracks
Horns must not be used in built-up areas, or at night except in cases of imminent danger or if the vehicle is transporting a person needing urgent medical attention
At intersections, drivers must give way to traffic from the right, unless a priority road is indicated
Priority at roundabouts is normally indicated with a 'Give way' or 'Stop' sign. In the absence of signs, the approaching driver must give priority to vehicles coming from the right
Serbian speed limits
Speed limits vary across Serbia, so always check the signposts for maximum speeds. In urban areas, the limit is usually 50km/h unless otherwise signposted
Other things you should know when driving in Serbia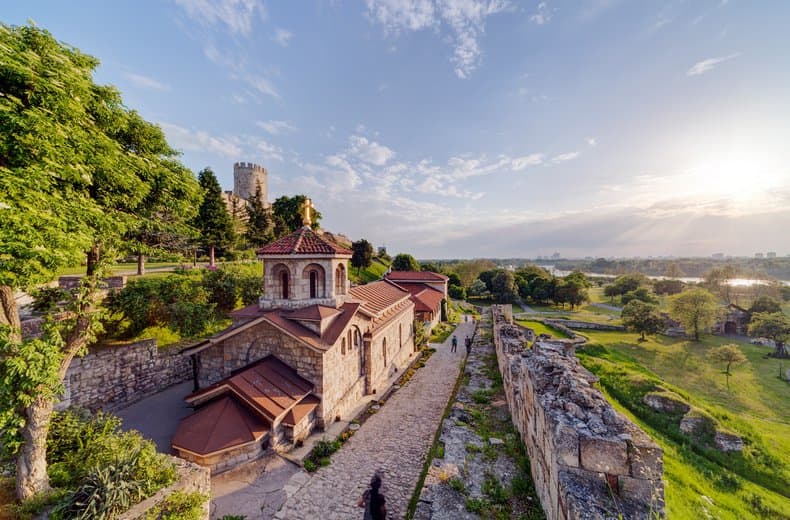 Never go off-road in rural areas without an experienced guide - you run the risk of coming across landmines and unexploded devices
Some hire car companies won't let you take the car to Kosovo, Albania or Bulgaria because of safety concerns – there have been a few incidents of Serbian-registered cars being targeted in Kosovo
Not all insurers cover driving in Serbia so check before you go - if yours doesn't, you can buy temporary cover at the main border crossings
The standard of roads in Serbia can be quite poor in places. International transit roads are generally the best and visitors are advised to stick to these routes wherever possible
You may encounter motorway tolls – these are payable in cash or with Mastercard, Maestro, Visa or American Express cards
Unleaded petrol and diesel are readily available, with the vast majority of fuel stations accepting cash and major credit cards
Some parts of the motorway between Novi Sad and Belgrade have two lanes with a hard shoulder on one side only. Some drivers will use the 'middle' lane for overtaking, forcing other drivers onto the hard shoulder
Parking is limited in built-up areas. In Belgrade, parking is largely time-limited and generally requires payment between 0700 and 2100 hours Monday – Friday and on Saturday mornings
Protests can be common in Belgrade. They are usually peaceful but can be disruptive. Check Government advice for travelling in Serbia for the latest information
In an emergency
112 - Here's a really important bit of knowledge; you can dial 112 from anywhere in Europe and an operator will connect you to an emergency service in the country you're visiting.
Operators can answer your call in their native language, English or French.
Breaking down in Serbia
RAC offers great-value, flexible RAC European breakdown cover tailored to meet your needs. We also offer comprehensive travel insurance, including cover for medical expenses, baggage, personal money and belongings.
Driving a hire car in Serbia
Not all of the information in the guide above will be relevant to those looking to rent a hire car in Serbia.
Though it might be a good idea to read through everything anyway, here are the most important things to know for drivers of rental vehicles:
Rental information
The minimum age to hire can vary depending on vehicle type, it's best to check beforehand with your provider
You need a full, valid UK driving licence and usually a second proof of ID (passport)
Some car rental companies ask that you have held your licence for a minimum term - check with your hire company first
Some companies require you to use a credit card for deposit
You may not be able to drive outside of Serbia unless planned in advance - check with your hire company first
Make sure you get car hire excess insurance before your trip to protect yourself from unexpected costs. It's almost always cheaper to do this with a separate insurer and in advance
Hire car driving tips
Serbs drive on the right and overtake on the left - the opposite to the UK
Speed limits vary across Serbia, so always check the signposts for maximum speeds. In urban areas, the limit is usually 50km/h unless otherwise signposted
Dial 112 in an emergency
It's compulsory to wear seat belts in the front and rear seats
The blood alcohol content limit for drivers of private vehicles is 0.03%. That's lower than the whole of the UK
Driving in Serbia FAQs
Is it safe to drive in Serbia?

In short, yes. However, the road network can be poorly maintained compared to other European countries, particularly in rural areas away from the big cities, so it's best to stick to major routes wherever possible.

As is the case whenever you drive abroad, the best way to keep yourself safe on the roads is to research driving laws and requirements at your destination. before you travel to avoid falling foul of other motorists or police officers.

Can you drive in Serbia with a UK licence?

Yes. You can legally drive in Serbia with a full and valid UK driving licence. In addition to this, International Driving Permits are also recommended for visitors driving in Serbia.

If you're planning on staying in Serbia for longer than six months you'll need to apply for a Serbian driving licence. This is likely to involve giving up your UK licence in exchange for a local one.

Do I need a green card to drive in Serbia?

Like the UK, Serbia is a member of the Green Card System, a Europe-wide scheme that allows countries to recognise foreign vehicle insurance policies of visiting motorists.

UK motorists are no longer required to carry a green card to drive in Serbia, but you should check that your policy will cover you in all countries you plan to visit before setting off.

What side of the road do they drive on in Serbia?

Like the vast majority of European countries, motorists drive on the right-hand-side of the road in Serbia.

Do I need a GB sticker for Serbia?

Yes. Any car temporarily brought into Serbia requires identification of the country in which it is registered.

Can I drive my car in Serbia?

Yes, although before driving your car to Serbia it's important you follow all legal requirements to ensure you are safe and legal on the roads, including having sufficient insurance cover legally recognised in Serbia.

You should also ensure you have all the required items needed for your journey in Serbia (such as warning triangle and snow chains) as well as for any other country you are planning on driving through.

What age can you start driving in Serbia?

To legally drive in Serbia you have to be 18 years or older and in possession of a full valid driving licence regardless of the legal driving age in our home country.
UK Government travel advice
---
Information in this guide is subject to change
British Embassy Belgrade
Resavska 46
Belgrade
11000
Serbia
Email: [email protected]
Telephone: +381 (11) 3060 900
Fax: +381 (11) 3061 070
(Consular enquiries only - not for visa or passport enquiries)

British nationals who need emergency assitance outside normal office hours should call +381 11 306 0900
*Based on 1 day cover in Zone 1, max 9 people in a vehicle up to 1 year old.