Driving advice for every country in Europe
From required documents to European breakdown cover and vehicle accessories, find all the up-to-date driving laws and advice for every country in Europe in our travel guides.
Driving in San Marino
Population: 32,576
Area: 61.2 square kilometres
Currency: Euro (EUR) € = 100 cents
Landlocked by Italy, San Marino is a tiny independent nation nestled in the mountains near the Adriatic Sea. Much of this picturesque hidden gem can be seen in a day as part of a longer road trip through Italy.
If you're planning a visit to San Marino, it's essential you're fully prepared ahead of time as driving there has many differences to the UK.
To make your trip to the Continent as safe and effortless as possible, we've put together a guide to everything you need to know before you go, from required documents to rules of the road.
Driving a rented vehicle? Jump to the advice for driving a hire car in San Marino section.
RAC European Breakdown Cover (Basic and Comprehensive) provides a wide range of benefits should you breakdown in San Marino to ensure you stay safe.
To supplement this, RAC also offers travel insurance. Cover will include medical expenses, baggage, personal money and belongings, among many other benefits.
Our temporary car insurance product is perfect if you're looking for flexible and comprehensive cover for between 1 hour and 30 days.
For a limited time, get FREE car health check with European breakdown cover.
Things to take when driving in San Marino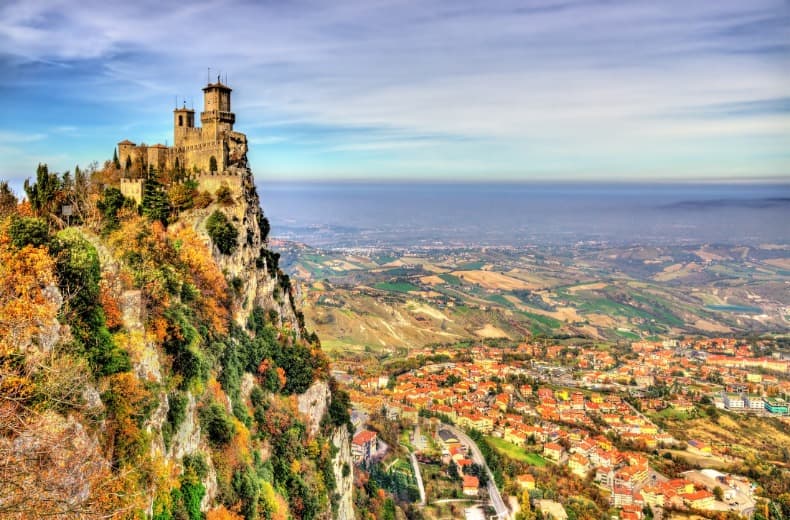 Documents for dirving in San Marino
A valid, full UK driving licence (you must also be 18 or over)
A GB sticker (unless your car is equipped with EU number plates showing the country code in a circle of 12 gold stars on a blue background)
Your motor insurance certificate
The V5 registration document for your own car or the hire car paperwork for a rental
ETIAS – 2024
ETIAS stands for the European Travel Information and Authorisation System. It is a visa program for visitors who don't need a Schengen visa, who want to travel to the European Union and a few other European countries.
Visitors who purchase an ETIAS will be able to enter the 26 member states of the Schengen Zone as well as Bulgaria, Croatia, Cyprus, and Romania.
This will be launching in 2024. Learn more about ETIAS here.
Although this does not impact travelling in San Marino, many of its neighbours will need an ETIAS. So, if you are driving across Europe, make sure you have your relevant paperwork.
Driving in San Marino packing checklist
Aside from the documents above, there are some legally-required items you must bring with you to drive in San Marino.
Unless your headlights can be adjusted, it's a legal requirement to carry headlamp converters (stickers for your headlights when driving on the right, so your lights don't dazzle motorists coming the other way).
A warning triangle is also compulsory to carry in vehicles in case of a breakdown.
A reflective jacket (drivers stepping out of their vehicle at night or in poor visibility must wear one)
You must also:
Be 18 or over
Make sure everyone in the car wears a seat belt at all times
Use dipped headlights during the day on out-of-town roads
Wear a crash helmet if you're riding a motorcycle
Ensure your car is covered by third-party insurance recognised in San Marino. This is the legal minimum cover for residents and visitors, so check with your provider before you travel
It's a good idea to have:
Spare bulbs for your car's external lights
A fire extinguisher
A first-aid kit
A Green Card (this is no longer a requirement, but it could be useful to back-up your insurance documents and show you've got the minimum legal level of cover. To find out more, contact your insurance company)
You can pick up all the car kit you need from RAC Shop.
Rules of the road in San Marino
Driving in San Marino doesn't differ too much from what we're used to in the UK (aside from driving on the right), but here are some general tips to make sure you're prepared:
At the time of entering San Marino, car insurance must be valid for more than three months
In San Marino, you drive on the right and overtake on the left. Vehicles from the right and emergency vehicles have priority
Horns should only be used in built-up areas in cases of extreme danger. Outside built-up areas, use your horn to let someone know you want to pass them
You won't have to pay motorway tolls in San Marino
Unleaded petrol, diesel and LPG are readily available throughout San Marino. Credit cards are accepted at most filling stations
It's illegal to carry any radar detection equipment, whether or not it's switched on, when driving through San Marino
If you're caught committing a driving offence while driving through San Marino, you could be given an on-the-spot fine
Seat belts should be worn in all seats where a belt is available
Children under the age of 4 must use an appropriate child restraint. Children aged 4-12 cannot sit in the front unless they have an appropriate seat restraint
The drink-drive limit is 0.05% - less than the UK limit of 0.08%. There is a zero limit for drivers with less than three years' driving experience
There are several fee-charging car parks, but cars are not allowed in the pedestrian-only centre of the capital city, also called San Marino. If you park illegally, you could be fined and your vehicle could be clamped or towed away
If you're carrying an overhanging load (like a bike on the back of your car) you must have a 50cmx50cm red and white striped reflective panel on the back of the car
San Marinese speed limits
Speed limits vary across San Marino, so always check the signs for maximum speeds. In built-up areas, the limit is 50km/h, while it is 110km/h on dual carriageways and up to 130km/h on motorways
Other things you should know when driving in San Marino

In an emergency
112 - Here's a really important bit of knowledge; you can dial 112 from anywhere in Europe and an operator will connect you to an emergency service in the country you're visiting.
Operators can answer your call in their native language, English or French.
Breaking down in San Marino
RAC offers great-value, flexible RAC European breakdown cover tailored to meet your needs. We also offer comprehensive travel insurance, including cover for medical expenses, baggage, personal money and belongings.
Driving a hire car in San Marino
Not all of the information in the guide above will be relevant to those looking to rent a hire car in San Marino.
Though it might be a good idea to read through everything anyway, here are the most important things to know for drivers of rental vehicles:
Rental information
The minimum age to hire a car varies with the company and vehicle type, it's best to check beforehand
You need a full, valid UK driving licence and usually a second proof of ID (passport)
Some car rental companies ask that you have held your licence for a minimum term - check with your hire company first
Most companies require you to use a credit card for deposit
You may not be able to drive outside of San Marino unless planned in advance - check with your hire company first
Make sure you get car hire excess insurance before your trip to protect yourself from unexpected costs. It's almost always cheaper to do this with a separate insurer and in advance
Hire car driving tips
The Sammarinese drive on the right and overtake on the left - the opposite to the UK
The national speed limit on San Marinese motorways is 130km/h (80 mph). On a main road outside a built-up area it's up to 110 km/h. For built-up areas it's 50km/h
Dial 112 in an emergency
It's compulsory to wear seat belts in the front and rear seats
The blood alcohol content limit for drivers of private vehicles is 0.05%. That's lower than the 0.08% in England Wales and Northern Ireland, but the same as Scotland.
Driving in San Marino FAQs
Is it safe to drive in San Marino?

Yes, San Marino is one of the safest places in the world to drive in, although there are some steep, narrow roads to negotiate because of its mountainous terrain.

As with driving in any foreign country, it's important to familiarise yourself with the law to ensure you stay safe on the roads.

Can you drive in San Marino with a UK licence?

Yes. You can legally drive in San Marino with a full and valid UK driving licence. In addition to this, International Driving Permits are required.

Do I need a green card to drive in San Marino?

It's not essential to carry a green card to drive in San Marino, but it can prove useful as it shows you have at least the minimum compulsory third-party insurance cover required when driving in Europe.

You should check with your insurance provider that your policy will cover you in all countries you plan to visit before setting off.

What side of the road do they drive on in San Marino?

Like in most of continental Europe, motorists drive on the right-hand side of the road in San Marino.

Do I need a GB/UK sticker for San Marino?

You will need to display a UK sticker on the rear of your car. GB stickers have been discontinued.

Can I drive my car in San Marino?

Yes, you should have no problems driving into San Marino. International agreements with Italy mean it's an associate member of the Schengen Area so it doesn't have border controls.

It's important you have all the necessary legal documents, however, including sufficient insurance cover. You should also make sure you have all the required items needed for your journey in San Marino (such as a warning triangle and headlamp converters) as well as for any other country you're planning to drive through.

How do I drive to San Marino?

Getting to San Marino by car from the UK is relatively straightforward, although you may encounter some toll roads along the way. Firstly, you'll need to take your car across the Channel to Calais on either the Eurotunnel from Folkestone or a ferry from Dover.

Once you're in Calais, drive down through France and Italy before entering San Marino. The drive from Calais to the City of San Marino takes around 14 hours non-stop.

What age can you start driving in San Marino?

To legally drive in San Marino, you must be 18 years or older and in possession of a full valid driving licence.
UK Government travel advice
Information in this guide is subject to change
There is no British Consulate in San Marino. The closest British diplomatic mission is in Rome.
British Embassy Rome
Via XX Settembre 80/a
00187 Rome
Italy
Email: [email protected]
Telephone: +39 06 4220 0001
Fax: +39 06 4220 2334
Emergency consular assistance (24 hours): +39 06 4220 0001