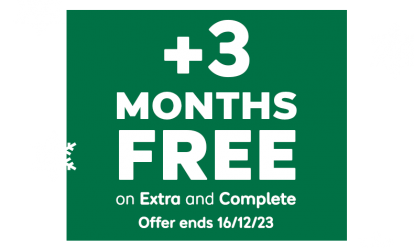 With 12 months of cover, new customers get an extra 3 months for free*.
*Added after 12 months, excludes Basic cover. New customers only. Ends 16/12/23, 7am.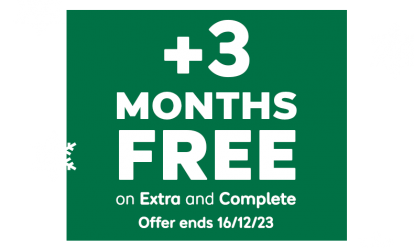 By Jonathan Crouch
Introduction
Back in 2016, Hyundai believed that the market-leading Nissan LEAF had had its own way for far too long in the affordable part of the slowly growing full-electric car segment. They aimed this full-Electric IONIQ model directly at that car and it subsequently also served the brand against a newer wave of EVs like the Volkswagen ID.3. On paper at least, this IONIQ Electric certainly seems to offer a package that eco-minded buyers in this class looking for EV models from the 2016 to 2022 period will want to consider, particularly in the upgraded longer-range version that was introduced in 2019.
Models
5dr family hatch (EV)
History
Once upon a time, Hyundai built simple, cheap, budget brand cars. But by 2016, it was making models like the IONIQ, which was the world's first vehicle to offer the choice of three electrified powertrains. We're looking here at the IONIQ Electric. It was the full-battery-powered version of a design that was also available in our market with Hybrid and Plug-in Hybrid power - and it was very advanced for its time.
The IONIQ Electric was originally launched just after the Hybrid versions, back in 2016, initially with a 28kWh battery mated to an 88kW electric motor. But that only allowed for a driving range of 124 miles and as EV technology progressed towards the end of the 21st century's second decade, it was soon clear that this wasn't going to be enough to keep this battery-powered IONIQ fully competitive. So in mid-2019, Hyundai significantly upgraded the engineering of this car, adding in a bigger 38.3kWh battery mated to a more powerful 100kW electric motor which together increased the EV driving range by nearly 60%. At the same time, the car got an infotainment upgrade with the introduction of a sophisticated new 10.25-inch widescreen navigation system with sophisticated smartphone app-based Bluelink telematics.
During this period, much the same powertrain also featured in another of Hyundai's models, the Kona Electric, but in that car, it was linked to a much larger 64kWh battery which took you a lot further on a single charge than this IONIQ Electric could go. The Kona Electric was significantly pricier though and if all you actually need is a level of battery charge that will cover you for short-to-mid-run urban and commuting mileage, then what this IONIQ Electric's smaller battery can offer might well be quite sufficient for your needs.
In Hybrid and PHEV Plug-in hybrid forms, the IONIQ went head-to-head with the car it was primary launched against, the Toyota Prius but in this full-electric form, it set itself apart with an extra full-battery-powered option at an affordable price. Like its combustion stablemates, the IONIQ Electric sold until 2022 when it was a effectively replaced by a new wave of Hyundai full-Battery models like the IONIQ 5 and the second generation Kona Electric. So does this earlier Hyundai stab at EV motoring make sense as a used buy? Let's find out.
What You Get
This Hyundai challenged the eco-motoring status quo in lots of ways and exterior design was another of them. On this battery-powered full-Electric variant, a front grille wasn't of course needed - not for cooling anyway. We'd argue that it is required for stylistic reasons, a point proved by the way that this battery-powered version was saddled with a rather ugly blanking panel that could be ordered in a choice of grey shades or in polar white.
Inside, Hyundai took much the same conventionally futuristic approach. You know you're in something more advanced than an ordinary Focus or Golf-class family hatch from the 2016-2022 period, but there's nothing here that'd be too taxing to adjust to. Well almost nothing anyway. The IONIQ Electric of course had to differ from its Hybrid and PHEV showroom stablemates when it came to the provision of a gearstick because of course it didn't need to have one. Instead, on the separated lower centre console between the seats, the single-speed transmission system offers small buttons for 'Park', 'Neutral', 'Drive' or 'Reverse'.
The cabin of the revised updated post-2019 model feels of higher quality than the original version launched in 2016 - and is certainly a little smarter than what you get in a comparable Prius or a Nissan LEAF. The big change made as part of the mid-term update lay with the addition of a big 10.25-inch Widescreen Navigation screen, part of a media package which included a very decent Infinity sound system, Apple CarPlay/Android Auto smartphone-mirroring and a suite of the brand's Bluelink connected telematics car services, these operating via a connected app.
Anything this central monitor can't tell you will probably be covered off by the 7-inch 'Driver's Supervision Cluster' screen which replaces conventional gauges in the instrument binnacle. Here, a circular display with a digital speedo is flanked by Power/Charge meter on the left and a battery indicator on the right.
Taking a seat in the rear is a process that, unless you're really quite short, will involve the need for a slight incline of your head below the sloping roofline. Having done that, you might not be too surprised to find that once inside, as in, say, a Toyota Prius, headroom is at something of a premium for taller folk. Normally, the rear seats would have been positioned a little lower to compensate for the swept-back ceiling, but that's not possible in this case since they sit right on top of the powertrain's battery pack.
Finally, let's consider the boot space on offer. A lot of the early battery-powered cars designed in this period managed to package in their batteries without encroaching on luggage room but that's not the case here. The 443-litre capacity you get in an IONIQ Hybrid falls to 350-litres here - that's 55-litres less than a Nissan LEAF. If you load this IONIQ to the roof, the figure rises to 455-litres. When you push the 60:40 split-folding rear bench forward, it doesn't free up a completely flat loading area but you do get as much space as likely buyers will need, 1,410-litres being provided.
What You Pay
Please fill in the form here for an exact up-to-date information.
What to Look For
As owners have indicated, the IONIQ is an extremely reliable car, but as with any second-hand model, you do have to be on the look-out for common issues. Here, we're going to focus on the Electric version. The drive battery in used IONIQ Electric models should have quite a bit of life in it, unless you happen to be looking at one of the very earliest '16-plate 28kWh models. When the battery is on its way out, you'll obviously find that it won't go as far on each charge - and when it starts to run low on charge, you'll find that the car will particularly start to struggle going uphill. When it gets old, the lithium-ion battery used here can suffer from the ionised liquid in the battery freezing certain cells; those cells are then unable to receive charge. Replacement batteries cost in the £1,600-£3,200 bracket.
Before going to all that trouble though, make sure the issue really is the battery. If the car won't charge, it could be a problem with your home electrics (or those at the public charge point you're using). Check the charge light to make sure that electricity really is going through the charge port. And make sure there really is charge in the socket you're using to power from - plug something else into it to see - say, your 'phone. If that charges OK, it could be that your charging cable is demanding too much power, so try another power source. Another problem could be that the circuit may have tripped due to a circuit overload. Or perhaps there could be a problem with the charge cable: this needs to be cared for properly. Repeatedly driving over it (as previous owners may conceivably have done) will damage it eventually. Make sure you do a charge-up before signing for the car you're looking at. When you do this, make sure that when you plug in to start the charge cycle you hear the charge port and the cable locking and engaging as they should; that's all part of the charger basically confirming with the car's onboard computer that everything's good to go before releasing power. But if the charging cable fails to lock as it should, then that won't happen. If there is a failure to lock, the issue could be actuator failure, caused by a blown fuse.
Otherwise, the issues here to look for are pretty much as they are in other early IONIQ Hybrid and Plug-in Hybrid models. One annoyance is that it's extremely difficult to replace the headlights. And we've come up across problems with owners saying that when they update the navigation system, the GPS set-up then refuses to work, so then requiring a reset of the electronic control unit while the car's battery is disconnected. Otherwise, it's just the usual things to look for: parking knocks and scrapes and any damage to the interior caused by kids. And of course insist on fully stamped-up service history.
Replacement Parts
(approx prices, based on a 2020 IONIQ Electric ex VAT) Hyundai spares prices have garnered a deserved reputation for value and replacement parts for the IONIQ are no exception. Front brake pads weigh-in at around £25-£64. A set of rear pads is around £22. A set of front brake discs is around £48; a set of rear discs is around £35-£44. A wiper will be in the £3-£28 bracket. A pollen filter is in the £15-£57 bracket.
On the Road
Inevitably, the need for a battery three times the size of the one in the IONIQ Plug-in model mated to a much larger electric motor (120PS in the post-'19-plate Electric model) means extra weight, the kerbside figure of this IONIQ Electric rising by 50kgs. In fact though, because all the bulk is mounted so low down in the car, that has a positive, rather than a negative effect on driveability, reducing the body roll that troubles the Hybrid models at speed through tight bends. Even so, there's nothing particularly rewarding about driving this car - the somewhat lifeless steering rather makes sure of that.
We'd strongly suggest you try and avoid the early 2016-2018-era 28kWh versions of this model which could go just 124 miles between charges. The post-2019-era upgraded version with its 38.3kWh battery and more powerful electric motor is obviously a far better bet; though obviously, to get anywhere near its official quoted 182 mile WLTP driving range figure, you'll need to be using the most sensible of the three provided driving modes - green-tinged 'Eco', which slightly restricts throttle travel and climate system performance. You'll need to maximise brake regeneration using the provided steering wheel paddles. And you'll also want to keep an eye on the drive indicator to the left of the instrument binnacle screen, staying in the lower blue 'Charge' zone and out of the upper white 'Power' section. All the main EV stuff though, is located on the 10.25-inch centre-dash screen. A provided right hand screen tab brings up battery status, driving range and the nearest EV charging station.
As another part of the upgrades made to this model in mid-2019, there was a switch from a 6.6kW on-board charger to a 7.2kW system, increasing the amount of charge the car can take in any given period. Following that, it became possible to replenish this model's lithium-ion cells with a charge of up to 80% in just 33 minutes, providing you've got access to a 50kW DC fast charger. If you haven't, then a home wallbox will re-charge an Electric IONIQ model completely in 4 hours 25 minutes. Or, if you're somewhere with only a normal 3-pin plug to connect into, an overnight 12-hour charge should be sufficient to substantially top the car up.
Overall
Hyundai was a relatively late starter in terms of battery-powered automotive technology yet with this IONIQ Electric, managed to deliver a product that in its time looked extremely competitive against the EVs fielded by these more established players.
Some might have potential issues with it of course. The looks aren't especially arresting and quite a few rivals from the 2016-2022 period can offer you more all-electric driving range. Still, if you can accept that, get on with the styling and adjust to the frugally-focused manner this car will encourage you to drive in, then we think you might like mostly everything else about it. Less than half a century ago, European car makers helped establish Hyundai. Now, this brand is showing quite a few of them the future of motoring. Isn't it IONIQ? Don't you think?