A used car warranty will cover or contribute towards the cost of a repair if your vehicle develops a problem. However, before you buy a warranty for your car, there are some important things that you need to be aware of.
This guide explains what a used car warranty is, how it works and why the best extended warranties could save you money.
What is a used car warranty?
Simply put, a used car warranty is a contractual agreement between the buyer and seller of a vehicle, which outlines the terms and conditions under which the seller agrees to repair or replace certain parts within a certain time frame.
These repairs can happen before or after the purchase has gone through. However, if it is after the purchase, then the seller must complete the updates to the car before the agreed deadline.
These warranties are designed to provide peace of mind to buyers, looking to get a new vehicle through the used car market.
The warranty will cover them for the full cost of repairs if the replacement parts fail or are not fit for use.
Used car warranties can be provided by a manufacturer, dealership, or from third party providers.
These contracts typically cover issues involving the engine, structural integrity, and electrical components.
Before signing any agreement, check what any potential warranty will cover and for how long.
What are the four types of used car warranty?
When it comes to car warranties there are four different options that can help provide some financial protection.
These different choices are provided by different business and will cover separate potential issues with your vehicle.
Check the details of the agreement before agreeing to anything.
The four options are dealer warranty, approved-used warranty, manufacturer warranty, and third-party warranty.
If you purchase a used car from an independent dealership, then you could have the option to take out a dealer warranty.
This agreement will vary depending on the dealership itself – and any agreements they have with third parties – but they are a great option if you are looking to get a car from one of these locations.
An approved-used warranty is an option that is available for up to two years after purchasing the car, is a comprehensive agreement that is provided through the manufacturers' own scheme for selling used models.
The difference with a manufacturer warranty is when you purchase a newer used car that still has time left on its original agreement, when the car was first purchased.
A third-party warranty – like the one offered by the RAC – is an independent offer provided by a company outside of a dealership or manufacturer.
The average repair cost last year was £449*. But with us, get complete peace of mind that you're protected from big bills.
Terms apply.
*Based on RAC Renewal warranty report 2022 average claims cost.
*Based on RAC Renewal warranty report 2022 average claims cost.
Pros of used car warranties
Used car warranties offer several advantages to buyers – and it is why they are popular with those looking to get a new vehicle.
Besides the obvious benefit of the option to potentially save money on repairs, there are other important things to consider.
Used cars are a great option for potential buyers, but having the peace of mind that your vehicle is covered by a warranty can reduce stress and anxiety related to potential car breakdowns or needing to visit a local garage.
Some warranties also include benefits that cover expensive repairs such as those that cause breakdowns – along with flat tyres, dead batteries, and even running out of fuel.
However, owning a vehicle comes with a few challenges – one of them being a few unexpected issues that can cost a lot to fix. With a warranty, you have a clear idea of what's covered and how much you'll be responsible for when a repair is needed. This can help you budget for maintenance and repairs more effectively.
And if you do need to carry out repairs, you know it will be at a highly reputable garage, using genuine parts, as the vehicle will need to be serviced in line with the agreement.
Also, if you have a used car warranty for the duration of the time that you own your used vehicle, then you will be able to command a higher resale value, should you want to trade in for a newer model.
Cons of used car warranty
While used car warranties offer several benefits for drivers looking to get themselves a new vehicle, these contractual agreements also have some potential challenges.
First of all, despite warranties providing a safety measure for being covered for any costs of repairs, they can be expensive to pay for.
This means that used car warranties can just end up adding to the overall cost of purchasing a vehicle.
Therefore, buyers need to consider whether the cost of the warranty is worth paying for. Sometimes, a vehicle may only need a small repair, rather than anything extensive. Drivers should always consider vehicle's age, condition, and expected repair needs.
Although most parts and systems are covered by a used car warranty, some expensive repairs may not be included in the agreement. Also, some may exclude wear-and-tear items, and any other pre-existing conditions. This would make the new driver responsible for these repairs.
When it comes to regular maintenance of the vehicle after you have purchased it, there are a few things you'll need to consider. Some warranties require that you stick to a strict maintenance schedule and document all service and repairs. This can include regular servicing. Failure to do so can result in the warranty being voided.
Also, many warranties require repairs to be conducted at authorised garages or dealerships – and only use approved parts. This can limit your options for where you can have your vehicle's repairs carried out.
Finally, the majority of used car warranties will have an age and mileage limitation in the contract. If your vehicle is too old or has too many miles, it may not be eligible for warranty coverage.
Make sure you check through all the details of the agreement to see what your warranty will and will not cover.
Used car warranty extension
Often, when you purchase a new car, your will be given a manufacturer's warranty. Then when you purchase a second hand vehicle, you may have the chance to get a used car warranty.
Following this, you may be able to get a further agreement on your vehicle.
A used car warranty extension is an additional contractual agreement that you can purchase to extend the coverage on a pre-owned vehicle.
These extensions provide continued protection of your vehicle, despite being older and with more mileage on the clock.
If you choose to have one of these agreements, then you will be covered for either a number of months/years or miles.
They can also be known as extended service plans, factory-backed extended warranties, or a third-party agreement. They all differ on a case-by-case basis – so check the agreement before signing anything.
What doesn't a used car warranty cover?
Used car warranties are a great option for buyers looking to get a new car – however, they are not the perfect solution for everyone.
Reviewing the terms of the contact is an important step before signing any document.
This is because specific terms can vary, and some parts or repairs may not be covered.
For example, used car warranties usually do not cover regular maintenance or fixes to general wear and tear on most parts of a vehicle.
This includes cosmetic issues such as chips and dents to the paintwork.
In more specific examples, some major components may not be included in a used car warranty.
Also, if you have carried out any aftermarket modifications, then this will likely void the agreement.
In cases where you have been adjudged to have caused damage to the vehicle through neglect or poor driving, then you are responsible for any repairs – and will not be covered under any warranty.
And when it comes to carrying out those repairs, if you use non-original equipment manufacturer (OEM) parts, then it can also void the warranty.
Furthermore, when any repairs or serving is carried out, drivers will need to stick to the manufacturer's recommended schedule and retain records work that has been carried out. Failure to do so can result in warranty claims being denied.
Do you have any questions about used car warranties? Leave them in the comments below.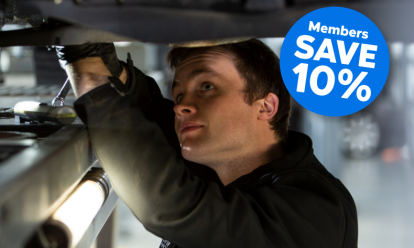 From £19 a month†.
Spread car maintenance costs with our affordable monthly plan.
Beat inflation – lock in today's prices for two years!
†Minimum price for RAC members. Non-member prices start at £21.11.