It is essential, for the safety of your child, to know the current children's car seat laws and the correct way to install one.
Transporting young children in a car is a daunting new experience for many first-time parents, but car safety has progressed hugely in recent years.
Selecting the right seat for your child and your car will give them the best protection possible in the event of a crash. If you ignore the laws, not only will you be putting your child's life at risk, you could also be hit with a £100 fine if stopped by the police.
What are the current car seat laws in the UK?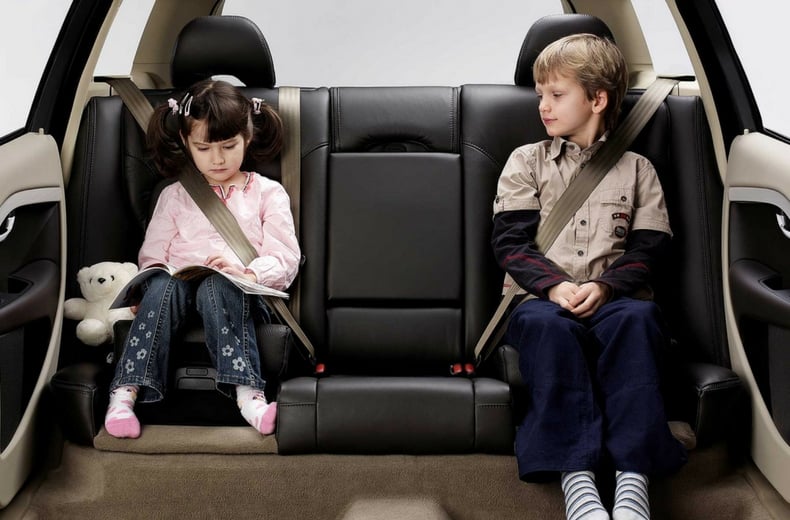 Children are required by law to use a child seat up to the age of 12 or until they're over 135cm tall. Only seats approved by the EU are legal in the UK: these will have a label with a capital 'E' in a circle.
Adults can choose child seats based either on a child's height or weight.
Height-based child seats are called i-Size seats. They must face rearwards until the child is 15 months old.
Weight-based child seats offer a range of options: 0kg to 9kg or 13kg, 9kg to 18kg, and 15kg to 36kg.
Child seats must be fitted either using ISOFIX mountings or a diagonal seat belt strap. Drivers should deactivate front airbags if fitting a rear-facing seat in the front passenger seat, and must not fit child seats in side-facing seats.
READ MORE: How to demist your windscreen in double-quick time
Children can only travel in cars without a child seat in specific circumstances: in a taxi or minicab (so long as they're in the rear seat), plus in a coach or minibus. For vans, the same rules apply as for cars. If a car doesn't have seatbelts, children under three years of age are not allowed to travel in it.
Children can also travel in cars without child seats if the journey is unexpected, unavoidable, and over a short distance.
What does that mean for me?
The easiest way to make sure your child is protected (and avoid unintentionally breaking the law) is to look for an 'i-size' car seat based on the child's height.
These must be rear-facing until the child is 15 months old, as they protect a baby's neck better in the case of a collision. If you use a forward-facing seat at this age, the child's head is more likely to be thrown forward, causing serious neck damage.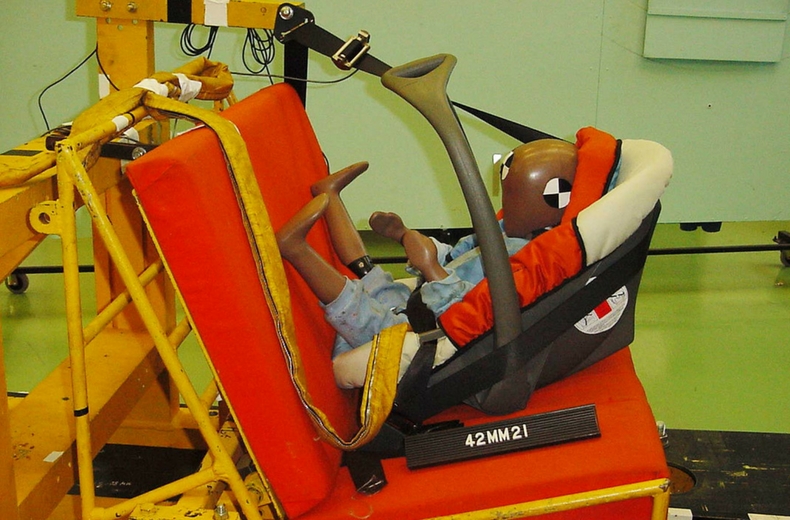 All i-size car seats come with ISOFIX fitting points. This means you can fit the car seat to your car safely without relying on seat-belts. ISOFIX fitting points are increasingly fitted to new cars as standard.
When your child reaches 15 months, their neck will be stronger and it'll now be safe to use mount their car seat facing forward.
Once they weigh 15kg (usually at around three years), you'll have the option of using backless booster seats rather than the high-back seats used for younger children.
READ MORE: The RAC's fuel saving tips
We recommend high-back seats for older children as they'll hold your child in place in the case of a side-impact crash, and also help guide the seat-belt across them properly.
Smaller children using backless seats won't be adequately held in place by the car's seat-belt.
Children must use car seats until they' measure 135cm tall (usually around the age of nine) or reach their 12th birthday.
When is the law changing and what is set to be introduced?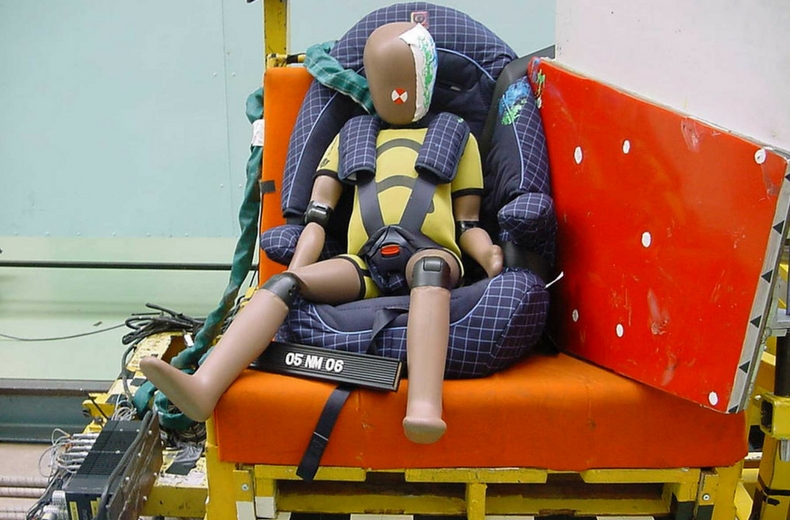 Child car seat laws in the UK have been set to change for several months now. Originally mooted for December 2016, following the law being approved in June, it's now expected to be introduced in March 2017.
This will ban the use of backless booster seats for children weighing less than 22kg and shorter than 125cm - meaning children will legally be required to use high-back seats until they're around seven years old.
If you've already bought a backless seat for a younger child, you will still be able to use it. Although the new regulations are coming in, they only apply to new seats being sold. However, with high-back seats considered to be safer, we'd recommend upgrading your child's seat if you can.
What else do I need to look for when buying a child seat?
With so many car seats on sale, it can be very confusing choosing the right one for your child. We'd suggest buying one from a high street store such as Halfords or Mothercare, and avoid the temptation to buy them online from an unknown source.
Secondhand seats are often cheap - but you don't know their history and whether they've been involved in a crash which might have damaged them.
All car seats used in the UK must be European-approved. Look out for a label showing a capital 'E' in a circle - this indicates that it complies with the latest regulations.
How to fit a child car seat
All new car seats will come with detailed instructions that must be followed carefully to make sure it's properly secured to prevent injury in the case of a crash. Keep them in the car so they're easy to find if you need them - and if you do lose them, many child seat manufacturers publish their instructions online.
Cars with ISOFIX points usually have them hidden behind the rear seats between the cushions. Slot the car seat's connectors into the car's slots until you hear a click.
If you're using a seat/car without ISOFIX points, the seat will need to be fitted using the seat-belt. If it's a rear-facing seat, it'll go through the blue guides, and if it's a forward-facing seat, it'lll go through the red guides.
MORE ADVICE: Driving without shoes - is it illegal?
When it's done, check there's no movement in the seat. The belt should hold it firmly without any slack.
It's safer to fit child seats to the rear of the car, but they can be fitted to the front if required. If you do this, make sure you disable your car's passenger airbag so it doesn't go off in the event of a crash.
When does a child not need a car seat?
The only occasion when a child less than 135cm tall or under the age of 12 can travel in a car without a car seat is if they have a medical note from a doctor saying they have a condition preventing the use of a restraint or seat-belt.
Safety and car seats - the facts
It wasn't until the 1960s that any thought was really given to child seats - and even then, they were simple booster seats designed to give children a better view out of windows than to keep them safe in the event of a crash.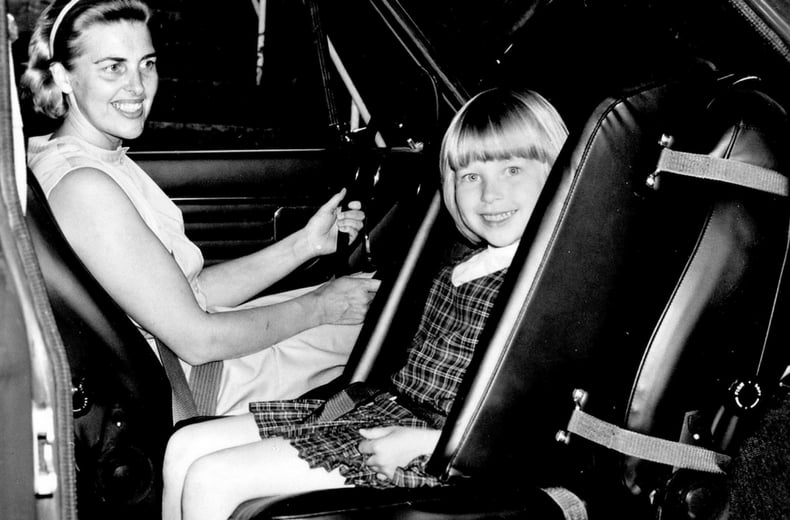 Volvo has a reputation for being the first with safety advances, so it's no surprise that it launched a child seat prototype in 1964.
Inspired by how astronauts travel backwards, medical doctor Bertil Aldman (subsequently professor in traffic safety at Chalmers University of Technology), developed the very first child seat prototype and tested it in a Volvo PV544.
The Volvo Amazon was available with a front passenger's seat that could be turned around entirely from 1967, allowing a child to be kept in place using straps and a padded backrest.
READ MORE: How to avoid and appeal Parking Charge Notices
The firm launched the world's first booster cushion in 1976, and in 1990 the Volvo 960 was launched with an integrated booster cushion.
Seat-belts didn't become a legal requirement for rear-seat passengers in the UK until 1987 and, remarkably, laws requiring children to use special car seats weren't introduced until 2006!