There's a limit to how festive you can feel by watching Love Actually or Home Alone on repeat.
For a dose of yuletide magic beyond the silver screen, why not hit the open road and make your way to some of Europe's most enchanting Christmas markets?
When do European Christmas markets open?
Europe's Christmas markets generally begin at the end of November and can carry on through to January. Make sure you time your visit for when things are in full swing!
| Destination | Dates |
| --- | --- |
| Berlin | 25 Nov – 5 Jan |
| Dresden | 27 Nov – 24 Dec |
| Frankfurt | 25 Nov – 22 Dec |
| Prague | 20 Nov - 6 Jan |
| Bruges | 22 Nov – 5 Jan |
| Brussels | 29 Nov – 5 Jan |
| Antwerp | 7 Dec – 5 Jan |
| Ghent | 6 Dec – 5 Jan |
| Vienna | 7 Nov – 5 Jan |
| Amsterdam | 13 Dec – 5 Jan |
| Strasbourg | 22 Nov – 30 Dec |
| Paris | 21 Nov – 28 Dec |
| Lille | 22 Nov – 29 Dec |
| Zurich | 21 Nov – 23 Dec |
| Montreaux | 21 Nov – 24 Dec |
Berlin Christmas Markets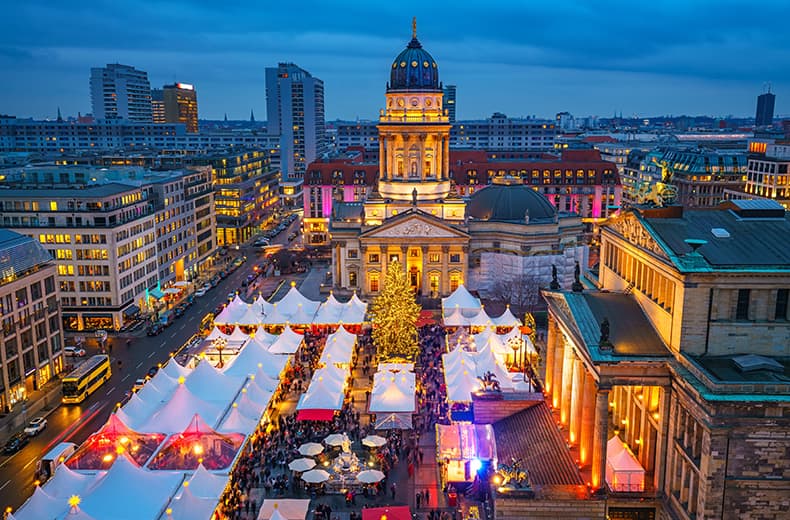 Berlin spoils festive visitors with over 70 Christmas markets to choose from every year. That's a lot of Glühwein...
Winterwelt held in Tiergarten, the city's popular park, opens earlier than other local markets on the 1st of November. When you have the chance to ride Europe's largest toboggan while enjoying views over Potsdamer Platz, it's no surprise that 2.5 million people visit the market each year.
For a dose of traditional Christmas spirit, the Weihnachtszauber at the Gendarmenmarkt can't be missed either.
Situated between three grand buildings – the Deutscher Dom, the Konzerthaus and the Franzozische Friedrichstadtkirche – you'll feel as though you've stepped into a winter scene from a bygone era.
Keep an eye out for daily plays and carol singing for further yuletide fun.
Best Christmas Markets in Germany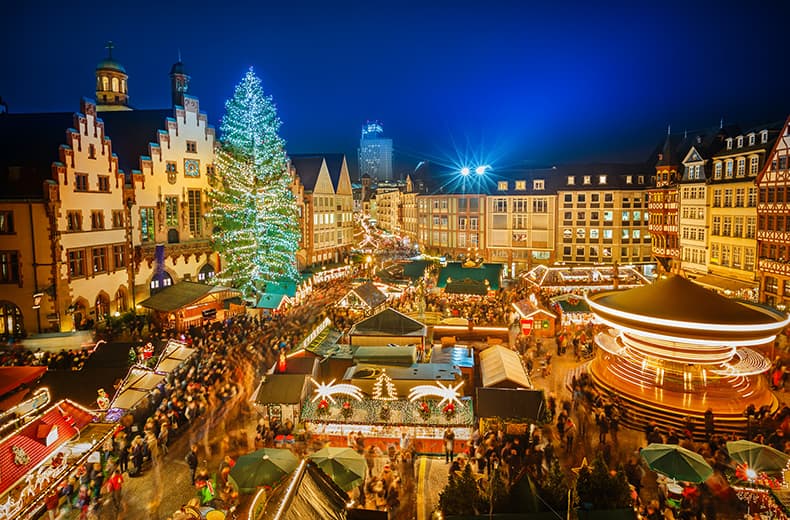 Some of Germany's best Christmas markets can be found away from the bigger cities.
Dresden has hosted its Striezelmarkt since the 15th century, set amongst the old town and bordered by the River Elbe.
Here you'll find Plaumentoffel, decorative figures made of prunes, and the largest Christmas pyramid in the country.
Frankfurt holds one of the largest markets in Germany where stalls sell figures made of nuts and prunes (again) named Quetschemännchen.
It was customary for men to send the treat to girls who took their fancy – if they weren't returned to the sender, he knew he had a chance to win the girl's hand, apparently. Don't wait until Valentine's Day to show your affection!
Prague Christmas Market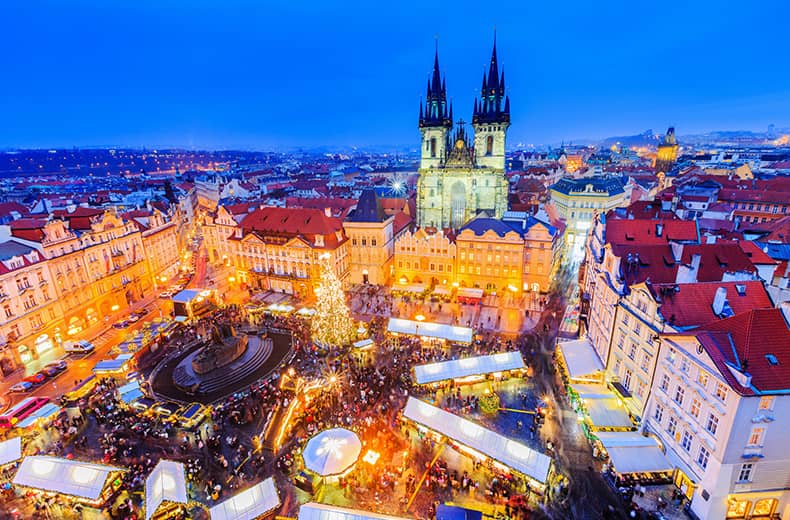 You're in for a cracking Christmas in Prague because markets can be found within short walking distances and the food and drink won't break the bank.
The country's largest market can be found in the Old Town Square and hosts festive stalls alongside daily Christmas-themed concerts.
A five-minute-walk from the Old Town Square is Republic Square, or Náměstí Republiky, the perfect spot to try traditional festive foods.
Here you'll find spit roasted hams, sausages cooked on klobasas (barbecues) and cakes and pastries prepared in front of you. Don't leave without trying a 'trdelnik', a tunnel shaped pastry coated in hot sugar.
Bruges Christmas Market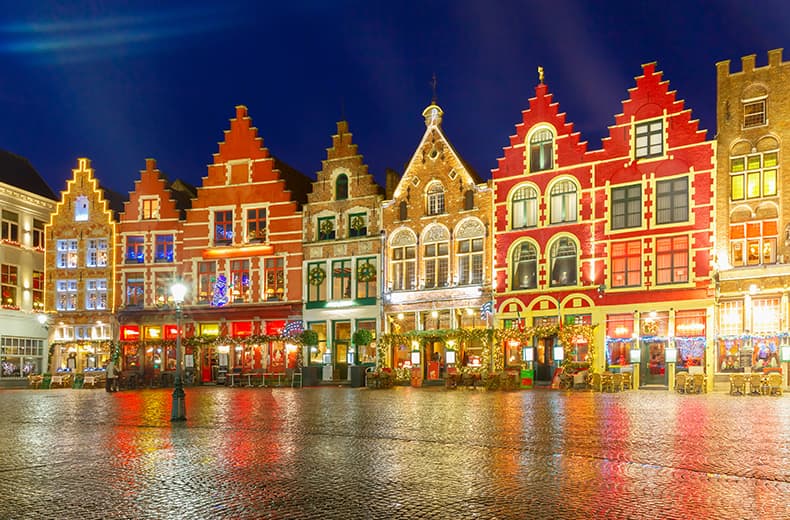 Just 3 hours drive from Dover, you can easily road trip to this medieval city oozing with festive charm.
The Grote Markt can be found in front of the enchanting Belfry of Bruges, towering 83 metres above the city's market square.
The 366-step journey to the top rewards those fit and healthy enough with breath-taking views over the wooden chalets, lights and for the first year, an eco-friendly ice rink.
If scaling heights and skating and isn't for you, there's always the option to feast on the Belgian favourite of frites, washed down with mulled wine while browsing snow-capped stalls.
A second market on the leafy Simon Steverplein square is just a short walk away.
Brussels Christmas Market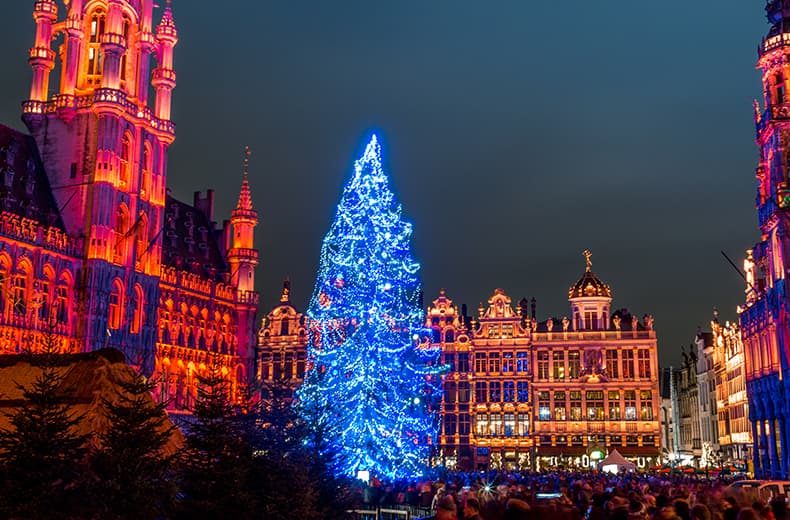 Brussels' Christmas markets are part of a larger event called the Winter Wonders. The Grand-Place is at the heart of it all, home to a towering Christmas tree and a light show you won't forget in a hurry.
Brussels Town Hall, the city museum and other gothic revival buildings are illuminated in an array of colours every half hour, with accompanying festive sounds.
The city's largest market can be found at Marché aux Poissons, where over 200 wooden huts sell handmade crafts and a pavilion serves up local beers, with the option of a lesson in brewing.
To top it off, you can drink it all in at once by jumping on board the 55-metre-tall Ferris Wheel overlooking the whole market.
Best Christmas Markets in Belgium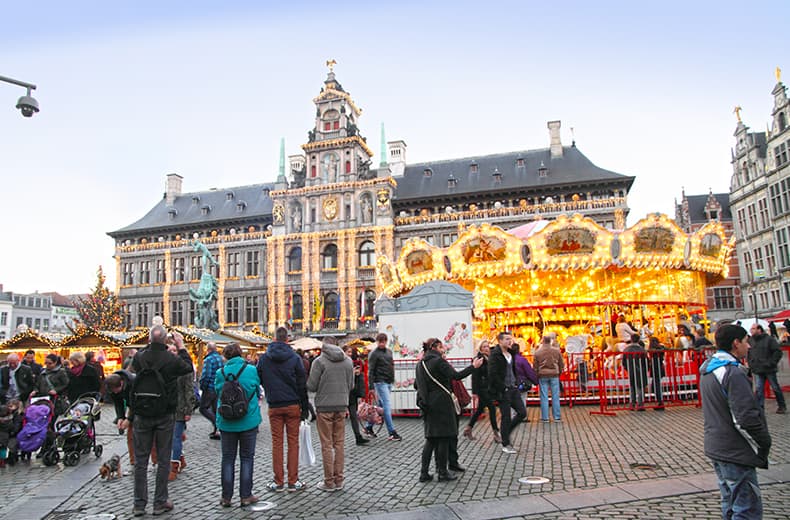 Image: Ana del Castillo / Shutterstock.com
Away from the capital, Antwerp also hosts a variety of markets across its many squares. The Ferris Wheel at Steenplein overlooks wooden huts, the River Schelde and the Steen, a small river fortress.
For those looking for something less conventional, visitors can take to a tubing slide, which will see you whizzing down an icy surface in an inflatable donut. Is it traditional? Who cares!?
At Ghent's centre lies a Christmas market complete with a Moose Bar serving cocktails, a children's village for the little ones and an ice rink open for all.
Expect stalls selling local delicacies, Christmas crafts and even street performers in the capital of East Flanders.
If you're thinking of driving during your trip to Belgium, it's worth taking out European Breakdown Cover to give you complete peace of mind. You might need to arrange temporary car insurance to let a second driver share the driving. And don't forget to consider travel insurance.
Vienna Christmas Market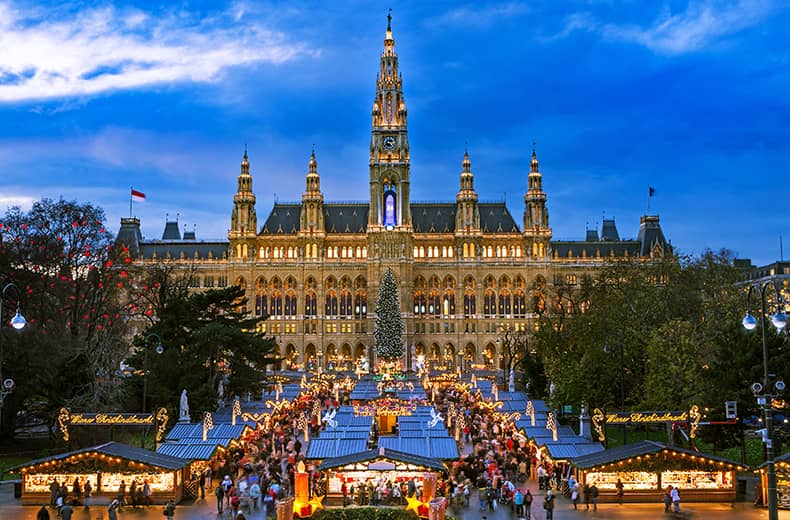 Vienna's Christkindlmarkts take their name from Austria's traditional bearer of gifts Christkindl (Christ-child), which means there are some amazing festive gifts to be had. Head to Karlsplatz for the best selection.
The picture-perfect church forms the backdrop for a market where arts and crafts take prime position and local delicacies such as Raclette Brot – a bread enjoyed with cheese from the Alps - can be sampled.
Don't miss winter at the MQ (Museum Quarter), where the markets serve up mulled wine to the sounds of live DJs. Here you can find pavilions stuffed with local beers nestled in a picturesque courtyard between art museums and exhibition halls.
You can even try a game of curling!
Amsterdam Christmas Market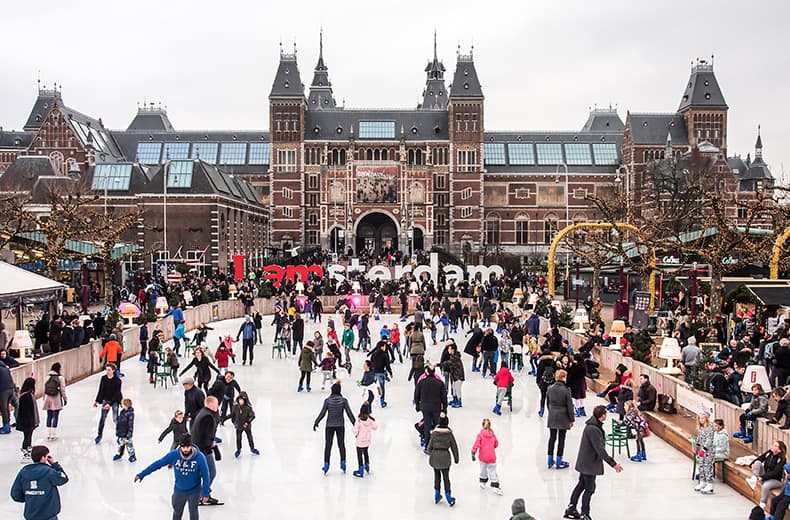 Image: nui7711 / Shutterstock.com
Amsterdam's Ice Village at Museumplein offers an experience unlike any other: human ice bowling.
The novel game sees (willing!) competitors placed on a sled and sent flying into soft pins on an ice rink. Definitely worth a try if you have some spare time.
For more traditional fun, head to Amsterdam Winter Paradise at the RAI Convention Centre. You'll find the usual stalls, ice rinks and a giant Ferris Wheel, plus a few surprises too.
You can also yube across real snow or go to battle in a snowball fight in a city that refuses to celebrate Christmas like everybody else.
If you're thinking of driving during your trip to The Netherlands, it's worth taking our European Breakdown Cover to give you complete peace of mind.
Strasbourg Christmas Market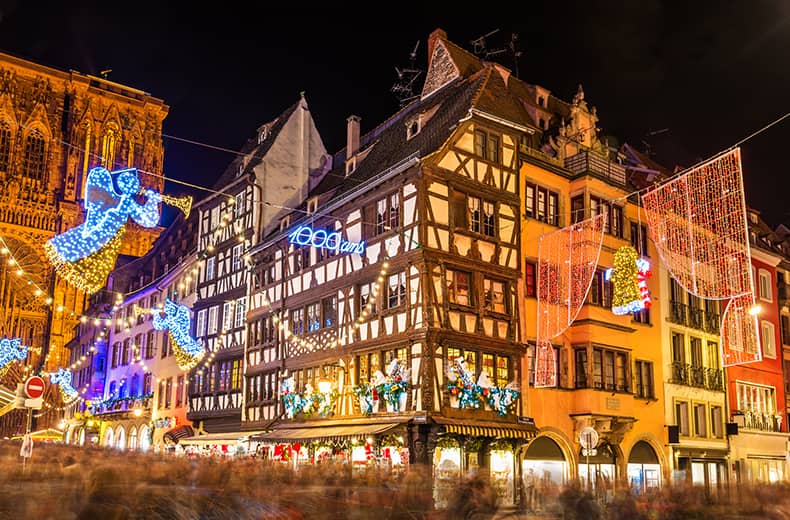 Strasbourg is proud of its claim as the 'Capital of Christmas' (Lapland might want a word), and celebrates the title with the tallest Christmas tree in Europe.
This French city is a seven-hour drive from Dover and home to the oldest market in the country.
Today, over 300 stalls sit outside the gothic cathedral for Christkindelsmärik, serving bredeles, spiced biscuits in the shape of stars, and the usual mulled wine alongside other festive treats.
The market joins others across the Grande Île (large island) with their own unique selling points. Look out for the small Producers of Alsacee Market, Children's World and the Sharing Village, dedicated to charitable causes.
Paris Christmas Markets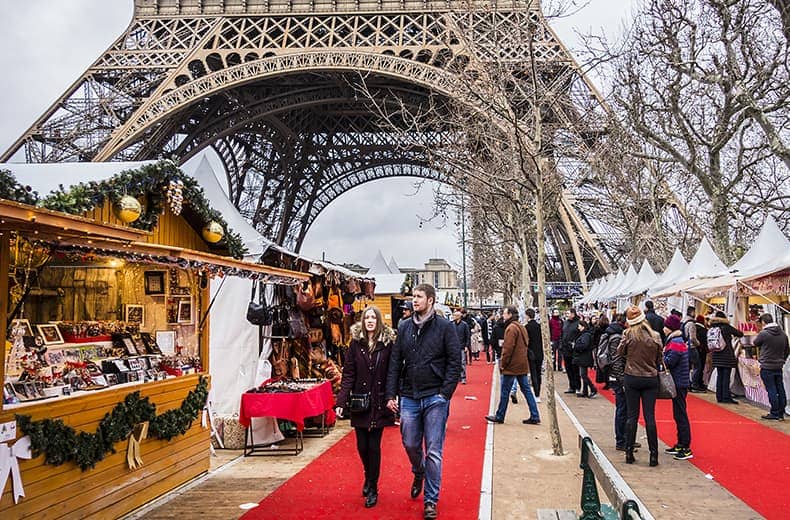 Image: Kiev.Victor / Shutterstock.com
The French capital isn't short on festive fairs and Marché de Noël de Notre Dame is one of our favourites.
The small artisanal market sells expertly crafted silk scarves, silver jewels and ceramics with the famous Notre Dame Cathedral for a backdrop. Be sure to pick up local delicacies including macarons, mulled wine and cheeses.
The largest Christmas market, simply known as Marché de Noël, can be found at La Défense.
Over 300 chalets line the aisles in the city's business district where you can pick up antique books, fine paintings and Christmas decorations.
Keep your eyes peeled for Père Noël (Father Christmas) characters strolling the many stalls. If you've been good this year he'll happily pose for photos too!
Lille Christmas Market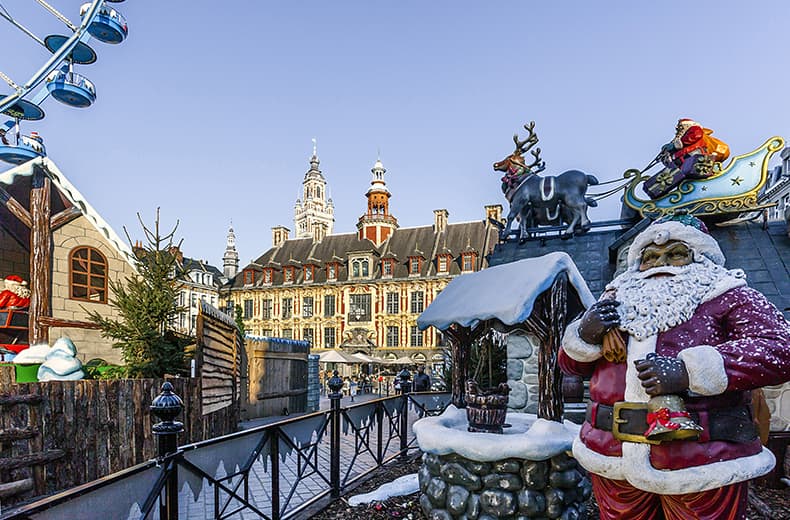 Image: Jacky D / Shutterstock.com
After a drive of less than three hours you could find yourself on the cobbled streets of one of France's most charming cities.
The Marché de Noël at Lille is smaller than many others on our list but delivers Christmas spirit by the sleigh-load. Over 80 stalls take to the city square at Place Rihour every year, selling local delicacies such as babeluttes (soft caramel sweets) and delicious Maroilles cheese.
Take a ride on the 50-metre-tall Ferris Wheel to take it all in and get a clear view of the market's massive Christmas tree.
Christmas Markets in Switzerland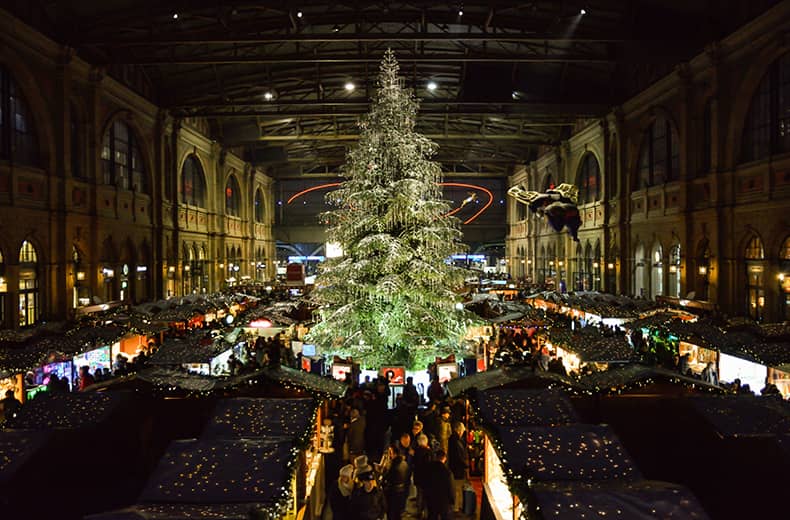 Image: Michal Stipek / Shutterstock.com
Zurich hosts one of Europe's largest indoor Christmas markets, with a centrepiece worth writing home about.
Each year the Christkindlimarkt squeezes a huge Christmas tree into the hall of the Hauptbahnhof railway station, decorated with Swarovski crystal. No Christmas market sparkles quite like this one.
The Marché de Noël à Montreux is the largest and best Christmas market in western Switzerland.
Over 170 stalls fill Montreaux alongside Lake Geneva selling crafts, mulled wine and local favourite, lumberjack tea.
Nearby Chateau de Chillon castle hosts a market and medieval Christmas festival for those that want to learn how Noël was celebrated centuries ago.
For a limited time, get FREE car health check with European breakdown cover.