Driving advice for every country in Europe
Find up-to-date driving laws and advice for any country in Europe before you visit, including any accessories you may need to purchase. Don't forget the RAC provides European breakdown cover while you're driving in Europe.
Driving in Ukraine

Population: 44.4m
Area: 603,700 square kilometres
Currency: Ukrainian Hryvnia (UAH)
As one of the biggest countries in Europe, Ukraine offers a wealth of opportunities for exploring scenic lakes, waterfalls and mountains, as well as historic cities such as Kiev, Lviv and Odessa.
If you're planning a road trip to Ukraine, it's essential you're fully prepared ahead of time as driving there has many differences to the UK.
To make your trip to eastern Europe as safe and effortless as possible, we've put together a guide to everything you need to know before you go, from required documents to rules of the road.
Driving a rented vehicle? Jump to the advice for driving a hire car in Ukraine section.
RAC European Breakdown Cover (Basic, Comprehensive and Single Trip) provides a wide range of benefits should you breakdown in Ukraine to ensure you stay safe.
To supplement this, RAC also offers travel insurance. Cover will include medical expenses, baggage, personal money and belongings, among many other benefits.
Get covered when driving in Europe for less than £5.79 per day.*
Things to take when driving in Ukraine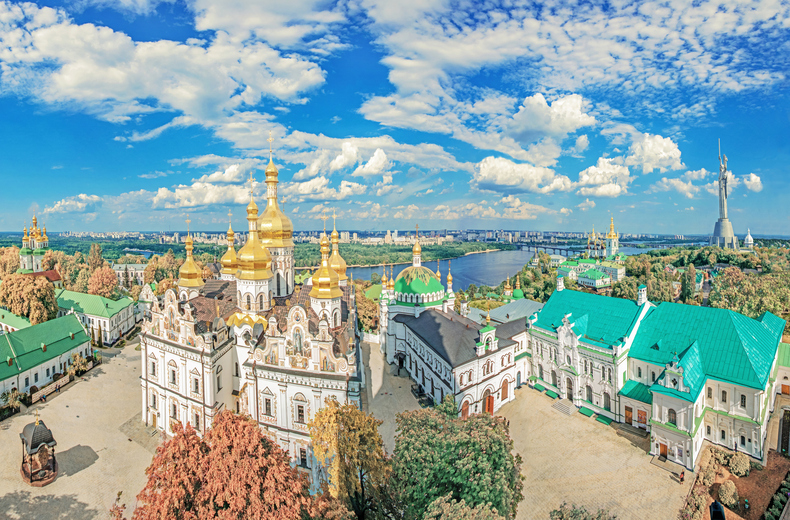 Documents for driving in Ukraine
If you're driving in Ukraine your checklist requirements are:
A valid, full UK driving licence
A GB sticker – all temporarily imported vehicles must bear the distinguishing sign of their country of registration
An International Driving Permit (you're advised to have a 1968 permit to drive in Ukraine)
Your motor insurance certificate/green card (Ensure your car is covered by third-party insurance recognised in Ukraine. This is the legal minimum cover for visitors, so check with your provider before you travel)
Your V5 registration document or hire car paperwork
Driving in Ukraine packing checklist
Ensure your car is covered by third-party insurance recognised in Ukraine. This is the legal minimum cover for visitors, so check with your provider before you travel
Headlamp converters (stickers for your headlights when driving on the right, so your lights don't dazzle motorists coming the other way)
A warning triangle (compulsory to carry in vehicles in case of a breakdown)
A first-aid kit and fire extinguisher
Winter tyres if you're driving between November and April, with a minimum tread depth of 4mm
Spare bulbs for your car's external lights
A reflective jacket
You can pick up all the car kit you need from RAC Shop.
Rules of the road in Ukraine
Drive on the right
Be 18 or over
Wear a crash helmet if you're riding a motorcycle
Use headlights during the day between 1 October and 30 April
If you're caught committing a minor driving offence such as illegal parking or jumping a red light, you could be given an on-the-spot fine of up to 450 UAH (around £12)
If you have not paid a driving penalty before you're due to leave Ukraine or within 15 days of the fine being issued, your vehicle can be detained until the penalty is paid
The driver and front seat passenger in a car must wear a seat belt
Children under the age of 12 and less than 145cm in height must use an appropriate restraint
The drink-drive limit is 0.00%, although a 0.02% tolerance has been established to allow for some medications and mouthwashes that may contain alcohol
Ukrainian speed limit
Speed limits vary across Ukraine, and they're not always clearly signposted so you have to watch out if you're in a built-up area. In urban areas, the limit is 60km/h unless otherwise stated and 110km/h outside these areas. On motorways, the limit is 130km/h
For drivers with less than 2 years' driving experience, the speed limit is 70 km/h
Other things you should know when driving in Ukraine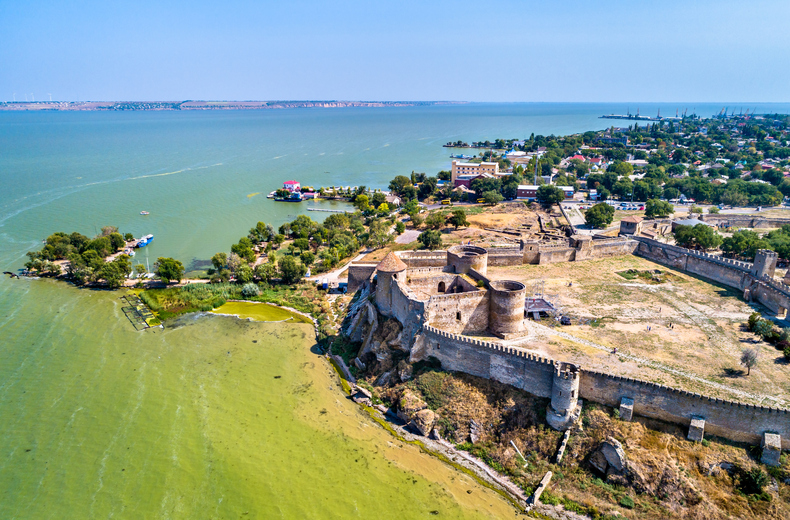 The political situation in eastern Ukraine remains highly unstable, so travel to these parts is strongly discouraged
Not all insurers cover driving in Ukraine so check before you go and make sure you're covered. Alternatively, you can buy basic cover at the border
Crossing the Ukrainian border might take a few hours, so allow for that when planning your itinerary
Roads in Ukraine are generally in poor condition, with many potholes. Travelling between cities at night and in winter can be particularly hazardous
There are no toll roads in Ukraine and not many motorways
You'll find service areas on the major motorways, most with petrol stations, restaurants and shops
Unleaded petrol and diesel are available throughout Ukraine. Payment is generally made in cash, although some petrol stations will accept credit cards
In cities, parking is usually limited to 30 minutes, and tickets can be bought from parking attendants. A vehicle that is parked illegally may be clamped or removed
Political demonstrations can be common in Kiev. They are usually peaceful but can escalate into violence. The Foreign Office advises against all travel to the far east of the country, so check Government advice for the latest information
In an emergency
112 - Here's a really important bit of knowledge; you can dial 112 from anywhere in Europe and an operator will connect you to an emergency service in the country you're visiting.
Operators can answer your call in their native language, English or French.
Breaking down in Ukraine
RAC offers great-value, flexible RAC European breakdown cover tailored to meet your needs. We also offer comprehensive travel insurance, including cover for medical expenses, baggage, personal money and belongings.
Get covered when driving in Europe for less than £5.79 per day.*
Driving a hire car in Ukraine
Not all of the information in the guide above will be relevant to those looking to rent a hire car in Ukraine.
Though it might be a good idea to read through everything anyway, here are the most important things to know for drivers of rental vehicles:
Rental information
The minimum age to hire a car is 21 or 25, depending on the model of car
You need a full, valid UK driving licence and usually a second proof of ID (passport)
Some car rental companies ask that you have held your licence for a minimum term - check with your hire company first
Most companies require you to use a credit card for deposit
You may not be able to drive outside of Ukraine unless planned in advance - check with your hire company first
Make sure you get car hire excess insurance before your trip to protect yourself from unexpected costs. It's almost always cheaper to do this with a separate insurer and in advance
Hire car driving tips
Ukrainians drive on the right and overtake on the left - the opposite to the UK
The national speed limit on Ukrainian motorways 130km/h (80 mph). On a main road outside a built-up area it's up to 110 km/h. For built-up areas it's 60km/h
Dial 112 in an emergency
It's compulsory to wear seat belts in the front and rear seats
The blood alcohol content limit for drivers of private vehicles is 0.00% (a tolerance for 0.02% has been established to allow for medicine containing alcohol)
Driving in Ukraine FAQs
Is it safe to drive in Ukraine?

Roads in Ukraine are generally in poor condition compared with other European countries, with badly lit roads full of potholes. Ukrainian drivers are also notoriously unpredictable, with road signs and speed limits often ignored.

That said, travelling by car in Ukraine is a fun way to explore this vast country, provided you stick to main roads and avoid driving at night wherever possible.

Can you drive in Ukraine with a UK licence?

Yes. You can legally drive in Ukraine with a full and valid UK driving licence. In addition to this, it's recommended you take an International Driving Permit too.

Do I need a green card to drive in Ukraine?

A green card is an internationally recognised certificate that shows your insurance policy provides minimum cover. You'll need one to drive your car in Ukraine as proof of insurance.

You should always check with your insurance provider before travel to ensure you will be covered for all the countries you plan to visit.

What side of the road do they drive on in Ukraine?

Like the vast majority of European countries, motorists drive on the right-hand side of the road in Ukraine.

Do I need a GB/UK sticker for Ukraine?

You will need to display a UK sticker on the rear of your car. GB stickers have been discontinued.

Can I drive my car in Ukraine?

Yes, although before driving your car to Ukraine it's important you follow all legal requirements to ensure you are safe and legal on the roads, including having sufficient insurance cover legally recognised in Ukraine.

You should also ensure you have all the required items needed for your journey in Ukraine (such as a warning triangle and first-aid kit) as well as for any other country you're planning to drive through.

How do I drive to Ukraine?

Getting to Ukraine by car from the UK is an epic European adventure that takes you from west to east. The quickest option is to take your car on the Eurotunnel from Folkestone to Calais.

Once you're in Calais, drive eastwards through Belgium, the Netherlands, Germany and Poland before crossing the border into Ukraine. The drive from Calais to Kiev takes around 24 hours non-stop.

Alternatively, you can take a ferry from the UK to Calais or various ports in the Netherlands.

What age can you start driving in Ukraine?

To legally drive in Ukraine, you must be 18 years or older and in possession of a full valid driving licence.

Do I need winter tyres in Ukraine?

In wintry conditions – typically between November and April – vehicles must have winter tyres on all wheels, with a minimum tread depth of 4mm. The use of snow chains is also allowed.
UK Government travel advice
---
Information in this guide is subject to change
British Embassy Kyiv
9, Desyatynna St.
Kyiv
01901
Ukraine
Email: [email protected]
Telephone: +380 44 490 3660
Fax: +380 44 490 3662 Fax (trade/defence teams)+380 44 490 3695/62
*Price for 7 days' Comprehensive Cover for a vehicle between 1-4 years old in zone 1.