Driving advice for every country in Europe
Find up-to-date driving laws and advice for any country in Europe before you visit, including any accessories you may need to purchase. Don't forget the RAC provides European breakdown cover while you're driving in Europe.
Driving in Greece

Population: 10.7m
Area: 238,537 square kilometres
Currency: Euro (EUR) € = 100 cents
Coronavirus update
Please be aware that driving in Europe may be restricted at the moment.
Check the Foreign travel advice section of the GOV.UK website for up to date advice on all European countries.
Blessed with ancient ruins, white-washed villages and idyllic islands surrounded by warming, turquoise seas – Greece really has to be seen to be believed.
But if you're planning a road trip to Greece, it's essential you're fully prepared ahead of time, as driving there has many differences to the UK.
To make your trip to the Continent as safe and effortless as possible, we've put together a guide to everything you need to know before you go, from required documents to rules of the road.
Driving a rented vehicle? Jump to the advice for driving a hire car in Greece section.
RAC European Breakdown Cover (Basic and Comprehensive) provides a wide range of benefits should you breakdown to ensure you stay safe.
To supplement this, RAC also offers travel insurance. Cover will include medical expenses, baggage, personal money and belongings, among many other benefits.
Advice for driving in Greece
In an emergency
The following telephone numbers can be used to call the emergency services should you be involved in an accident or breakdown on the motorways indicated below:
Attiki: 1024
Aegean: 1075
Moreas: 1025
Nea Odos: 1075
Olympia: 1025
Egnatia: 1077
Rion-Antirrion, bridge: 26340 - 39010
112 - Here's a really important bit of knowledge; you can dial 112 from anywhere in Europe and an operator will connect you to an emergency service in the country you're visiting.
Operators can answer your call in their native language, English or French.
Driving license laws
Visitors must be aged 18 or over and hold a full, valid driving licence to legally drive in Greece. Riders of motorcycles up to 125cc must be aged 18 or over, while moped (not exceeding 50cc) riders must be aged 16 or over.
Driving licences issued in EU and EEA countries are accepted. International driving permits are recognised, but not required.
Things to take when driving in Greece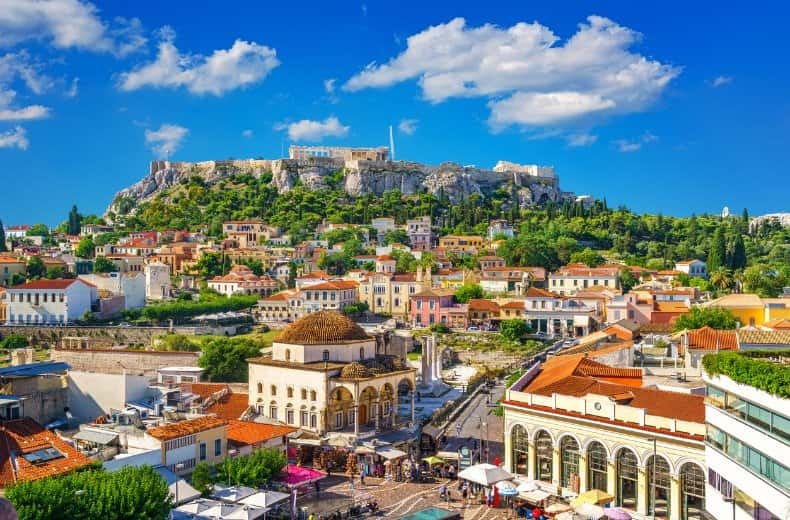 Documents for driving in Greece
Vehicles from the UK can be temporarily imported into Greece for up to 6 months without customs documents. In order to stay on the right side of the law, the following documents should always be carried:
Full, valid UK driving licence
Proof of ID (passport)
Motor insurance certificate
V5 registration document
Do I need a GB sticker?
Yes, you will need a GB sticker on your car to drive in Greece unless it's already equipped with EU number plates, which show the country code in a circle of stars on a blue background.
Driving in Greece packing checklist
In addition to required documents, motorists are also required by law to carry the following items when driving to avoid fines:
Warning triangle (compulsory in every vehicle)
Headlamp beam deflectors (depending on your car, you will either need deflector stickers or have to adjust the beam manually)
Crash helmets are compulsory for all riders of mopeds and motorcycles
Fire extinguisher (compulsory in every vehicle)
First aid kit (compulsory in every vehicle)
Green Card (although not a legal requirement, it could be useful to back up your insurance documents and show you've got the minimum legal level of cover. To find out more, contact your insurance company)
Rules of the road in Greece
Overtaking and passing
In Greece, motorists drive on the right and overtake on the left.
Overtaking is forbidden on and approaching level crossings, or if the vehicle ahead has stopped for safety reasons.
Who has priority?
As a general rule, priority must be given to vehicles coming from the right unless indicated.
Outside of main urban areas, traffic moving along a main road has priority at an intersection.
Warning of approach
In urban areas, sounding the horn is not allowed at any time, except in an emergency. Multi-toned sirens, hooters and whistles are strictly prohibited.
Towing
Cars with caravans or trailers are not allowed to exceed 18 metres in length, 4 metres in height and 2.55 metres in width.
Seat belts
It's compulsory to wear seat belts in the front and rear seats of cars equipped with belts.
The fine for failing to wear a seat belt is €350.
Traffic lights
The international three-colour traffic light system is used in Greece.
Road signs
All major and secondary roads and motorways have road signs in both Greek and English
Speed limits when driving in Greece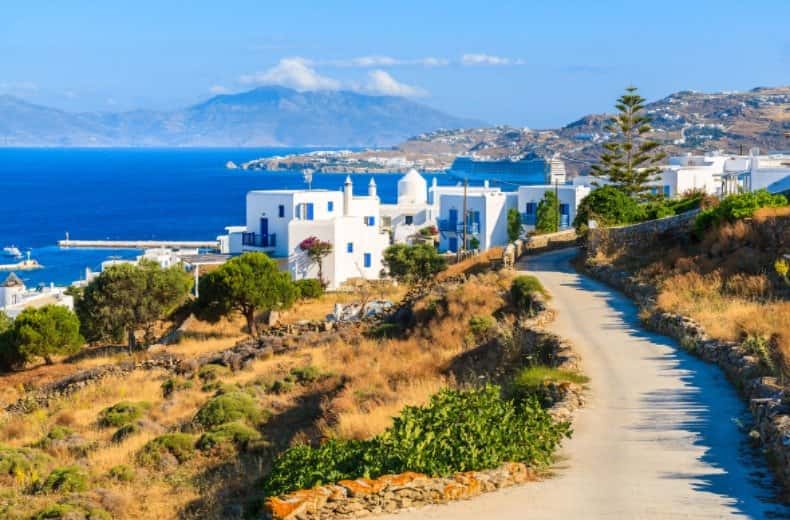 Greece uses the metric system for all road signs, meaning speed limits and other road signs including distance are indicated using kilometres and metres. These are the general speed limits for private cars:
| | |
| --- | --- |
| In built-up areas | 50km/h (unless otherwise indicated on local signs) |
| Outside built-up areas | 90km/h – 110km/h (according to local signs) |
| Motorways | 130km/h (unless otherwise indicated on local signs) |
Special speed restrictions apply to certain classes of vehicle, including mopeds, motorhomes and vehicles with trailers, as well as newly-qualified drivers, so check before travel.
Speeding fines in Greece
Speeding fines in Greece range from €40 to €750 depending on the speed at which offenders are caught, and the road on which they're driving.
RAC Arrival offers best in market UK and European cover† for caravans, motorhomes and trailers.
Travelling with children in Greece
All children aged under three travelling in cars in Greece must be placed in a suitable child restraint. Children aged between three and 11 must be seated in an appropriate child restraint for their size.
From the age of 12, children over 1.35m tall can wear an adult seat belt.
Bike helmet law
Bike helmets are not compulsory in Greece.
All bikes should be equipped with a bell, brakes and lights.
Penalties and fines in Greece
On-the-spot fines
Greek police are unable to collect on-the-spot fines from offending motorists.
Minimum and maximum fines
Fines range from €40 for a minor speeding offence to €1,200 for driving under the influence of alcohol.
Some motoring offences are considered criminal offences and can also lead to licence revocation, vehicle confiscation and a possible prison sentence.
Confiscation of vehicles
A vehicle can only be confiscated in very serious circumstances and only after a court has issued such a decision.
The Cross-Border Enforcement Directive
An EU cross-border directive came into effect in the UK in May 2017. This is aimed at tracking down people who commit traffic offences in cars that are registered in an EU member state different to where the offence was committed.
If you commit a driving offence in Greece or any other EU country, the crime will effectively follow you back home to the UK where you can still be prosecuted.
Parking in Greece
Regulations
In Greece, parking is prohibited:
Within 5 metres (m) of intersections
Within 15m of level crossings
Within 15m of bus and tram stops
Within 3m of a fire hydrant
Within 5m of a stop sign or traffic light
In some streets, signs indicate which side of the road motorists should park.
In Athens, parking is prohibited in the "Green Zone" except where signposted otherwise.
Paid parking
Parking fees vary between cities, with meters usually operating for between 30 minutes and two hours. In Athens, special parking areas are reserved for tourists.
Enforcement of parking regulations
Wheel clamps are not used in Greece, although vehicles can be towed away by the police.
Disabled parking access
EU-issued disabled permits should be recognised in Greece, although to be on the safe side you should apply for a badge from the Institute for the Rehabilitation of the Disabled in Athens, or the local Prefect Offices in other provinces.
Drink-driving law in Greece
Legal limit
The general limit for drivers of private vehicles is 0.05%.
For professional drivers (driving a bus, coach, HGV or public service vehicle), as well as for newly-qualified drivers (less than three years' experience), the limit is 0.02%.
Drink-driving test
A driver suspected of being under the influence of alcohol or drugs can be made to undergo a breath test for alcohol or a saliva test for drugs. Failure to do so could lead to a fine, licence revocation or imprisonment.
Tolls in Greece
Like many other European countries, Greece has motorways with tolls. Tolls are based on the vehicle and distance travelled, with the toll charge usually a few Euros.
Greek service areas
There are service areas along the Greek motorways, although these are not as common as in other European countries so motorists are advised to stock up on fuel and supplies in towns.
Availability of fuel
LPG may not be used in private cars, although it is available for use by taxis. Some fuel stations will accept credit cards but others will not. There are no automatic petrol pumps that accept card payments in Greece.
Driving a hire car in Greece
Not all of the information in the guide above will be relevant to those looking to rent a hire car in Greece. Though it might be a good idea to read through everything anyway, here are the most important things to know for drivers of rental vehicles:
Rental information
The minimum age to hire a car is 21, although this may vary depending on the vehicle type
You need a full, valid UK driving licence and usually a second proof of ID (passport)
Car rental companies ask that you have held your licence for a minimum term of 1 year
Some companies may require you to use a credit card for deposit
You may not be able to drive outside of Greece unless planned in advance - check with your hire company first
Make sure you get car hire excess insurance before your trip to protect yourself from unexpected costs. It's almost always cheaper to do this with a separate insurer and in advance
Hire car driving tips
Greeks drive on the right - the opposite to the UK
The national speed limit on motorways in Greece, unless otherwise indicated on local signage, is between 110km/h (68mph) and 130km/h (80 mph). On a main road outside a built-up area it's 90 km/h. For built-up areas it's 50km/h.
Dial 112 in an emergency
If seat belts are fitted to your car, they must be worn by both drivers and passengers.
The blood alcohol content limit for drivers of private vehicles is 0.05%. That's lower than the 0.08% in England, Wales, and Northern Ireland, but the same as Scotland.
Driving in Greece FAQs
Can I drive my car in Greece?

Yes. You must have a valid UK licence and V5 document, along with sufficient insurance and breakdown cover for your trip. You should also familiarise yourself with the laws around driving in Greece before you set off to keep yourself and other road users safe.

Can I drive my car in Athens?

Yes, although Athens is a big and congested city and has several restrictions in place to control vehicles in and around it.

Certain special parking sites are reserved for tourists visiting Athens, but it is forbidden to park in the city's "Green Zone". There is also a Low Emissions Zone in the capital which forbids certain cars from entering, so research ahead of time to ensure you're not hit with a charge.

Can I drive my car on the Greek islands?

Yes, and motoring laws on the Greek islands are generally the same as those enforced on the mainland. However, be aware that road conditions and availability on the islands will vary and make sure you check ferry times to ensure you can make any journeys safely and on time.

How do I drive to Greece?

Getting to Greece by car from the UK isn't the easiest journey you'll ever make but it's definitely an adventure. Firstly, you'll need to take your car across the Channel to Calais on either a ferry from Dover or the Eurotunnel from Folkestone.

Once you're in Calais, you'll have to drive through France, Belgium, Germany, Austria, Hungary, Serbia and North Macedonia and it'll take you around 30 hours without breaks.

Are Greek road signs in English or Greek?

All road signs on motorways and major secondary routes are in both Greek (which uses the Greek alphabet) and English (which uses the Latin alphabet).

What side of the road do they drive on in Greece?

Unlike in the UK, motorists drive on the right-hand side of the road in Greece and overtake on the left – which can take some adjustment if you're used to driving on the left.

Can you drive in Greece with a UK licence?

Yes, you can legally drive in Greece with your UK-issued driving licence without the need to apply for an International Driving Permit.

Do I need extra insurance to drive in Greece?

Greece and the UK are both part of the Green Card System, a Europe-wide scheme allowing all countries to recognise foreign vehicle insurance policies of visiting motorists, so it's quite possible your existing insurance will cover you.

However, before setting off on your trip, you should contact your insurance provider to make sure no additional cover is required, as you won't be able to buy short-term cover at the border entry points.

Is driving in Greece dangerous?

Driving in Greece is generally easy if you keep to the main roads, although be aware that traffic can be an issue particularly in larger urban areas like Athens and Thessaloniki.

On more rural roads and those in mountain areas or on the islands, the quality of roads and signage can vary significantly so take precautions, particularly if driving in snowy or icy conditions.

Do I need a GB sticker to drive in Greece?

You will need to display a GB sticker on the rear of your car unless it has EU number plates with the country code in a circle of stars on a blue background.

Do I need headlamp converters in Greece?

Yes. Depending on your car, you should use deflector stickers or adjust the beam manually. This is so you don't dazzle oncoming traffic when driving on the right side of the road at night.

What is the national speed limit in Greece?

The national speed limit on Greek motorways is 130km/h (80 mph). If you're driving on a main road outside a built-up area, the limit varies between 90km/h and 110km/h, and for built-up areas it's between 50km/h and 70km/h.

How much are toll roads in Greece?

The amount you pay per toll will depend on the length of the road and the area you're driving in.
Visit https://www.viamichelin.com to calculate the cost of your journey.

How do you pay for toll roads in Greece?

While some toll booths may be able to accept credit or debit cards, it's a good idea to carry change with you at all times to ensure you can pay for the toll charges.

Does Greece use mph or kph?

Greece uses the metric system for all road signs, so speed limits and other signs including distance are shown in kilometres and metres.
UK Government travel advice
Information in this guide is subject to change
---
Source: Information in this document is sourced from the AIT (Alliance Internationale de Tourisme) & the FIA (Federation Internationale de l'Automobile) and, to the best of the RAC's knowledge, is correct at the time of publication (November 2020).
*https://www.campingandcaravanningclub.co.uk/helpandadvice/travelplanning/eurotraveladvice/europeancampingguide/page5/</div
Driving a camper van and towing a caravan in Greece
Camper vans and cars with caravans are not allowed to exceed 18 metres in length, 4 metres in height and 2.55 metres in width.
Loads mustn't exceed 13 tonnes at the driving axle and 7 tonnes at a single axle.
Please note: The Department for Transport advises that A-frames are not legal for use by UK campers and caravanners abroad. In practice, this could mean towing your car while it's fixed to a trailer.*
British Embassy Athens
Office: British Embassy Athens
Street Address: 1 Ploutarchou Street
ZIP Code: 10675
City: Athens
Country: Greece
Telephone: (+30-21) 07272600
Fax: (+30-21) 07272720/23
Email: [email protected]
Website: www.ukingreece.fco.gov.uk
British Consulate Heraklion
Office: British Consulate Heraklion
Street Address: 16 Papa Alexandrou Street
ZIP Code: 71202
City: Heraklion
Country: Greece
Telephone: (+30-281) 0224012
Fax: (+30-281) 0243935
Email: [email protected]
British Consulate Thessaloniki
Office: British Consulate Thessaloniki
Street Address: 21 Aristotelous Street
ZIP Code: 54624
City: Thessaloniki
Country: Greece
Telephone: (+30-231) 0278006
Fax: (+30-231) 0283868
Email: [email protected]
British Consulate Zakynthos
Office: British Consulate Zakynthos
Street Address: 5 Foskolos Street
ZIP Code: 29100
City: Zakynthos
Country: Greece
Telephone: (+30-2695) 022906, 048030
Fax: (+30-2695) 023769
Email: [email protected]
British Consulate Hermoupolis
Office: British Consulate Hermoupolis
Street Address: 8 Akti Petrou Ralli
ZIP Code: 84100
City: Hermoupolis
State : Syros
Country: Greece
Telephone: (+30-2281) 082232, 088922
Fax: (+30-2281) 083293
British Consulate Kos
Office: British Consulate Kos
Street Address: 8 Annetas Laoumtzi Street
ZIP Code: 85300
City: Kos
Country: Greece
Telephone: (+30-242) 021549
Fax: (+30-242) 025948
Email: [email protected]
British Consulate Corfu
Office: British Consulate Corfu
Street Address: Menekratous 1
ZIP Code: 49100
City: Corfu
Country: Greece
Telephone: (+30-2661) 030055
Fax: (+30-2661) 037995
Email: [email protected]
British Consulate Rhodes
Office: British Consulate Rhodes
Street Address: Pavlou Mela 3
Postal Address : PO Box 47
ZIP Code: 85100
City: Rhodes
Country: Greece
Telephone: (+30-2241) 027247, 022005
Fax: (+30-2241) 022615
Email: [email protected]
British Consulate Patras
Office: British Consulate Patras
Street Address: Votsi 2
ZIP Code: 26221
City: Patras
Country: Greece
Telephone: (+30-261) 0277329
Fax: (+30-261) 0225334