Driving advice for every country in Europe
From required documents to European breakdown cover and vehicle accessories, find all the up-to-date driving laws and advice for every country in Europe in our travel guides.
Driving in Azerbaijan
Population: 10m
Area: 82,629 square kilometres
Currency: Azerbaijan Manat – AZN
From the cosmopolitan waterfront capital of Baku to the towering Caucasus mountains, the 'Land of Fire' that is modern-day Azerbaijan is a nation of contrasts and possibilities at the crossroads between Europe and Asia.
But if you're planning a road trip all the way to Azerbaijan, it's essential you're fully prepared ahead of time as driving there has many differences to the UK.
To make your trip to the Continent as safe and effortless as possible, we've put together a guide to everything you need to know before you go, from required documents to rules of the road.
Driving a rented vehicle? Jump to the advice for driving a hire car in Azerbaijan section.
RAC European Breakdown Cover (Basic, Comprehensive and Single Trip) provides a wide range of benefits should you breakdown in Azerbaijan to ensure you stay safe.
To supplement this, RAC also offers travel insurance. Cover will include medical expenses, baggage, personal money and belongings, among many other benefits.
For a limited time, get FREE car health check with European breakdown cover.
Things to take when driving in Azerbaijan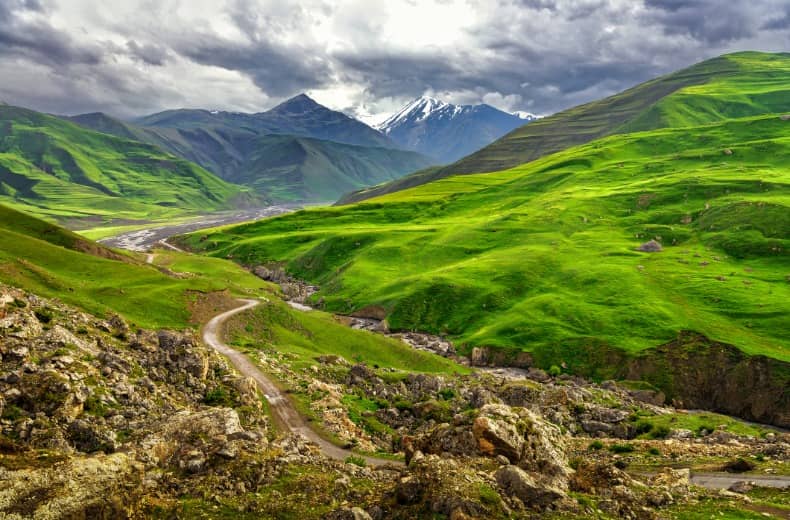 Documents for driving in Azerbaijan
A valid, full UK driving licence (you must also be 18 or over)
A GB sticker (required even if your car has EU registration plates that show the GB code on a blue background, as Azerbaijan is not part of the EU)
Your motor insurance certificate (Azerbaijan is not a member of the European Green Card system, but insurance can be bought at the border)
The V5 registration document for your own car or the hire car paperwork for a rental
An International Driving Permit (1968 IDP – you won't be able to buy one outside the UK, so get one before you go)
Driving in Azerbaijan packing checklist
Aside from the documents above, there are some legally-required items you must bring with you to drive in Azerbaijan.
Unless your headlights can be adjusted, it's a legal requirement to carry headlamp converters (stickers for your headlights when driving on the right, so your lights don't dazzle motorists coming the other way).
A warning triangle is also compulsory to carry in vehicles in case of a breakdown.
You must also:
Be 18 or over
Make sure everyone in the car wears a seatbelt at all times
Wear a crash helmet if you're riding a motorcycle
It's also recommended to have:
Spare bulbs for your car's external lights
A fire extinguisher
A first-aid kit
A reflective jacket
You can pick up all the car kit you need from RAC Shop.
Rules of the road in Azerbaijan
Car insurance is mandatory for all motorists and this can be bought at the border. Make sure you have cash as not all borders will accept card
In Azerbaijan, you drive on the right and overtake on the left. Vehicles from the right and emergency vehicles have priority
If you're caught committing a driving offence while driving through Azerbaijan, you could be given an on-the-spot fine. Do not pay this with cash on the roadside – pay at a police station or other nominated location
Seat belts should be worn in all seats at all times
Children under the age of 12 are not allowed to sit in the front seat and must use an appropriate child safety seat relative to their height and weight
The drink-drive limit for all drivers is strictly 0.00%
Speed camera detectors and radar devices are illegal in Azerbaijan
Speed limits in Azerbaijan
Speed limits vary across Azerbaijan, so always check the signposts for maximum speeds. In urban areas, the limit is 60km/h unless in residential zones, where it is 20km/h unless otherwise signposted. Outside these areas, the limit is 90km/h. On the motorway, the limit is 110km/h
Other things you should know in Azerbaijan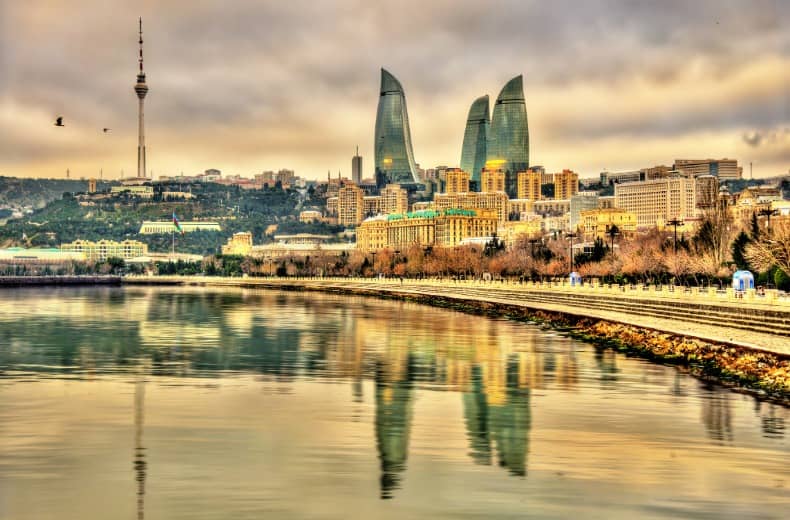 As of July 2019, there are no toll roads in Azerbaijan, however the Azerbaijani government has recently announced its intention to introduce tolls so check local media ahead of time for the current requirements
Unleaded petrol and diesel are readily available. Payment can be made in cash and some will accept credit cards
The standard of main roads in Azerbaijan can vary dramatically. Generally, roads in and into Baku are well-maintained but in rural areas – particularly those in mountainous regions – road quality can vary significantly, so take extra precautions
The standard of driving in Azerbaijan can be more erratic than in other European countries, so keep your wits about you behind the wheel
Roads can be poorly illuminated, particularly in rural areas, so avoid driving after dark if possible
During winter months, severe snowfall can cause numerous issues on the road
Thanks to significant investment and the city's hosting of high-profile events like the Azerbaijan Grand Prix, the roads in the capital Baku are generally good quality. However, parking can be difficult and locals don't always respect traffic laws
Political demonstrations are common in Baku and while these are largely peaceful, there has been violence on occasion so avoid any large gatherings
The Nagorno-Karabakh region remains largely off-limits for foreigner visitors, with the border areas between Azerbaijan and Armenia heavily militarised and containing mines and unexploded ordnance. Consular assistance is not available in this region
In an emergency
112 - Here's a really important bit of knowledge; you can dial 112 from anywhere in Europe and an operator will connect you to an emergency service in the country you're visiting.
Operators can answer your call in their native language, English or French.
Breaking down in Azerbaijan
RAC offers great-value, flexible RAC European breakdown cover tailored to meet your needs. We also offer comprehensive travel insurance, including cover for medical expenses, baggage, personal money and belongings.
Driving a hire car in Azerbaijan
Not all of the information in the guide above will be relevant to those looking to rent a hire car in Azerbaijan.
Though it might be a good idea to read through everything anyway, here are the most important things to know for drivers of rental vehicles:
Rental information
The minimum age to hire a car is 21, although some rental companies may apply a surcharge
You need a full, valid UK driving licence and usually a second proof of ID (passport)
Some car rental companies ask that you have held your licence for a minimum term - check with your hire company first
Most companies require you to use a credit card for deposit
You may not be able to drive outside of Azerbaijan unless planned in advance - check with your hire company first
Make sure you get car hire excess insurance before your trip to protect yourself from unexpected costs. It's almost always cheaper to do this with a separate insurer and in advance
Hire car driving tips
In Azerbaijan they drive on the right and overtake on the left - the opposite to the UK
The national speed limit on Azerbaijani motorways is 110km/h (68mph). On a main road outside a built-up area it's 90 km/h. For built-up areas it's normally 60km/h, unless you're in a residential area where it will be 20km/h
Dial 112 in an emergency
It's compulsory to wear seat belts in the front and rear seats
The blood alcohol content limit for drivers of private vehicles is strictly zero
Driving in Azerbaijan FAQs
Is it safe to drive in Azerbaijan?

Yes, although be aware that outside Baku the quality of the road network can vary significantly, particularly in mountainous areas, so take precautions. Local driving style can be erratic when compared to Western Europe, with some motorists flouting local traffic laws.

Can you drive in Azerbaijan with a UK licence?

Yes. You can legally drive in Azerbaijan with a full and valid UK driving licence. In addition to this, you should also have an International Driving Permit (1968).

Yes. Baku has the best-maintained roads in the country, although like any capital city it can get heavily congested, particularly in peak times. You may want to consider using the metro system to move around the city.

Do I need a green card to drive in Azerbaijan?

Azerbaijan is not part of the European Green Card system that allows insurance premiums to be recognised across borders. Instead, you will need to purchase insurance from Azerbaijan that will cover you on the roads. This can be done at the border

What side of the road do they drive on in Azerbaijan?

Like the vast majority of European countries, motorists drive on the right-hand-side of the road in Azerbaijan.

Do I need a GB/uk sticker for Azerbaijan?

You will need to display a UK sticker on the rear of your car. GB stickers have been discontinued.

Can I drive my car in Azerbaijan?

Yes, although before driving your car to Azerbaijan it's important you follow all legal requirements to ensure you are safe and legal on the roads, including having sufficient insurance cover legally recognised in Azerbaijan.

You should also ensure you have all the required items needed for your journey in Azerbaijan as well as for any other country you are planning on driving through.

How do I drive to Azerbaijan?

The journey to Azerbaijan by car from the UK is not an easy one but it takes in a whole host of European countries on the way. Firstly, you'll need to take your car across the Channel to Calais on either a ferry from Dover or the Eurotunnel from Folkestone.

To avoid areas of conflict the Foreign Office advises against travelling through (including Armenia-Azerbaijan border and eastern Ukraine), drive east through France, Belgium, the Netherlands, Germany, Poland, Ukraine, Russia, and Georgia before crossing into Azerbaijan.

The journey from Calais to Baku will take over 50 hours without stops, so be prepared before you set out.

What age can you start driving in Azerbaijan?

To legally drive in Azerbaijan, you have to be 18 years or older and in possession of a full valid driving licence, regardless of the legal driving age in our home country.
For a limited time, get FREE car health check with European breakdown cover.
UK Government travel advice
---
Information in this guide is subject to change
British Embassy Baku
45 Khagani Street
AZ1010
Baku
Azerbaijan
Email: [email protected]
Telephone + 994 (12) 4377878
Office hours:
Monday to Friday
5am - 1pm GMT
9am - 5pm Local Time
*Ends 13/12/23. 9am. Bookings subject to garage availability.