Devon and Cornwall Police have started using drones to record driving habits of its residents – in an effort to improve road safety.
The official 'Drone Unit' has partnered with the road police teams to track dangerous drivers and illegal activity.
Due to the changing weather experienced in the UK, the new fleet of drones are fitted with innovative technology that ensures that the drone can keep working in varying weather conditions and temperatures.
According to the new unit, the drones can track a vehicle's speed on the road, as well as being able to record any incidents. They can then use the video as evidence against drivers who exceed the speed limit.
They can also be used to check a vehicle's insurance, MOT, and road tax status.
Finally, it can also be used to find and track stolen vehicles.
The information can then be provided to road police, who can then use it to convict those that break the law.
The drones themselves can record a vehicle up to four miles away – and are being deployed in 'high harm routes'.
This new unit is part of the police's attempts to cut the number of road deaths and injuries to zero – and is called 'Vision Zero South West'.
The introduction of drones by the police to track road users is a first for the UK – and the evidence recorded could lead to fines and penalty points for drivers. In more serious cases, footage will be used in court.
Chief Inspector Ben Asprey, Head of Roads Policing at Devon & Cornwall Police, said: "Sadly last year was a terrible year for serious and fatal collisions involving motorcyclists.
"In 2022, 16 motorcyclists were killed on Devon and Cornwall's roads – the highest figure in the past five years. A further 187 were also left seriously injured.
"Despite motorcyclists making up less than 1% of overall traffic, they account for roughly a third of all serious and fatal collisions in our area.
"But it's important to remember that these aren't just numbers, these are people's loved ones – parents, sons, daughters, friends and partners – and we are determined to drive those numbers down."
Inspector Colin Harper, from Devon & Cornwall Police's Drone team, added: "This innovative use of drones will give us early warning of any offences and allow us to be far more targeted in our approach on the ground.
"We will be deploying this technology on roads where we know motorbikes are travelling too fast, and also around dates and locations where motorcycle events are scheduled to take place.
"This technology can and will be used to help detect speeding and dangerous driving in all vehicles on our roads.
"At present, our focus is on motorcyclists who are at highest-risk according to our data, particularly at this time of year when more riders will be venturing out again after the winter."
Do you think the introduction of drones will help reduce accidents and dangerous driving on our roads? Or should police efforts be focusing in other areas? Leave your comments below.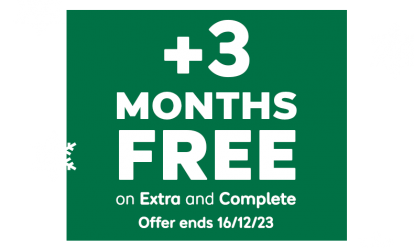 With 12 months of cover, new customers get an extra 3 months for free*.
*Added after 12 months, excludes Basic cover. New customers only. Ends 16/12/23, 7am