Drivers are being warned about a new generation of 'stealth' speed camera vans, which could be rolled out across the UK in the near future.
Unlike the traditional police vans seen on roads and laybys, these new matt grey vehicles are harder to recognise for drivers.
Speeding is a major contributing factor in relation to road accidents and deaths, and it is hoped that moves like this could lower these numbers.
The unmarked vans are being trialled by Northamptonshire Police, and should it prove to be a success, the vans could be introduced nationally.
This will be achieved by rewrapping the current range of police-marked speed vans with the matte grey colour – a vast difference to the current luminous orange and yellow markings.
Police departments across the UK are able to do this as it is not a legal requirement for either local officers or councils to alert drivers about any upcoming speed cameras.
By switching to grey vans, the hope is to stop drivers slowing down just for the police van, to just accelerate past the speed limit after the van is out of sight.
Car-tech company Road Angel stated that the move should hopefully change driver habits for the better.
Following the trial announcement, Road Angel's Founder, Gary Digva, commented: "Introducing these undercover mobile speed camera vans is a positive step forward in reducing the amount of speeding drivers on UK roads.
"Motorists should be aware that other police forces across the country, too, could be rolling out these covert camera vans and should watch their speed wherever they travel.
"The safest way to drive is to assume that every van you see on the road is carrying a speed camera - then you'll never break the limit, avoid fines and stay safe.
"For motorists that need that extra bit of help keeping within the limit there is technology available that provides drivers with key speed information and safety alerts.
"Although there is certainly still a long way to go to stop speeding vehicles and the number of fatalities and injuries it causes, I hope that deploying these vans will mean motorists will think twice before putting their foot down.
"Not only will you be slapped with a hefty fine and points on your licence, you're also seriously putting your own and other road users' lives seriously in danger."
Last month, it was announced that a new app could turn every car into a speed camera – highlighting the growing problem in the UK.
And in October 2022, the Government revealed that new trials would take place and introduce a new road noise camera that is designed to identify and track drivers who break the law by excessively revving their engines and using modified exhausts.
Bradford, South Gloucestershire, Great Yarmouth, and Birmingham will be used as the pilot areas for the scheme.
What do you make of the trial? Should these types of vans be used by the police across the UK? Leave your comments below.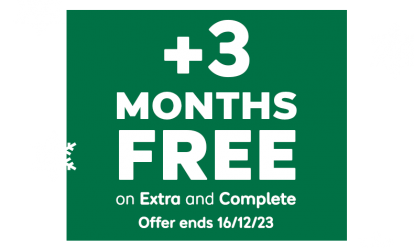 With 12 months of cover, new customers get an extra 3 months for free*.
*Added after 12 months, excludes Basic cover. New customers only. Ends 16/12/23, 7am