Essex Police will prosecute 20 rubberneckers caught filming and taking photos at the aftermath of an accident between an HGV and a crushed Audi.
Drivers were seen reaching for their phones to capture the wreckage at the scene on the A13, in Thurrock, Essex.
One person was taken to Queen's Hospital in Romford after an Audi rear-ended a flatbed truck. Luckily, no one was seriously hurt.
Local police released an image of the scene via their Twitter account on Monday with a word of warning for careless drivers who pulled out their camera phones.
"To the 20 or so drivers who drove by one handed to film it with your phones not watching the road ahead, keep an eye on your [mailbox emoji] as we'll be in touch."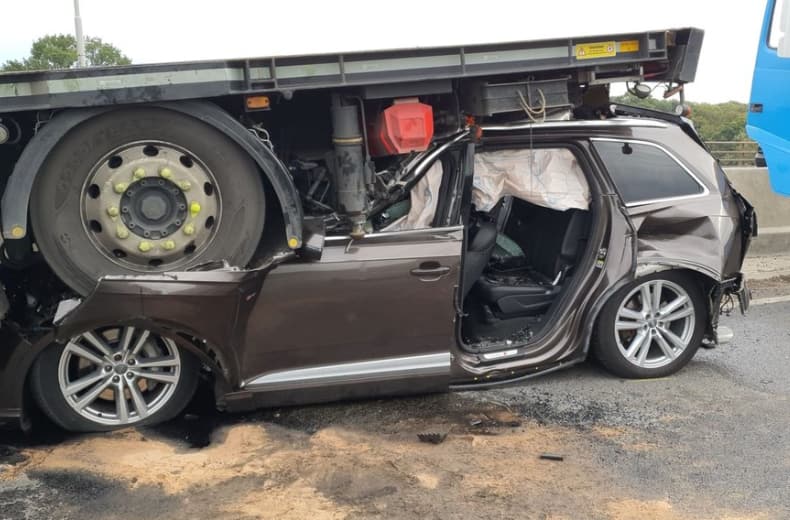 Laws enforced since 2003 could see motorists receive six penalty points and a £200 fine for using their devices without a hands-free kit.
However, these drivers cannot be prosecuted since there is not yet a law that criminalises the use of a mobile device behind the wheel.
Motorists who filmed the scene in Essex could only be charged for not being in control of their vehicles. The Department for Transport unveiled plans last year to close the loophole that sees phone users receive a lesser penalty and fine.
RAC road safety spokesperson Simon Williams said: "If the behaviour of those who continue to think it's safe to use a handheld phone while driving upwards of a tonne of metal is ever going to change, they need to believe there's a reasonable chance of being caught."
Phone use behind the wheel is rife in the UK. The RAC's Report on Motoring 2020 revealed one-in-five (18%) drivers aged 17–24 took part in video calls while behind the wheel.
Some younger drivers (9%) even admitted to playing games while in control of a vehicle.
Overall, use of mobile phones appears to be falling. Although 14% of drivers confessed to sending messages while driving in 2019, only 8% of drivers said they did the same in 2020.
Switch to RAC Breakdown cover and you can save £50 on your AA renewal.*