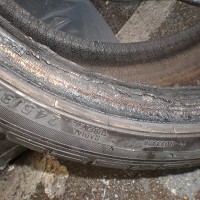 Millions of motorists are leaving it far too late before going to a garage to get their worn tyres changed, new research suggests.
And that, say safety campaigners, is putting them and other road users at risk.
TyreSafe and Highways England looked at more than 100,000 tyres changed at garages across the country last year. They say more than one in four (27%) were found to be illegal, having a tread depth under the 1.6mm legal minimum.
A further 39% of the tyres were only just above the legal limit.
TyreSafe says the findings suggest that almost 10 million illegal tyres are being driven on each year, putting lives at risk.
Its chairman Stuart Jackson says while most drivers aren't deliberately putting people at risk it is clear that better education about tyre safety is urgently needed.
He adds that motorists need to carry out regular checks to make sure their tyres are safe and the tread depth is legal.
Most new tyres have a tread depth of 8mm, with tests showing that their ability to brake and take corners safely in wet conditions is sharply decreased when they wear down below 3mm.
Motorists caught with illegal tyres can be fined up to £2,500 and given three penalty points per tyre.
Copyright Press Association 2015