You may have seen car tyre labels and recognised they look similar to the coloured information labels on consumer white goods and new cars – but what do they really mean and how do they benefit you?
As the world of motoring has evolved, the way that tyres are built and sold has dramatically changed.
In May 2021, the European Union (EU) updated the rules surrounding tyre labelling – and to help drivers make more informed decisions when buying tyres.
New EU tyre labelling rules continue to be applied to the UK market following Brexit. This guide looks at what you should be looking out for when you are buying new tyres.
Looking for a new set? Check RAC Tyres.
What are car tyre labels?
Car tyre labels are part of regulation that was brought in by the EU over a decade ago to offer more information to consumers on tyre safety (which you can read more about here) and the tyre's impact on the environment.
The EU tyre label is a simple and effective way to compare the performance of tyres and help decide which are the best for your needs.
They were initially introduced in 2012 to help drivers identify the most suitable tyres for their vehicles.
It rates tyres on three criteria – wet grip, fuel efficiency, and external noise – so you can easily see which tyres are most efficient and safest to use.
The wet grip rating is particularly important, as tyres with a lower rating may not be suitable for wet roads, and can significantly increase your risk of an accident.
A fuel efficiency rating gives you an indication of how much fuel your tyres will use, so you can decide which are the most economical for your car.
Also, the external noise is also important, as tyres with a higher rating will be noisier than those with a lower rating.
The EU tyre label also includes extra information about the tyre's size, speed rating, and load index.
This is important to ensure that the tyres you buy are suitable for your vehicle, as the wrong size or speed rating can be dangerous.
By comparing the ratings and extra information on the label, you can choose tyres that are best suited to your needs, giving you the optimum performance and safety on the roads.
EU tyre labels – 2021 update

In August 2018, the EU announced it was planning to update and improve current tyre labelling regulations by making it a requirement for retailers to show the labels to motorists when tyres are purchased.
As of May 2021, almost all new tyres must have an EU tyre label. The aim was to improve road safety and reduce the environmental impact of tyres.
What do car tyre labels mean?
Every new tyre is marked on three important areas – rolling resistance, wet grip and noise.
They also have the supplier's name, tyre size and, following the 2021 update, the new labels also include additional icons for tyres suitable for severe snow conditions and grip on icy roads.
Rolling resistance
This is the evolution of the previous label of 'fuel economy' on the older labels.
Rolling resistance is the force that resists the motion of an object that is rolling on a surface. It is an important factor in the construction and design of vehicles, as it affects the amount of energy needed for the vehicle to move.
It's important in the design of tyres, as it affects the energy efficiency of the vehicle. If the rolling resistance is too high, then it will take more energy to move the vehicle, which can result in higher fuel consumption and emissions. As such, engineers try to design tyres in a way that minimises rolling resistance, allowing for greater efficiency and lower emissions.
The labels will now feature an A to G rating, with A-rated tyres being the most fuel-efficient and G-rated tyres being the least fuel-efficient. Tyres with the best fuel economy have a green 'A' rating.
The difference between the best and worst rating can be 7.5%.
As tyres account for 20% of a car's overall fuel consumption, choosing wisely here can give significant savings.
The more miles you do, the more money a fuel-efficient tyre will save.
A black arrow on the label will notify you of the rating a specific tyre has.
Wet grip
Tyre labelling for wet grip ranges from also ranges from A to E, and a black arrow and white letter points to the rating for that tyre.
The rating depicts stopping distances in rainy weather. Slippery roads are dangerous, and the quality of the tyre is vitally important for drivers and other road users.
The difference between each letter is around 2.5 metres when braking from 50mph – that's well over half a car-length.
An 'A' rated tyre will come to a stop 18 metres before an 'E' rated tyre in the wet.
The highest-rated tyres are usually the most expensive due to the extra technology and materials used to create the optimum wet grip. On the other hand, tyres with a lower rating may be cheaper but may not offer the same level of grip in wet conditions
For more information about tyre safety in general read our complete tyre safety guide.
Noise
The exterior noise produced by the tyres is also rated on the new EU labels. These are measured in decibels (dBs) and the rating is from A to C – with A being the best available.
This is the latest step the EU has made to tackle noise pollution.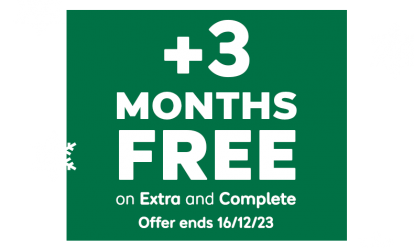 With 12 months of cover, new customers get an extra 3 months for free*.
*Added after 12 months, excludes Basic cover. New customers only. Ends 16/12/23, 7am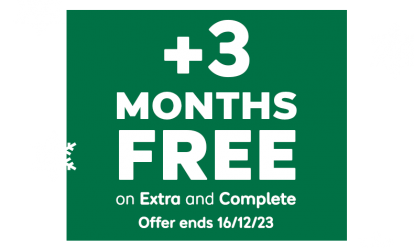 QR Code
In the latest version of the EU labels on new tyres, there is a QR code at the top right.
By using a smart device, anyone can have easy access to the tyre details – direct from the EU product database.
Anyone that uses this, will be able to download the necessary details of the scanned label.
Snow icon
This part of the label simply shows if the tyre in question is suitable for driving in severe snowy conditions.
Driving in the snow is very challenging – even for experienced drivers – so these tyres are important for those who regularly drive in these conditions.
Ice icon
The second icon added by the update in May 2021, is the ice tyre label.
It includes information on ice grip performance, based on ISO 19447 standard.
Where will I see a tyre label when buying car tyres?
Tyre labelling is stuck on all new car tyres – but you probably won't see this if you're buying from a tyre retailer.
Instead, the salesperson will be able to advise you before purchase, and show you labels of the tyres you can choose for your car.
Your sales invoice should also include a copy of the tyre label for the tyres fitted to your car.
If searching online, you can see and compare tyre labels to help you choose.
All information will be stated on an advert – as it is illegal to sell a new tyre without a label.
Do all new car tyres have tyre labelling?
Yes, all new tyres sold from May 2021 must feature the new EU tyre label.
Although they are different to previous versions of the labels, they do contain all of the information included in previous labels.
Regulation (EU) 2020/740 changed the way that tyres are labelled and sold in the EU – and in the UK – and should be adhered to by all manufacturers and tyre retailers.
What does tyre labelling mean in the real world?
Tyre labels can tell you a lot. Fuel economy is the measurement likely to mean most as choosing well can save you money.
Tyre manufacture Goodyear state: "The difference between an A rating and a G rating could mean a reduction in fuel consumption of up to 7.5%. To put this in real terms, choosing A-rated tyres instead of G-rated tyres could save you more than 6 litres of fuel every 1,000 kilometres."
Although they do qualify this claim by saying that actual fuel and cost savings may vary depending, among other things, on tyre pressure, vehicle weight and driving style.
Safety features
Wet grip is a key safety measurement for tyres – but there are other parts of a vehicle that play a crucial role for drivers.
Modern cars have ABS and many have 'brake assist' which automatically applies maximum braking force in an emergency.
It's thus easy to 'brake as much as your car is capable of' when you have to.
The difference in braking distance can thus be down to how well your tyres grip – and just a one-letter distance in wet braking is the difference between you hitting the car in front or stopping well clear of it.
For a huge range of quality tyres at reasonable prices, visit RAC Tyres. We can find a local fitter and even get rid of the old ones for you.
The difference between an A rating and a G rating could mean a reduction in fuel consumption of up to 7.5%. To put this in real terms, choosing A-rated tyres instead of G-rated tyres could save you more than 6 litres of fuel every 1,000 kilometres.

Goodyear
Running a car isn't cheap, but there are some easy things you can do to keep your costs down. Get these tips and more useful driving articles sent straight to your inbox now.