Smaller, lighter, and narrower than a standard wheel, a space saver is a spare
tyre
that's designed to be used in an emergency and get you to garage or home in the event of a puncture or flat tyre.
If your vehicle has a space saver wheel and tyre, you will find it located under the boot floor. But not all vehicles are sold with a spare wheel these days which means you may need to buy one separately.
We've put together complete guide to space saver spare wheels and tyres so you can find out more.
What is a space saver wheel and when should I use it?
A space saver is a compact wheel that is a smaller and lighter than a traditional spare tyre.
The reason for the name is that it is designed to save space and reduce weight compared to a full-size replacement wheel. However, although they are a great option, they have narrower and shallower tread depth than regular tyres and this means they are designed to get your vehicle to a garage in the event of a tyre failure. Space saver wheels also have a lower speed limit, which it typically below 50mph.
Space saver spare wheels are designed to be used in the event of a flat tyre or other emergency situations. They are not meant to be driven on for extended distances or at high speeds.
If your car was supplied with a space saver as standard then you will find it located under the boot floor. If your vehicle doesn't have a space saver, you may be able to order one as an optional extra. However, take note, an increasing number of modern vehicles are sold without any form of spare wheel. Some cars are also unable to accommodate a spare wheel of any size due to the fact they don't have the space to store one.
Before ordering a space saver spare wheel, check that your car can carry it safely. If you are unsure, check the vehicle's owner's manual or contact the manufacturer. Most spare wheel storage areas are found under the boot floor. Some SUVs have the capacity to store a spare tyre under the chassis.
Do not buy a spare wheel and leave it unsecured in the boot of your car - it may damage the car's interior and could cause a serious injury to the vehicle's occupants in the event of a sudden stop or accident.
If your vehicle is unable to accommodate a spare wheel then it's important to have suitable breakdown cover in place. The RAC, for example., has a universal spare wheel that will get you moving in the event of a tyre puncture or blowout.
Are space saver wheels universal?
Space saver wheels tend not to be universal, which means they may not fit all makes and models of car. As a rule, you should always check the vehicle's handbook or speak to a trusted mechanic before fitting a space saver spare wheel to your car.
Fitting an incorrect wheel to your vehicle may have an adverse impact to its road handling, which will make your car more difficult to control.
If you experience a flat tyre or a blowout then the RAC can assist with its universal spare wheel, which is compatible with 80% of cars on the road in the UK.
Can I drive my car with a space saver wheel?
You can drive your car with a space saver spare wheel fitted, but the tyre will be smaller and thinner than the standard wheel. As a result, your car may handle very differently when a space saver has been fitted.
For example, a car with a space saver wheel will have less grip and may more liable to skid or spinning when heavy brake or acceleration is applied. For safety reasons, you should not exceed 50mph in a car that's fitted with a space saver spare wheel.
It is important to note that a space saver spare wheel is designed to get you (and your vehicle) to a place of safety, where you can fit a new full-size tyre or call for breakdown recovery. A space saver spare wheel should not be treated as a permanent replacement for your flat or defective tyre.
What is a tyre inflation kit?
A tyre inflation kit is a compact and portable tool designed to help drivers temporarily address minor tyre damage and flat tyres.
For many manufacturers, their modern range of vehicles often come with the tyre inflation kit rather than a spare of space saver.
These kits include air compressor, sealant, appliance kit, and a pressure gauge.
After you have used your repair kit, visit your local garage as soon as possible and buy a new tyre. Visit RAC Tyres for more.
Have you ever had to use a space saver or tyre inflation kit? What advice would you give to other drivers? Leave your comments below.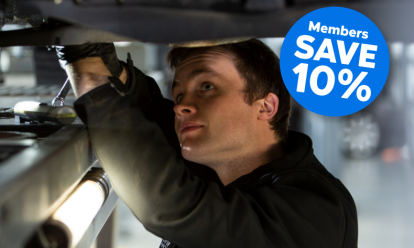 From £19 a month†.
Spread car maintenance costs with our affordable monthly plan.
Beat inflation – lock in today's prices for two years!
†Minimum price for RAC members. Non-member prices start at £21.11.