Department for Transport (DfT) figures reveal that – while there are now more than 20,000 public electric vehicle charge points in the UK – they are unevenly distributed across the country.
The figures, powered by Zap-Map, show Scotland soaring ahead when it comes to charge points, drawing attention to other parts of the country with far fewer devices.
A total of 4,270 new charge points were installed in 2020, an increase of 26%. Of the 20,775 plug-in points now available, 3,880 have been categorised as 'rapid' devices, with a 37% increase in installations in the last year.
The DfT statistics also show that 1,288 charge points were installed in the final three months of 2020 alone, including 350 rapid devices.
While this may seem promising, the report says "there is uneven geographical distribution of charging devices within the UK".
There is an average of 31 public chargers per 100,000 people in the UK, but when you break this down by nation the disparity is huge.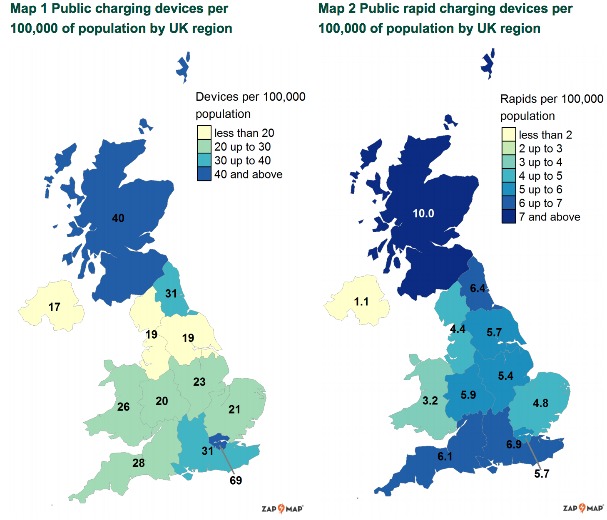 Source:
Zap-Map
, Ofce for National Statistics licensed under the Open Government Licence v.3.0
In Scotland, there are 40 devices per 100,000 residents, compared to 31 devices per 100,000 in England, 26 in Wales and only 17 in Northern Ireland.
And with rapid chargers, there are 5.8 of them per 100,000 people in the UK, but Scotland sees 10 per 100,000 people while Northern Ireland has just 1.1.
The disparity of public charge point installations within England also shows the problem is not just national, but regional.
London has 69 public chargers per 100,000 people living in the capital – the most in the UK – whereas the North West, Yorkshire and the Humber have only 19 chargers per 100,000.
RAC spokesman Nicholas Lyes said: "Key to encouraging electric vehicle take-up will be drivers' ability to access a fast, reliable and ubiquitous network of public charge points. These latest figures show encouraging growth, particularly among faster charging stations which currently account for around a fifth of all charge points.
"While many EV drivers will be able to start the day on a full charge, they will come to depend on the network for longer journeys especially – and for anyone without access to their own private charge point, a publicly available network will be essential. It's important that public charging infrastructure mirrors the growth in EV take-up, so drivers always have access to the type of charging they require."
EO Charging said the data shows that the electric vehicle public charging network isn't expanding fast enough to meet growing demand for EVs.
It said the 26% increase in public charger installations in 2020 isn't a match for the 186% rise in electric vehicle sales recorded in the same year, with battery cars now making up 6.6% of all new models bought.
Zap-Map has also revealed the best and worst electric vehicle charging networks with its annual charging network satisfaction ratings survey.
Breakdown cover from just £7.95 a month*. Plus up to £150 of driving savings!