An estimated 80 percent of electric car charging takes place at home.
Saying goodbye to petrol stations is a key benefit of EV ownership, but you could also minimise the number of times you visit a public charging station. Simply arrive home in your EV, plug it in and wake up to a fully charged battery in the morning.
Using a home charger is the cheapest, most convenient and safest way to charge an Electric Vehicle (EV), which is why it's the default choice for many electric car owners.
Here's everything you need to know about charging your electric car at home.
How to charge an electric car at home
---
There are two options for charging an electric car at home: using a domestic three-pin socket or a dedicated EV charge point.
Charging with a domestic socket should be reserved for emergency or occasional use; fine for an overnight charge when visiting friends or relatives, but not for regular use at home.
By all means keep a standard 3-pin UK plug-compatible charging cable in the boot, but installing a home charger is the recommended solution.
A dedicated home charge point will communicate with the electric car, making it the safest method of domestic charging. A smart home charger will also allow you to take advantage of cheaper energy tariffs, charging the EV when supply is high but demand is low.
With British Gas, you can use The Hive app for full control of your home charge point. You can control and monitor your charging, and even set your car to automatically charge when the rate is cheaper to save money.
Speed is another advantage. The maximum current a domestic socket can draw is 3kW, so it could take as long as 13 hours to recharge a Nissan Leaf with a 40kWh battery. Even the cheapest home charger with a rate of 3.6kW will be 1.6 times faster than a three-pin socket, not to mention safer and smarter.
Better still, a 7kW home charger will be three times faster than a domestic socket, delivering around 30 miles of electric range per hour. A 22kW home charger will be even faster, but this requires a three-phase electricity supply, making it unsuitable for the vast majority of EV owners.
Going electric? Make the switch easy by installing a home charge point.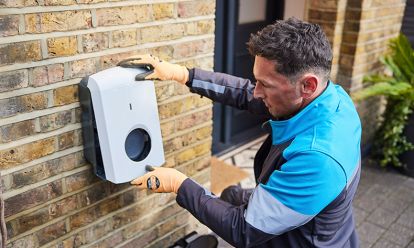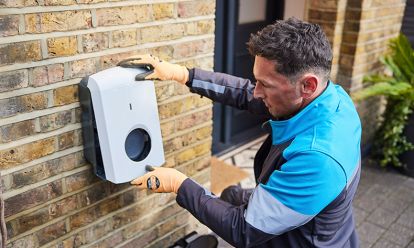 Tethered or untethered home charge point?
Having chosen whether to opt for a 3.6kW, 7kW or 22kW charger, you must also decide whether you want a tethered or untethered charge point. It all comes down to personal preference, but there are a few things you need to consider.
The difference is quite simple: a tethered charger has a cable attached, while an untethered unit doesn't.
A tethered charger will come with a cable for a Type 1/Type 2 socket, so you don't need to carry a cable in the boot of your EV.
While that's convenient, you could be left with an obsolete home charge point should the industry eventually move away from Type 1/Type 2 sockets. You also have to put up with a fixed cable length and the need to tidy it away when not in use.
An untethered charger looks tidier, but you'll have to supply your own cable. Most EVs will come with a cable included in the purchase price, but you'll spend around £100 for a replacement.
On the plus side, an untethered charger gives you more flexibility; you won't have to change the unit should you buy an EV with a different plug requirement.
How to get a home charger installed
---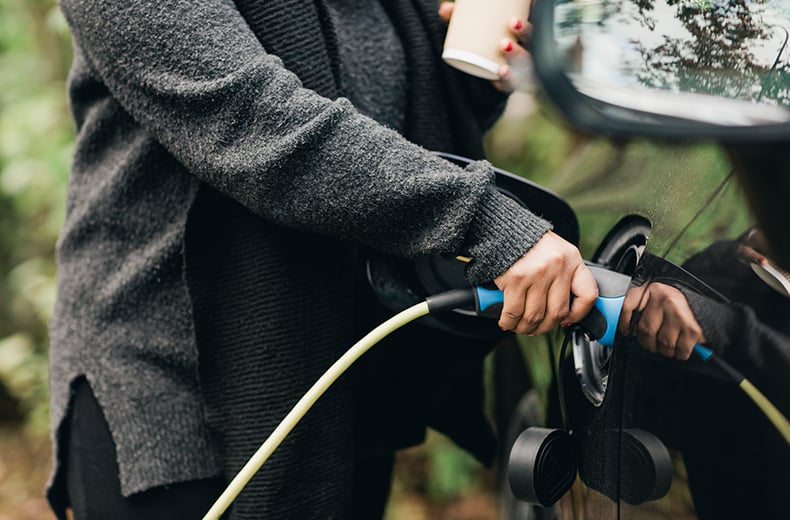 Some car manufacturers offer free or discounted home chargers when you buy a new EV or lease an EV. But look closely at these bundles because they may not be right for you, or even a good deal at all.
We're partnering with British Gas, one of the big companies gearing up to help EV drivers in the UK get their own charge points at home.
They say most of their installations take 3-6 weeks from start to finish. Which might sound like a bit of a wait, but most of the time is taken up with background work like safety checks on electrics or applying for permissions from local grid operators.
From the customer's point of view, it's usually a simple, stress-free process. There's a form to fill in, sometimes a quick video call with an engineer to check technical details, and then you just need to be in the property for a few hours while the installation happens.
Most installers will even take care of your paperwork for getting a government grant from the Office of Zero Emission Vehicles (OZEV).
Where to put a home charge point
Here are some things to consider when you're choosing a place for your charge point.
Do you want the charge point to be hidden or on view? Whether you have a tethered or untethered charge point will make a difference here, you may not want the tethered cable to look like a coiled garden hose on the front of your house
Where is the charging port on your EV? Some are easy enough - right on the front, but others are on a side, or even further back where you'd normally have a fuel filler cap
Factor in the length of the charging cable. Even on a private drive, a cable can present a very serious trip hazard
The charger will also require access to your home wifi signal to take advantage of the smart tools, such as remote charging and access to off-peak energy tariffs, so it may not want to be at the furthest corner from your router
What speed do I need for a home charge point?
To recharge a Nissan Leaf with a 40kWh battery, the slowest and cheapest home charger with a rate of 3.6kW will take around 8-9 hours. This makes it only really practical for overnight charging on smaller EVs.
A 7kW home charger will be twice as fast as a domestic socket, delivering around 30 miles of electric range per hour. This makes it ideal for EVs with any size battery, and needing charge at any time of day.
A 22kW home charger will be even faster, but this requires a three-phase electricity supply, making it unsuitable for the vast majority of EV owners.
Some homeowners upgrade to a three-phase electricity supply when they convert a house into flats, extend a property or install high-power equipment, such as an air-source heat pump. In theory, these homes should deliver faster charging times.
However, many EVs are actually unable to even accept a 22kW charge, so you should check the handbook or consult your nearest dealer before upgrading your home. Costs vary, but you're looking at anything between £3,000 and £20,000 for a three-phase supply.
A single-phase supply will have a single fuse, while a three-phase electricity supply will have a trio of 100 amp fuses.
The cost of electric car charging at home
---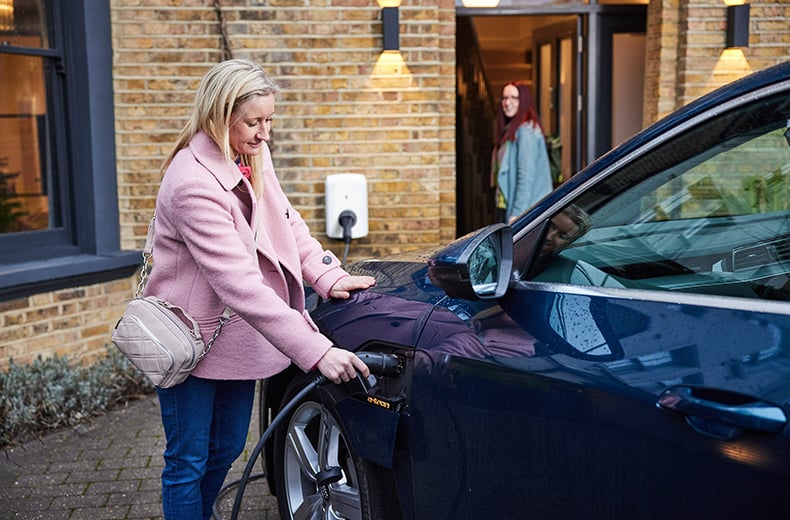 Installation
Using British Gas as an example, a 7.4kW charger will cost £659 or £745, depending on whether you opt for an untethered or more costly tethered unit.†
These prices are discounted thanks to the government's Electric Vehicle Homecharge Scheme (EVHS) which provides up to £350 towards the cost of purchasing and installing a home charger. You may even apply for two charging points at the same property if you own two electric cars and don't want to be fighting over the plug!
There are a range of suppliers out there, but with 3-year warranty included, smart charging with the Hive app, and a nationwide support network of skilled engineers, British Gas gives you a good idea of what a competitive price for a 7kW charge point installation looks like.
Electricity tariff
The average unit rate for electricity in the UK is 14.4p per kilowatt hours (kWh), but how much you pay depends on where you live and your home energy tariff. Crucially, charging an electric car at home should be cheaper than using a public charger.
As with charge point installation, there are a number of suppliers who offer various rates on electric car charging electricity tariffs.
British Gas offers an off-peak rate of 6p per kWh from 12am until 5am every day, so it could cost as little as £5 to recharge an electric car.
The actual cost depends on the size of the battery and the means of home charging, but even at a higher rate from a different supplier (9p to 14p per kWh), home charging remains by far the most affordable method of keeping an EV battery topped up.
You could pay as much as 69p per kWh to use an Ionity 350kW charger, while using the BP Pulse network could cost between 12p and 27p per kWh, depending on the rate of charge.
Free and cheaper charging points are available, but these tend to offer a slower rate of charge.
Save money on your electricity bill. Get cheaper off-peak charging with our new electric car tariff.
Save money on charging an electric car at home
EV energy tariffs
Your home energy bills will increase with an EV plugged into the mains. However, this needn't mean that your household bills will rocket; the Energy Saving Trust says you can save more than £300 by switching to the cheapest fixed-rate energy tariff.
A smart home charge point like ours will automatically select the cheapest time to charge your electric car. It offers electricity at just 6p per kWh between 12am and 5am every day - much lower than the UK average rate of 14p.
Rates differ depending on your postcode, but EV energy tariffs live these have been devised with electric car owners in mind, so they're usually the best option for EV drivers' needs.
Vehicle-to-grid charging
Although it's currently only available to business customers, vehicle-to-grid (V2G) charging allows you to 'sell' electricity to the National Grid. When a number of EVs are connected to the network, they can discharge electricity to the network when it's needed most.
In 2020, Honda launched a V2G scheme with Islington Council. More recently, the company launched what it calls an e:Progress home charging service, promising savings of up to £475 a year. It uses renewable energy and will recharge when the cost of electricity is low.
Pre-cooling and pre-heating
A side benefit of home charging is the ability to pre-cool or preheat the car's cabin before a journey.
Because the energy is drawn from the mains supply rather than the battery, there's no impact on the estimated driving range. You won't even have to wait for the windows to demist on a cold morning!
Conclusion
Home charging is the straightforward, sensible and affordable way to charge your electric car. You decide when to charge and, to a certain extent, how much to pay for the electricity.
With a little forward planning, such as choosing the right charge point and energy tariff, you can enjoy the full benefits of charging at home.
For more information, check out our guide to the cost of electric car charging.
---
†Prices are inclusive of VAT and include the OZEV grant of £350; charger make and model subject to change. Excludes any additional work required by your energy network provider (also known as your Distribution Network Operator/DNO).
Visit the RAC Drive Electric Cars hub
Read our guides on choosing, charging and running an electric car.
Going electric? Make the switch easy by installing a home charge point.