Washing the car takes time and effort, so it's little wonder why so many motorists decide to visit a car wash or use a valet service.
But, if you're looking to save a few pennies on your motoring costs, or you just want to spend some quality time with your car, then washing it yourself can be very rewarding - and it doesn't have to take up your entire Sunday either.
We have put together three different levels of washes, ranging from a quick spruce up to an intense clean, complete with time-saving tips and hacks, to help you make the most of your motor.
Super-easy express clean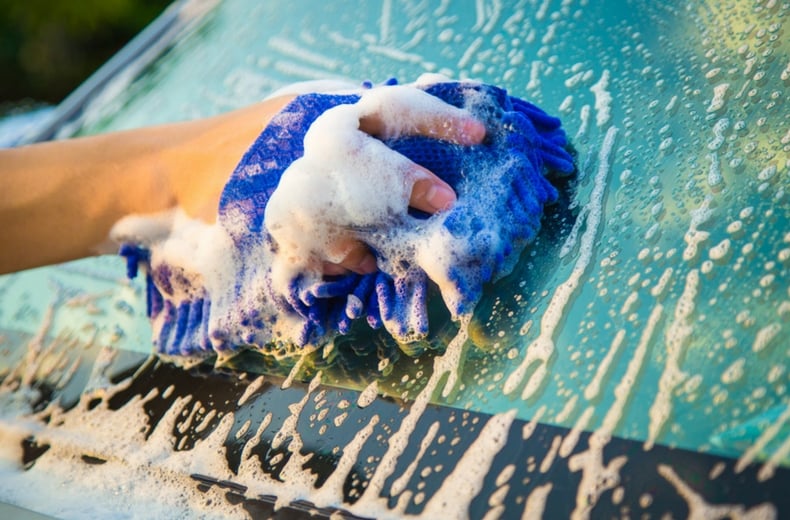 If you thought a bucket and sponge were central to a quick car wash, think again.
While it might be simple to add a cup-full of car shampoo to a bucket of warm water and use the old-fashioned wash and rinse routine, you risk damaging your car's paintwork.
Dirt and grit can become trapped in a sponge, creating swirl marks in the paintwork.
To achieve a better result there's a little extra legwork to be done, but don't worry, you'll still be home and, er, hosed in less than an hour.
What items you need
Before we explain how to wash your car, there are a few things you'll need before you get started.
Ideally, you should arm yourself with a pressure-washer, but at the very least a garden hose with a spray gun extension.
You'll also need two buckets – yes, two buckets – along with a wash mitt, some car shampoo and a microfibre drying towel.
That's the very least you'll need for a quick wash.
We'll explain later how you can achieve a showroom shine, for which you will require a few extra items.
Give yourself at least an hour if you want to achieve good results.
Oh, and make sure no rain is expected and work in the shade if possible.
If car shampoo dries too quickly it can leave streaky marks on the bodywork.
What to do
Your first job is to pre-rinse the car.

A pressure-washer is the best tool for the job, but a garden hose with a spray gun attachment will be a suitable substitute.

Starting from the top of the car, rinse the loose dirt from the body and between the panel gaps.

While you're there, power-wash the inside of the wheel arches and alloy wheels.

In short, you're looking to remove any loose dirt that might become trapped in the wash mitt, potentially damaging your paintwork.

Removing more dirt now will save time and effort during the wash.

Next, you're going to need two buckets of water and a wash mitt.

Add your preferred car shampoo to one bucket, leaving the other filled with fresh water.

Starting at the top, use the mitt coated in car shampoo to wash the remaining dirt from the paintwork.

A gentle sideways motion is all that's required. Many people think a circular motion is best, however a sideways motion will minimise swirl marks and ensure a consistent, even application.

You might need two or more attempts at this to remove any stubborn stains.

Rinse the wash mitt in the bucket of clean water before returning to the bucket of car shampoo to continue washing the car.

Step three: the rinse and dry

It's now time to rinse the car, so grab your pressure-washer or hose and start from the top down.

Once all the shampoo has been removed, grab a microfibre drying cloth to dry the car.

These cloths are preferable to a chamois leather or water blade as there's less chance of damaging your paintwork.

Use a gentle sideways motion, or pat-dry if preferred.

The entire job should take less than an hour, so it's perfect if you're in a hurry or don't want to spend an entire weekend washing the car.
Breakdown cover from just £7.95 a month*. Plus up to £150 of driving savings!
The deluxe wash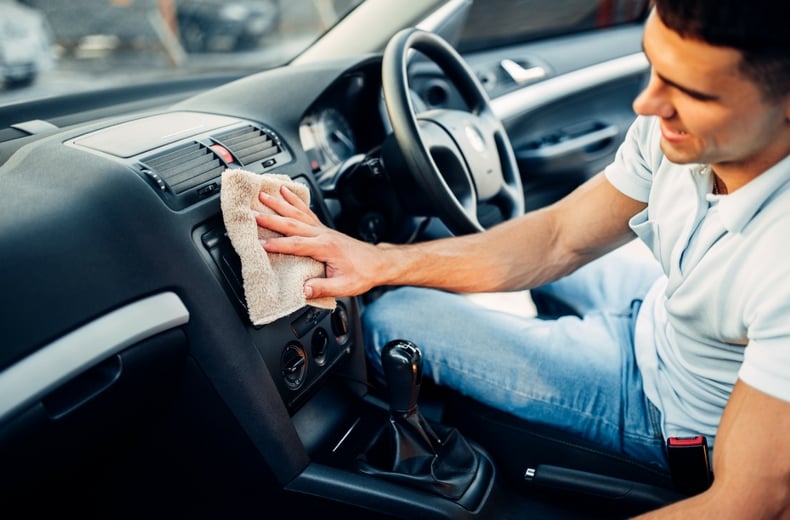 What if you've got a little more time or you're looking to go just that little bit further?
Well, with the body and wheels clean, it's time to turn your attention to the windows and interior.
Allow an extra couple of hours to complete this part.
What items you need
You will need to arm yourself with a set of microfibre cloths, a specialist interior cleaner and a brush or vacuum cleaner.
For cleaning glass, a number of specialist cleaners and polishes are available, although you might find that the trusty newspaper and household window cleaner works wonders.
Either way, it's important to remove any smears.
What to do - after repeating steps one to three of the express wash
Step four: cleaning the outside of the glass

The inside of the glass will get dirty over time, while the outside will develop a thin film of grime that will restrict your vision at night or when driving into direct sunlight.

Give the glass a proper clean and not only will your car look better, it'll be safer, too.

Start by applying some specialist car glass cleaner to half of the windscreen and wipe away using a microfibre cloth.

Use circular motions, overlapping and changing direction from time to time.

Once complete, move to the second half of the windscreen, cleaning right up to the window rubbers.

When the windscreen is clean and free of streaks, move to the side and rear windows.

Take your time doing this, as achieving a streak-free finish isn't easy.

But it's worth the effort, especially when you consider that the glass is the second largest surface area after the paintwork.

Step five: cleaning the inside of the glass

Next, it's time to move to the inside.

Clean the inside of the windscreen from the passenger seat to avoid getting any glass cleaner on the steering wheel, and we also recommend covering the top of the dashboard with microfibre cloths to catch any drips.

Use the same method as before, using a clean microfibre cloth in small circular motions.

Once complete, peer through the windscreen from the outside to check for smears. Even the best detailers miss a bit.

Repeat this process for the side and rear windows, not forgetting to clean the rear-view mirrors and any vanity mirrors in the sunvisors.

Step six: cleaning the cabin

With the glass clean, it's time to give the rest of the interior a quick spruce-up.

This isn't a job you'll need to do weekly or even monthly, but the more you stay on top of it, the less time it will take.

You'll need little more than a damp microfibre cloth to clean the vinyl, leather and plastic surfaces, although specialist cleaners are available.

Be sure to choose one that doesn't leave a gloss finish and avoid using them on the steering wheel, gearstick and pedals.

Next, remove the floor mats and brush away the dirt.

Do this away from the car to avoid any dust ruining your freshly washed paintwork.

Finally, give the door jambs and sills a quick wipe with another microfibre cloth, before refitting the floor mats.
Super-deluxe wash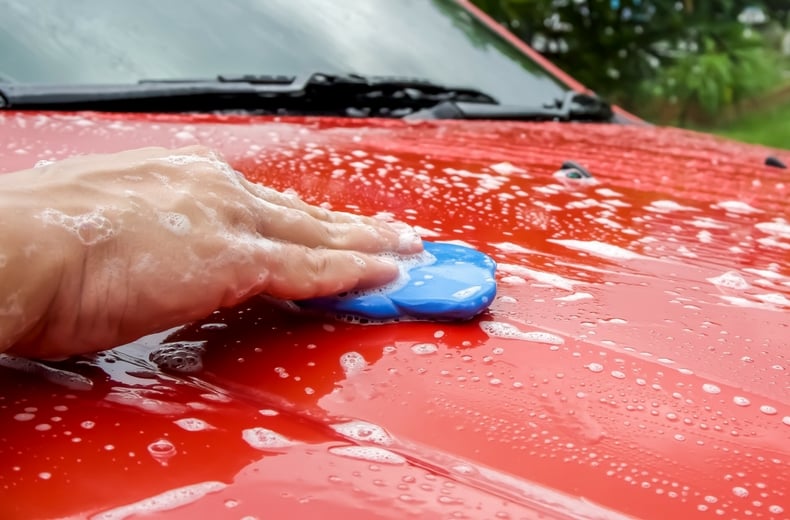 For the majority of motorists, our super-easy express clean or 'little further' approach will ensure your car looks respectable in the least amount of time.
But what if you want to restore your car's just-left-the-showroom shine?
Run your hand over the paintwork of the freshly washed car.
Can you feel little bumps and a less than smooth finish?
If so, it's time to get detailing.
You'll spend more time doing this, but each subsequent wash will be easier as a result.
What items you need
Fortunately, you'll already have access to some of the items required for this stage, but a few will need to be acquired.
But as you'll need to use them less often, they should last longer, and therefore won't break the bank.
You will need a clay bar (more on this in a moment), clay bar lubricant, a bucket of water containing car shampoo, a wash mitt, microfibre cloths, a pressure washer, vacuum cleaner and your preferred wax, polish and alloy wheel cleaner.
A list of the items you need should be included as above
What to do - after repeating steps one through six of the medium wash
A clay bar is a flexible putty-like substance designed to will strip any contaminates from the top of the paint, the likes of which a regular car wash won't remove.

Used prior to waxing or polishing, it It will leave your paint feeling smoother and ready for a fresh coat of wax.

But you should only use a clay bar when absolutely necessary.

Grab a fine or medium clay bar, a bottle of clay bar lubricant – both of which are available from specialist online retailers or high street motoring stores –, a bucket of water containing car shampoo, plus a wash mitt.

Start by breaking off a piece of clay bar and knead it into a small biscuit shape.

Dunk the clay bar into the bucket of water and then use the wash mitt to squeeze some water on to the panel about to be cleaned.

Next, spray the lubricant onto the surface, remove the clay bar from the water and place it on the paint.

Working in small sections, glide the clay bar over the paint using a sideways motion.

It should become easier to move over time, at which point you know the paint is free of contaminants.

If the clay bar becomes dirty, simply fold it in half and knead it back into shape.

If you drop it, throw it away.

When you're finished, rinse the body using a pressure-washer or hose, before applying a paint sealant or wax. See the next section for details.

Step eight: polish and wax

For most motorists – and bearing in mind this is a guide to washing your car in half the time – a good 'all in one' polish will do the trick.

These work by removing oxidation and scratches while adding a protective layer of wax to the freshly polished finish.

Typically, you can expect an 'all in one' polish to provide a month of protection, so if you're after something with more longevity, grab a specialist polish and separate wax.

The good news is that the clay bar treatment will only need to be completed annually.

To polish the paint you'll need a microfibre cloth or foam applicator, as well as your chosen polish.

Apply the polish to the cloth and apply using straight lines, working in small areas at a time.

Once applied, remove using a separate microfibre cloth.

Continue across the entire car, panel by panel, giving yourself a morning or afternoon to complete the task.

If there's time, and you have the will, it's worth adding a second layer using a paint sealant or carnauba wax.

Step nine: cleaning the wheels

Next, you should turn your attention to the wheels.

While the initial wash should have done an adequate job, a specialist wheel cleaner will be able to remove stubborn brake dust and salt.

Various formulas are available, from light to extreme, so check the label to see which is the right one for you.

Start by spraying the surface with the wheel cleaner, covering the outer and inner sections of the wheel.

Arm yourself with a bucket of fresh water and car shampoo, along with a wash mitt and/or wheel brush.

Dip the mitt or brush in the water and agitate the dirt, cleaning the face of the wheel, between the spokes and the rear surface of the wheel.

You should also clean around the tyre valve and the wheel nuts.

Once the dirt is loose, rinse the alloy wheel using a pressure-washer on a light setting or garden hose, before moving on to the next wheel.

Once complete, use a tyre foam for the perfect finishing touch.

In the majority of cases the foam can be used on wet or dry tyres and is easy to apply.

Simply spray on and the foam does the rest.

Step ten: vacuuming the carpets and seats

Finally, assuming you have completed all of the above, it's time to return to the interior.

With the floor mats removed, vacuum the carpets, either using a standard household vacuum cleaner or one that can be plugged into a 12v socket.

Start by removing all loose items from the interior.

Some you'll want to keep, while others can be chucked straight in the bin.

If you have access to compressed air, use it to clean those hard to reach and awkward areas, such as beneath the handbrake, inside the seat rails and the seat seams.

Push the driver's seats all the way back and start vacuuming the carpet underneath, then working forward to the footwell.

Arm yourself with a brush to dislodge any stubborn pieces of dirt or dog hair.

Once the carpet is clean, move on to the seat, starting with the seat back and then the seat bottom.

Be sure to vacuum between the seat back and bottom, as this is the area where dust and dirt tends to accumulate.

With the driver's side complete, move on to the passenger side, before working on the rear seats and carpet.

Before refitting the floor mats, make sure the backs are clean and free or dirt.
Summary
Our guide to washing your car twice as well in half the time is designed to provide a simple overview of what can be achieved from the comfort of your own driveway.
Allow anywhere between an hour to half a day, depending on how far you intend to go.
It is not designed to be a substitute for calling upon specialist detailing support or for bringing your car up to a concours-winning standard.
But if you stay on top of things, washing the car needn't be so much of a chore.
To achieve perfect results in even less time, call in the mobile valeter…
If your MOT is due or if you would like to book your vehicle in for a full car service, you can book online with your local RAC Approved Garage today.
If you're looking to borrow a car for a short-period of time, you can take our temporary car insurance from 1 hour to 30 days. It only takes 15 minutes to activate.
Running a car isn't cheap, but there are some easy things you can do to keep your costs down. Get these tips and more useful driving articles sent straight to your inbox now.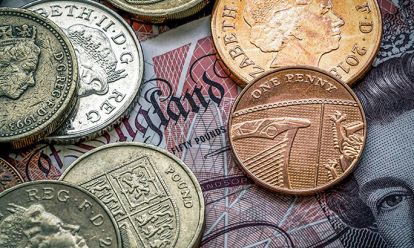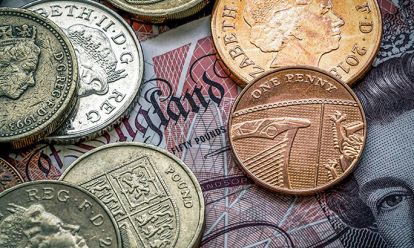 Car wash FAQ
How do you wash your car at a petrol station?

Getting your car washed at a petrol station in the UK is a simple process. Pay for the setting you wish at the counter, then drive up to the car wash. You will likely need to enter a code provided to you or scan a receipt. There will be a set of lights telling you to move your car up to a certain point. Then, turn off your engine. Me sure your electronics are off - as you do not want your wipers to start moving! The wash programme will start automatically, and there will be a light or sign to let you know when the wash is finished.

How much is a petrol station car wash UK?

Depending on where, when and how deluxe the wash you have paid for - the cost for a car wash can vary dramatically. In some places, it can be as low as £5 - but for a premium wash of your car, this can be more than £50.