As garages across the country remain open to keep key workers on the road, the Department for Transport (DfT) has announced
six-month MOT extensions
, leading to a host of questions.
If you're unsure about using your car after failing an MOT test, or driving without a valid certificate, read on.
Driving with no MOT
Whether it's driving with an expired certificate, using your car after a failed test, or buying a new car, there are a few MOT grey areas.
To make sure you know where you stand, here are some of the common scenarios you might find yourself in.
1. Coronavirus extension
Only those drivers whose MOT expired on or before the 29 March 2020 will need to get a new certificate1, however there are exceptions.
If you or someone you live with has coronavirus symptoms, or you're extremely vulnerable to the virus, the DfT are working with insurers and the police to ensure you're not unfairly penalised.
The new MOT extensions mean certificates due to expire on or after 30 March 2020 will be extended by six months. During this time:
you'll be able to tax your vehicle
your insurance will remain valid
records will be updated for the police to see
However, you could face prosecution if you fail to keep your car roadworthy during this time.
Find out more information on the government page for coronavirus MOT extensions here.
2. If your car has failed an MOT test
3. If you missed an MOT test
If you have missed your test and your certificate has expired, you can be prosecuted for driving without an MOT.
4. If your vehicle is recalled
To find out if a fault leading to a vehicle recall could invalidate your MOT, it's best to ask your manufacturer.
Their decision won't have been made lightly, so you can assume the problem is serious and will probably impact the roadworthiness of your car.
5. If you've just bought a car
New cars don't need an MOT certificate until their third anniversary of registration.
If you're buying a second-hand car, you should check it's MOT status and arrange a test, either at the point of sale or one that you can drive to immediately.
Cars travelling to a prearranged test can be driven without a valid MOT certificate. The same applies when driving to or from a garage for repairs.
Driving your car after failing an MOT
You can only drive a car that's failed an MOT test if your current certificate is still valid and no serious problems were found.
If your car fails an MOT with 'dangerous' or 'major' problems, you might not be allowed to drive it until these have been fixed. You'll be given a 'refusal of an MOT test certificate' which is recorded in the MOT database.
If you drive a vehicle deemed 'dangerous' you can be fined up to £2,500, as well as receive a driving ban and 3 penalty points.
Vehicle damage and MOTs
Throughout a routine MOT test your car is inspected for damage to the exhaust system, engine and specific areas of the vehicle's structure and body. In short, your car could fail an MOT as a result of damage.
After an accident, your insurance provider will assess any damage to your vehicle. If your car is categorised A (scrap only) or B (break for parts) your car is no longer fit for the road and your MOT certificate becomes invalid.
It's unclear whether an S (structurally damaged but repairable) or N (Not structurally damaged, repairable) car's MOT would still be valid. It's best to ask your insurer on a case-by-case basis.
Find out more about insurance write-off categories and what they mean.
You can check the MOT history of a vehicle for previous damage by entering its number plate on the Government's online tool.
Vehicle modifications and MOTs
The DVLA use a point system to decide if modifications to your car mean your vehicle needs a new registration number. There's no need to apply for a new MOT if your car keeps the registration, but a new number plate will need a new certificate to match.
Penalty for driving without an MOT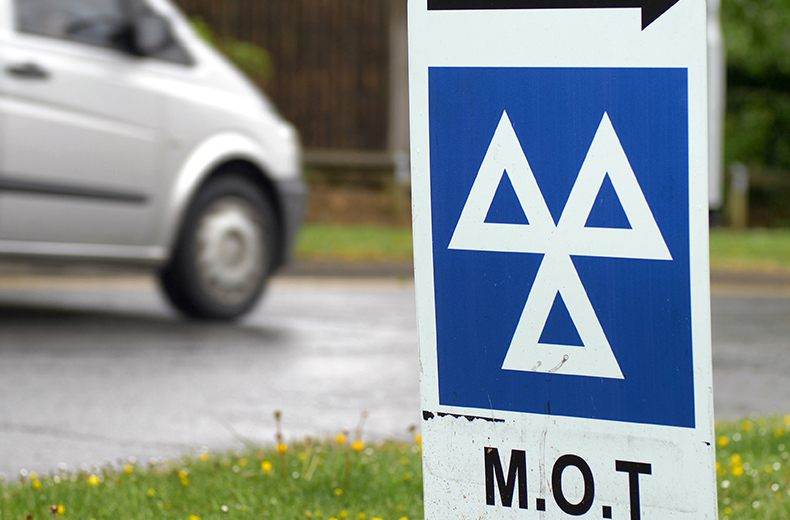 You can be fined up to £1,000 for driving a car without a valid MOT.
If you drive a vehicle deemed 'dangerous' by an MOT test, you can be fined up to £2,500, be banned from driving and receive 3 penalty points.
How can I be caught for driving without an MOT?
After an MOT test, your garage will update passes and fails to the DVSA's database. This information can be accessed by anybody with your number plate and could lead to prosecution.
Systems on board police cars and Automatic Number Plate Recognition (ANPR) cameras can also flag cars without a valid certificate.
Can I report someone with no MOT?
You can contact your local police about a vehicle being used on a road without an MOT.
You'll need the vehicle's:
number plate
make and model
colour
location
The police will investigate and could charge the driver with a £1000 fine.
How can I avoid missing my test?
If you wish to receive free text message or email reminders a month before your MOT is due for renewal, you can subscribe to the Department for Transport's free service.
You'll need:
the vehicle's number plate
a mobile phone number or email address
You can also check the MOT status of a vehicle at any time by entering its number plate on the Government's online tool.
Give yourself the best chance of passing by following our MOT checklist.
---
Get covered in our half price Breakdown Cover sale from just £4.75 a month.* We're the UK's best breakdown provider as voted by Auto Express drivers 2021.