Driving advice for every country in Europe
From required documents to European breakdown cover and vehicle accessories, find all the up-to-date driving laws and advice for every country in Europe in our travel guides.
Driving in Russia
Population: 142.1m
Area: 17,075,400 square kilometres
Currency: Rouble - RUB
As the world's largest country, Russia has vast landscapes to explore. Driving there is an experience in itself, and you'll encounter all types of road, from slick highways to rocky mountain passes.
Please note, the Foreign, Commonwealth & Development Office (FCDO) advises British nationals against all travel to Russia.
If you're planning to drive to Russia, it's essential you're fully prepared ahead of time as driving there has many differences to the UK.
To make your journey east as safe and stress-free as possible, we've put together a guide to everything you need to know before you go, from required documents to rules of the road.
Things to take when driving in Russia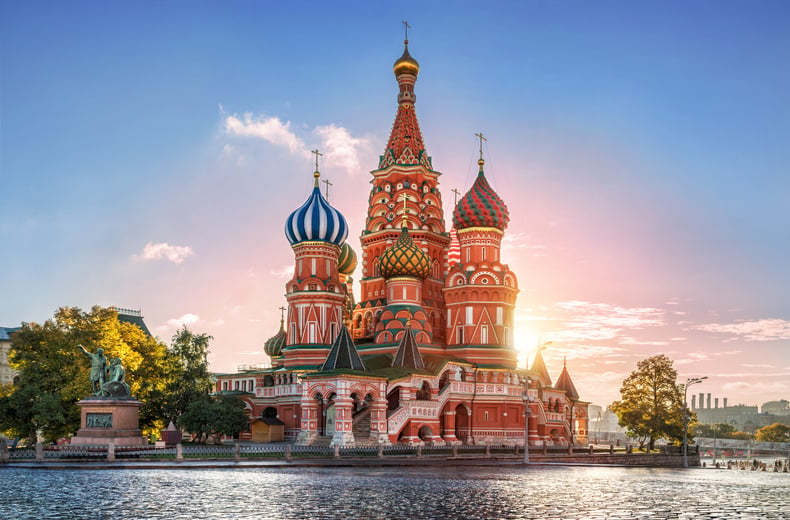 Documents for driving in Russia
If you're driving in Russia your checklist requirements are:
A valid, full UK driving licence
An International Driving Permit (this translates your driving licence into the local language)
Russian visa/transit
A UK sticker – all temporarily imported vehicles must bear the distinguishing sign of their country of registration
Your motor insurance certificate/green card with RUS code . Ensure your car is covered by third-party insurance recognised in Russia. This is the legal minimum cover for visitors, but fully comprehensive is recommended, so check with your provider before you travel
V5 registration document or hire car paperwork
Driving in Russia packing checklist
Aside from the documents above, there are some legally-required items you must bring with you to drive in Russia.
Unless your headlights can be adjusted, it's a legal requirement to carry headlamp converters (stickers for your headlights when driving on the right, so your lights don't dazzle motorists coming the other way).
A warning triangle is also compulsory to carry in vehicles in case of a breakdown.
Winter tyres (compulsory if you're driving between 1 December and 1 March)
It's also recommended to have:
Spare bulbs for your car's external lights
A fire extinguisher
A first-aid kit
A reflective jacket
A Green Card (this is no longer a requirement, but it could be useful to back-up your insurance documents and show you've got the minimum legal level of cover. To find out more, contact your insurance company)
You can pick up all the car kit you need from RAC Shop.
Rules of the road in Russia
Use dipped headlights during the day outside built-up areas
Wear a crash helmet if you're riding a motorcycle or scooter
On entry into Russia, motorists are required to pay a road and ecological tax which is calculated according to the category of vehicle
In Russia, you drive on the right and overtake on the left. Vehicles from the right, trams, buses and emergency vehicles have priority. Turning left is forbidden in large towns other than at crossings with lights
Horns should not be used in towns, except in cases of immediate danger
If you're involved in any sort of collision, you should wait until the police arrive
There is a growing number of motorway toll roads in Russia. A major new toll motorway stretching 1,250 miles across the country from west to east was given the go-ahead in July 2019
If you're caught committing a driving offence while travelling through Russia, you could be given an on-the-spot fine of up to 5,000 RUB (around £40). Fines must be paid through a bank as Russian police are no longer allowed to ask for cash
Seat belts should be worn in all seats where a belt is available
Children under the age of 12 must use an appropriate restraint if they're travelling in the front seat of a car
Since 2013, the legal drink-drive limit has stood at 0.035%, so you shouldn't drink at all before getting behind the wheel. Driving under the influence of drugs is also against the law
It is against the law to drive a dirty car where the registration plate isn't legible
Russian speed limits
In residential areas, the speed limit is 20km/h, while in other urban areas, it's 60km/h. Outside built-up areas, the limit is 90km/h, increasing to 110km/h on expressways.
Anti-radar equipment that interferes with specific radio frequencies to jam police signals is prohibited.
Other things you should know when driving in Russia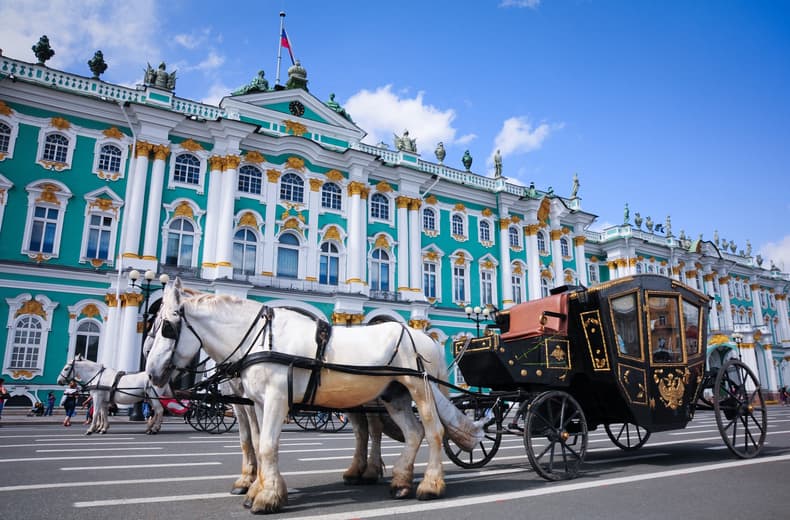 Unleaded petrol and diesel are readily available throughout western Russia. There are some automatic petrol pumps in Moscow and St Petersburg that take credit cards, but generally cash is used
The standard of roads outside major cities in Russia is poor, particularly in the most rural areas. Hazards to watch out for include livestock and speeding drivers
Political rallies can occur in Moscow, St Petersburg and other cities. They are usually peaceful but can escalate into violence. Check Government advice for travelling in Russia for the latest information
Car parks and parking meters are available in Russian towns and cities. Fines are issued for parking offences, and if you park illegally your vehicle could be clamped or towed away
In an emergency
112 - Here's a really important bit of knowledge; you can dial 112 from anywhere in Europe and an operator will connect you to an emergency service in the country you're visiting.
Operators can answer your call in their native language, English or French.
Driving a hire car in Russia
Not all of the information in the guide above will be relevant to those looking to rent a hire car in Russia.
Though it might be a good idea to read through everything anyway, here are the most important things to know for drivers of rental vehicles:
Rental information
The minimum age to hire a car is 19, although this can vary depending upon the vehicle and provider
You need a full, valid UK driving licence and usually a second proof of ID (passport)
Some car rental companies ask that you have held your licence for a minimum term - check with your hire company first
Some companies require you to use a credit card for deposit
You may not be able to drive outside of Russia unless planned in advance - check with your hire company first
Make sure you get car hire excess insurance before your trip to protect yourself from unexpected costs. It's almost always cheaper to do this with a separate insurer and in advance
Hire car driving tips
Russians drive on the right and overtake on the left - the opposite to the UK
The Russian speed limit in residential areas is 20km/h, while in other urban areas, it's 60km/h. Outside built-up areas, the limit is 90km/h, increasing to 110km/h on expressways.
Dial 112 in an emergency
It's compulsory to wear seat belts in the front and rear seats
The blood alcohol content limit for drivers of private vehicles is 0.03%. That's lower than the UK
Driving in Russia FAQs
Is it safe to drive in Russia?

Russia has a poor road safety record and locals have earned a reputation for bad driving. However, a programme of investment in new motorways and road upgrades has been raising motoring standards in recent years.

You still need to be careful when driving in rural areas where there are often no road markings and livestock crossing in front of vehicles. You should also avoid driving at night if possible and check the forecast before travel as the weather can be extreme in places. The roads in Siberia are often impassable during winter and can turn to mud during the rainy season.

Can you drive in Russia with a UK licence?

Yes. You can legally drive in Russia with a full and valid UK driving licence. In addition to this, an International Driving Permit is also required as it translates your licence into Russian.

Yes, although it's not recommended as it can get very congested so be prepared for traffic jams. There are also parking restrictions in place throughout the city, and road signs are in the Russian alphabet.

Do I need extra insurance to drive in Russia?

You'll need insurance documentation that proves you're covered to drive in Russia under the terms of your policy. It's recommended you have fully comprehensive cover rather than just third-party, so check with your insurance provider before you set off.

If your insurer has issued you with a green card, make sure the RUS code for Russia is included.

What side of the road do they drive on in Russia?

Like in most of mainland Europe, motorists drive on the right-hand side of the road in Russia.

Do I need a GB/UK sticker for Russia?

You will need to display a UK sticker on the rear of your car. GB stickers have been discontinued.

Can I drive my car in Russia?

Yes, although before driving your car to Russia it's important you follow all legal requirements to ensure you are safe and legal on the roads, including having sufficient insurance cover.

You should also ensure you have all the required items needed for your journey in Russia (such as a warning triangle and spare bulbs) as well as for any other country you're planning to drive through.

How do I drive to Russia?

Getting to Russia by car from the UK is an epic European adventure. Firstly, you'll need to take your car across the Channel to Calais on either the Eurotunnel from Folkestone or a ferry from Dover.

Once you're in Calais, drive eastwards through France, Belgium, Germany, Poland, Lithuania and Latvia before crossing the border into Russia. The drive from Calais to St Petersburg takes around 30 hours non-stop.

Another option is to take your car on a ferry from Newcastle, Hull or Harwich to the Netherlands and drive to Russia from there.

What age can you start driving in Russia?

To legally drive in Russia, you must be 18 years or older and in possession of a full valid driving licence.

Do I need winter tyres to drive in Russia?

Winter tyres are compulsory if you're driving between 1 December and 1 March. Spiked tyres and snow chains are allowed during the winter period and are recommended if you're driving in the Ural Mountains.

Are there toll roads in Russia?

Yes. Tolls are quite new to Russia, but they are collected at toll booths located on the M3, M4 and M11 motorways and apply to all motor vehicles. Tolls can be paid for by cash or credit card or via an electronic on-board unit.
UK Government travel advice
---
Information in this guide is subject to change
British Embassy Moscow
Office: British Embassy Moscow
Street Address: 10 Smolenskaya Naberezhnaya
ZIP Code: 121099
City: Moscow
Country: Russia
Telephone: +7-95 9567200
Fax: +7-95 9567201
Email: [email protected]
British Consulate Ekaterinburg
Office: British Consulate Ekaterinburg
Street Address: 15a Gogolya St.
Zip Code: 620075
City: Ekaterinburg
Country: Russia
Telephone: +7-343 379493, 3559201
Fax: +7-343 3592901
Email: [email protected] [email protected] [email protected]
British Consulate Novorossiysk
Office: British Consulate Novorossiysk
Street Address: 3a Fabrichnaya Street
Zip Code: 353923
City: Novorossiysk
Country: Russia
Telephone: +7-8617 618100
Fax: +7-8617 618291
Email: [email protected]
British Consulate Vladivostok
Office: British Consulate Vladivostok
Street Address: 5 Svetlanskaya Street
City: Vladivostok
Country: Russia
Telephone: +7-4232 411312
Fax: +7-4232 410643
Email: [email protected]
British Consulate St. Petersburg
Office: British Consulate St. Petersburg
Street Address: Pl. Proletarskoy Diktatury, 5
Zip Code: 191124
City: St. Petersburg
Country: Russia
Telephone: +7-812 3203200
Fax: +7-812 3203211
Email: [email protected] [email protected] [email protected]