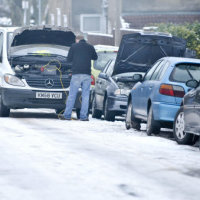 The RAC's 1,500-strong team of breakdown patrol staff have started being equipped with special hi-tech battery testers.
This will allow them to undertake complete checks on drivers' battery, charging and starting systems.
They can then email comprehensive diagnostics reports detailing the results to customers.
Battery-related are the most common reason behind RAC call-outs.
RAC patrol teams tended to over 445,000 members suffering these last year.
There is more strain than ever on car batteries and how to deal with them.
This is partly due to increasingly complex batteries and new "stop-start" technology which means a vehicle must be re-started every time it stops.
Modern batteries also face an unprecedented amount of tasks to perform, powering an increasingly varied spectrum of systems.
These include MP3 players, climate control, power steering, heated seats and power windows.
RAC battery testers can provide roadside diagnostics to gauge battery endurance.
They do this by analysing their reserve capacity as well as their capability for supporting a car's auxiliary power and starting requirements.
A warning saying "Reserve Capacity" will come up if a driver's battery cannot support these needs.
Phil Ryan, technical director for the RAC, said: "The RAC Midtronics battery diagnostic tester brings a new level of quality, accuracy and consistency to breakdown battery testing from one device.
"One particular benefit is a significant improvement in the testing accuracy of partially discharged batteries, allowing our patrols to give members a definitive opinion on their batteries' health or that of the vehicle's starting and charging system.
"The unit carries out a five-minute charge acceptance test which displays both the battery's cranking state of health - the ability to start the vehicle - and its reserve capacity.
"This gives patrols a final decision on whether a battery is fit for purpose or needs replacing.
Mr Ryan went on: "Sometimes the battery can be the victim and not the cause as there can be occasions where an inferior testing device shows that a battery needs replacing when in fact it is actually a symptom of a wider problem in the vehicle's starting and charging system.
"This would often lead to a new battery being damaged or flattened in a short space of time which can be very frustrating for all concerned.
"Fortunately, this is one challenge that RAC patrols will no longer have to face going forwards."
Copyright Press Association 2016. Motoring News articles do not reflect the RAC's views unless clearly stated.