Leading electric car subscription service Onto has chosen the RAC as its servicing and roadside assistance services partner.
The RAC is now responsible for servicing 6,000-plus Onto vehicles, which make up the largest electric car fleet in the UK.
Servicing will be carried out by the RAC's mobile team of expert electric vehicle (EV) technicians at Onto customers' homes or workplaces, saving them time and making their electric car subscriptions hassle-free.
All RAC EV technicians are qualified to the IMI's Level 3 standard.
As part of the initial two-year contract, the RAC becomes Onto's first roadside assistance partner, providing cover for all vehicles in its fleet.
In the event their car needs attention, each Onto customer will benefit from the RAC's renowned roadside service delivered by its professional patrols.
The RAC's patrol vans utilise market-leading EV-specific breakdown equipment – namely EV Boost emergency mobile charging units and the All-Wheels-Up rapid recovery system that gives a flatbed capability to a standard patrol van.
Dan Sparks, Business CEO at the RAC said: "We're thrilled to start working with Onto, the clear leader in the electric car subscription field and a company that's ideally placed as drivers increasingly want the benefits of switching to electric cars but without the hassles of traditional ownership.
"As well as the RAC's renowned roadside assistance service, which already caters for the needs of electric car drivers, we're extremely pleased to be providing mobile servicing to Onto's entire electric car fleet, which is one of Europe's largest.
"We're able to service customers' vehicles at a place and time to suit them, making it as simple as possible for Onto customers to enjoy the benefits of driving and running an electric car."
Rob Jolly, CEO and co-founder at Onto adds: "To meet the experience that our subscribers expect from Onto, we needed a trusted partner that we could depend on for first-class roadside assistance and servicing.
"The RAC's reputation, along with its focus on innovation and adaptability to meet the needs of a new electric car era, make it the obvious choice for Onto.
"This partnership makes our all-inclusive subscription even more simple and convenient for people to drive an electric car."
Onto's subscription model provides drivers with a flexible alternative to conventional electric car ownership – no deposit is required, and no long-term commitment is needed, with drivers even able to swap cars every month depending on their needs and preferences.
"An Onto subscription is all-inclusive, meaning that everything is covered in one monthly fee including insurance and public charging, and subscribers now benefit from Onto's partnership with the RAC for roadside assistance and mobile servicing.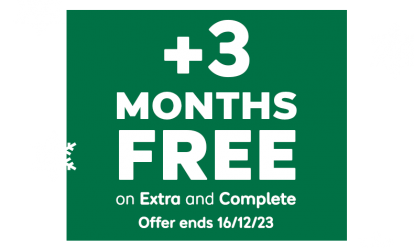 With 12 months of cover, new customers get an extra 3 months for free*.
*Added after 12 months, excludes Basic cover. New customers only. Ends 16/12/23, 7am