RAC patrol Lee Wingate became the first person to set a new world record for walking unsupported from John O'Groats to Land's End (JOGLE) on Monday (25th September 2023).
In order to achieve the record, he had to be completely self-sufficient for 25 days for the 860-mile journey,
Lee, from the Portsmouth area, completed the incredible walk after two previous unsuccessful attempts.
Over the four weeks of just living off the land, he had to deal with a lot of challenges – including both hot weather and Storm Lee.
He also suffered from sleepless nights and injuries along the way – as well as being stopped several times by police.
Lee's family was waiting for him at the finish line at Land's End for an emotional reunion.
The unsupported run was done for the RMA – The Royal Marines Charity, which offers lifelong support to our serving Royal Marines personnel, its veterans, and the families.
To qualify as being 100% unsupported for the entirety of the walk, Lee had to remain entirely alone from beginning to end – and accept no outside help.
This meant that he had to rely on his own resources and the land itself. He had to carry everything he needed in his homemade 'pram' his family called 'Frankie' (after the Frankenstein monster).
Although it failed him twice, he patched it back together and completed the journey.
The pram included all his food, drink, and equipment needed for wild camping. Lee also had to collect all the water he needed from natural resources.
After completing the world record, he said: "I had to carefully plan every aspect and every single section of the journey – and it all had to be exactly right.
"However, when you tackle endurance or multi-day challenges like this, it becomes more about the mental strength than physical. If you aren't mentally in the right place, it makes everything more difficult and every problem bigger than it actually is. it's always easy to talk yourself out of finishing something – that's the easy route
"There were highs and lows, but I was mentally and physically prepared for it.
"By far the hardest part of all, though, was desperately missing my family. And having only ration packs to eat, it was getting more and more difficult running through towns and villages and smelling food like fish and chips and chicken cooking – so I'm really looking forward to eating a sausage sandwich and some cheesy chips now."
You can donate to Lee's JustGiving page here. He has raised in excess of £2,500 (including gift aid) for RMA – The Royal Marines Charity so far.
Congratulations, Lee!
Leave your messages of support and congratulations below.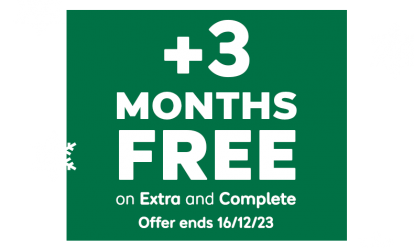 With 12 months of cover, new customers get an extra 3 months for free*.
*Added after 12 months, excludes Basic cover. New customers only. Ends 16/12/23, 7am