Birthday bumps were on the menu for Range Rover's 50th birthday – as one of its luxury SUVs collided with the Prime Minister's Jaguar XJ in London.
Boris Johnson was travelling to Parliament Square when a man jumped in front of his car, forcing it to make an emergency stop. A Range Rover driving as part of the PM's convoy was unable to prevent a prang and hit the saloon from behind.
The demonstrator who jumped in front of the moving cars was protesting about Turkish involvement in Iraq.
Thankfully, no one was hurt during the accident, although the Prime Minister's XJ was left with a large dent to the boot courtesy of the Range Rover.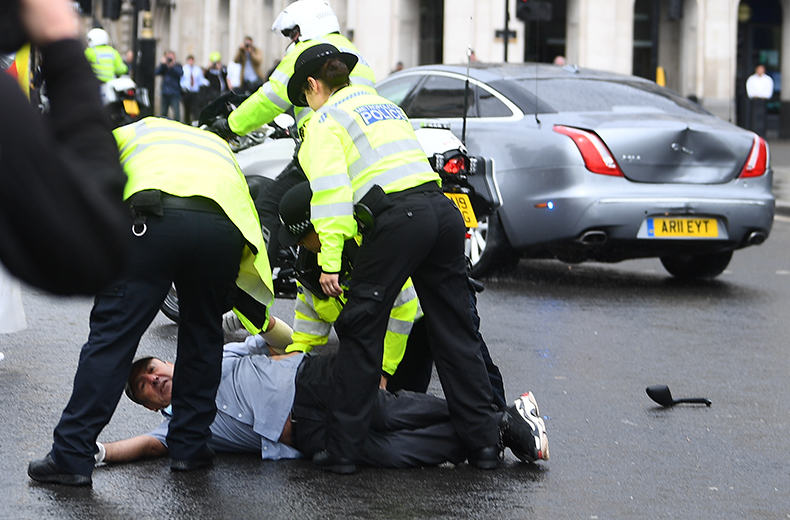 Image: PA
Perhaps not the best way to spend your 50th, but on the bright side, the iconic luxury 4x4 does have a long and interesting history to celebrate.
It's been a favourite for many high-profile owners and passengers including the Royal Family, celebrities, footballers and even the pope.
To celebrate its golden anniversary, the manufacturer is launching a Range Rover Fifty model, restricted to just 1,970 vehicles to commemorate its launch year.
Image: PA
Range Rover began life in 1970 as a luxury spin off from the original 1948 Land Rover. Models now include the Range Rover Sport launched in 2005, the baby Evoque from 2010, and the Velar from 2017.
During its 50 years on and off the road the 4x4 has achieved many motoring milestones, including the honour of being the first car displayed at the world famous Louvre Museum in Paris in 1971.
The motoring work of art has even received papal approval, as John Paul II commissioned a bullet-proof 'Popemobile' for his 1982 trip to the UK.
Land Rover chief creative officer Gerry McGovern, said: "In the world of luxury vehicles, the Range Rover has always stood apart as peerless and enduring.
"Its unique and pioneering sensibilities together with an unrivalled engineering approach have been the intrinsic values which our customers have admired since the first of the breed was revealed in 1970."
Like many manufacturers, it's been a bumpy 2020 so far for parent company Jaguar Land Rover, which revealed plans to cut up to 1,100 temporary jobs in response to the coronavirus crisis.
On a more positive note, the manufacturer was among the first to resume production after lockdown, recently unveiling the first Range Rover built under social distancing measures.
The ever-evolving British classic seems well prepared for 50 more years at the forefront of motoring.
Fancy one of your own? Check out thousands of local new and used car listings on RAC Cars.
Get covered in our half price Breakdown Cover sale from just £7.38 a month.* We're the UK's best breakdown provider as voted by Auto Express drivers 2021.