Image: Kevin Dunnett/Triangle News
Vehicles across the country are being fitted with £200 catalytic converter cages to deter would-be thieves amid an alarming 1700% rise in thefts.
The makeshift solution takes two hours for mechanics to install and is proving an increasingly popular method of protecting the emissions-cleaning car part.
Nottinghamshire Police recorded just nine such thefts in 2018 – a figure that then spiralled between January and October 2019 to 163.
Meanwhile in London last year, there were 2,894 catalytic converter thefts compared with 1,674 the year before.
The crimewave has also hit Kent, where 215 offences were recorded in 2019, compared to 51 in 2018.
Statistics from 12 police forces including Cambridgeshire and West Yorkshire, reveal that three quarters of constabularies experienced a rise in such thefts in the first 10 months of 2019.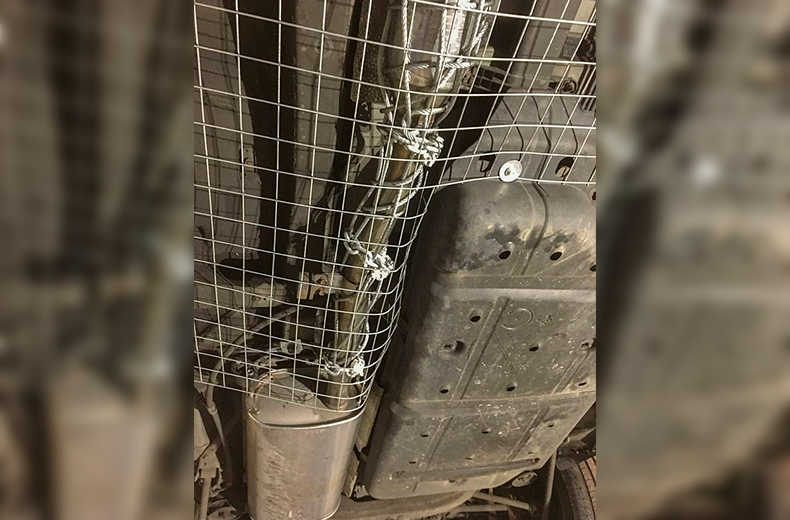 Image: Kevin Dunnett/Triangle News
The surge in catalytic converter theft can be attributed to both the rising costs of precious metals and the popularity of hybrid vehicles.
Prices of palladium, worth £1,300 per ounce and rhodium, worth £4,000 per ounce, have soared over the past two years.
Hybrid vehicles are particularly vulnerable as their converters are used less often than those in petrol and diesel cars.
As a result, the metals are less likely to corrode and the parts are worth more to thieves. Worryingly, criminals have been found stealing converters in broad daylight, and in a matter of minutes.
Drivers who fall victim to the theft might not even realise the part has been stolen. While your car may run without one, it will produce emissions above a legal standard, actually making it illegal to drive on the road.
Although the precious metals found in catalytic converters are small in quantity, the parts can be sold on for hefty sums to scrap-metal dealers.
Manjula Jayamaha who runs a garage in Harrow says he has fitted about 40 of the cages over the last eight months. "They take about two hours to fit. It was just an idea I have come up with."
The fitting of cages follows news in December of soaring catalytic converter crime.
RAC spokesman Simon Williams said at the time: "When global values of these metals go up so do scrap prices and this usually leads to a spate of thefts.
"Vans and 4x4 vehicles, which are higher off the ground and therefore easier to crawl underneath, are regular targets, as are certain cars where the catalytic converters are relatively easy to get at when quickly jacked up.
"Any motorist who has their vehicle's catalytic converter stolen faces a repair bill running into thousands of pounds."
If you're looking for a trustworthy mechanic you can find one from the RAC Approved Garage network. However, the fitting of catalytic converter cages is still a niche task, and it may end up invalidating your insurance since it could be considered a car modification.
Worried about catalytic converter theft? Fortunately, since it would be related to damage from theft or attempted theft, you're covered by RAC Car Insurance if you have a policy with us.
If you're not covered by us, you should check your policy documents to make sure you're covered with your insurer should the worst happen.
RAC Comprehensive Car Insurance Plus has been given a 5 Star Rating by Defaqto. Get a quote online today.