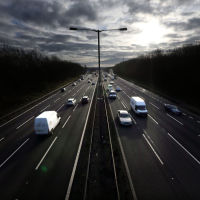 Driverless cars will be tested on motorways next year as part of plans to revolutionise motoring.
Chancellor George Osborne says trials will take place to assess the safety of the vehicles - a move which will be confirmed in the Budget on Wednesday (March 16).
He claims it could lead to the most "fundamental" change to transport since the invention of the petrol engine.
Testing will begin on a small number of local roads, with Bristol, Coventry, Milton Keynes and Greenwich earmarked as potential test bases.
There will also be "truck platooning" tests on motorways, with lorries travelling in a tightly-packed convoy to improve fuel consumption by reducing drag.
It is all part of plans to boost the economy and put the UK at the forefront of autonomous technology.
"The RAC recognises that driverless cars have the potential to offer great benefits in terms of improved safety on our roads and the prospect of greater mobility for the disabled and the elderly," says RAC chief engineer David Bizley.
"They also present an opportunity for the UK to consolidate its standing as a centre of excellence for automotive technology and vehicle manufacture. Trials such as those proposed will be essential in proving the capability and reliability of autonomous vehicle technology.
"Inevitably, however, motorists will be apprehensive about the idea of sharing road space with driverless vehicles; for this reason it will be essential to keep other road users well informed about these trials so they are not surprised or distracted by the presence of a of a driverless car."
The Government is set to invest £15 million in a "connected corridor" between London and Dover, which will allow vehicles to communicate wirelessly with infrastructure and surrounding vehicles.
Proposals to get rid of regulations preventing autonomous driving are expected to be brought forward this summer, meaning driverless cars could be allowed on the roads by 2020.
Copyright Press Association 2016. Motoring News articles do not reflect the RAC's views unless clearly stated.