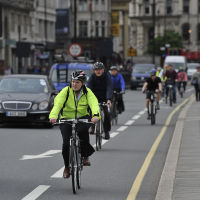 Drivers support the idea of having more cycle tracks on main roads, even if it means longer commutes for them.
Asked whether they would support building segregated cycle tracks if it meant adding a minute to their own journey times, 71.4% of those who commute by car, on foot or using public transport said yes.
Some 54.1% would even be happy to see more cycle lanes if they increased their own commute by five minutes, according to the poll by YouGov for British Cycling.
As many as 79.4% would back the idea of having more cycle lanes if it meant the time it took them to get to work remained the same or improved.
Commenting on the findings, Chris Boardman, British Cycling policy adviser, says it is clear that the vast majority of the public want to see more cycle tracks on main roads. He is calling on the Government to listen and take action as soon as possible.
He adds that businesses also support investment in cycling, as a more active workforce reduces absenteeism and increases productivity.
Copyright Press Association 2016. Motoring News articles do not reflect the RAC's views unless clearly stated.