British drivers are planning to go the extra mile this summer – an average of 212 more than in previous years – for holidays in the UK.
A third of motorists are planning to drive further afield due to a second summer of international travel restrictions. And those behind the wheel of greener cars are set to drive the most extra miles, a Euro Car Parts survey reveals.
A third of respondents are also prepared to part with more cash for their UK holidays than they usually would, the study of 2,000 people shows.
More than a quarter say they're planning to visit different parts of the country more often than usual, while 27% revealed they're hoping to enjoy multiple holidays in the UK.
Fewer than one in 10 drivers say they're staying close to home this summer, with only 11% arranging to visit the same destinations they typically would.
Owners of hybrid vehicles are planning to stack up the most miles this summer, with drivers saying they're happy to drive 268 more than usual. In second place, owners of electric cars are prepared to drive 225 miles extra.
Those behind the wheel of diesel and petrol cars are happy to drive an additional 211 and 208 miles respectively.
Spanning the UK, motorists from London plan to make the longest drives with almost half saying they're happy to drive further than usual. This is followed by respondents from Southampton and Newcastle.
Helen Robinson, corporate communications director at Euro Car Parts, said: "With international travel likely to be off the table for many families, more and more people are looking to explore the amazing holiday destinations that the UK has to offer, and from our research it's clear that Brits are far more willing to look at destinations in Britain that are further afield for their getaways."
The figures echo research by the RAC earlier this month showing that 2021 is set to be the second 'staycation' summer, with more than four in 10 drivers (43%) planning to holiday in the UK.
RAC Breakdown spokesperson Simon Williams said: "If traffic volumes really do swell this summer, it could turn out to be more important than ever that drivers check their vehicles before setting out to avoid a breakdown at the roadside."
However, he added: "For those who do end up needing help at the roadside, our expert local patrols will be on hand to pick up the pieces and get the holiday back on track as quickly as possible."
Remember your car checks with Summer FORCES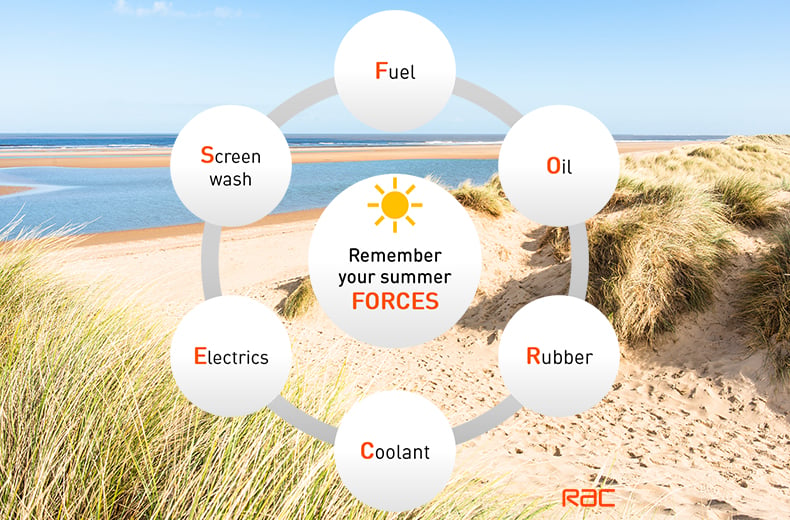 Remember the acronym 'FORCES' and you'll go a long way to ensuring your car is ready for any long drive.
F is for FUEL
Ensure you have enough fuel for your journey. Cars use more fuel in heavy traffic and start/stop conditions which can be regular occurrences, especially in warm weather.
O is for OIL
To avoid engine damage and a potential breakdown, remember to check your oil level and top up when necessary to reduce the chances of overheating in traffic.
R is for RUBBER
Your tyres can tell you a lot about how your car is performing. If they aren't wearing evenly, then tyre pressures may be mismatched or there could be a fault with the steering.
Check that all four tyres have at least 3mm of tread and are inflated to the correct pressure - this is vital to maintaining good grip in wet and even icy conditions. For everything you need to know about how to check your tyres you can read our how to check your tyres advice complete with short video.
Also take a look at your wiper blades to ensure they're clearing the screen effectively and that the rubber has not perished.
C is for COOLANT
This does a vital job in ensuring the engine runs at the right temperature. If it's not between the 'min' and 'max' levels, this could be the sign of a problem so contact a good garage without delay. Here's our video guide for checking and topping up your coolant.
E is for ELECTRICS
Your wipers will help keep your windscreen clear of bugs, and you'll need your lights on during any heavy downpours. The electrics also control your indicators and windows, so check there are no problems.
S is for SCREENWASH
Top-up your windscreen washer fluid by using a good quality screenwash, nobody wants bugs and seagull poo all over their windscreen after a trip to the beach. Here's how to check and top up your windscreen wash properly.
Want to drive to your staycation location this summer with peace of mind? Get breakdown cover today.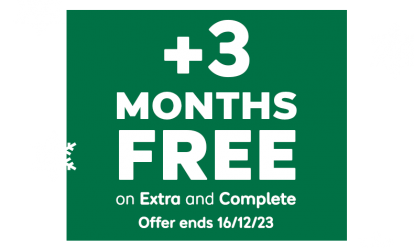 With 12 months of cover, new customers get an extra 3 months for free*.
*Added after 12 months, excludes Basic cover. New customers only. Ends 16/12/23, 7am