More than four-in-10 drivers in the UK (43%) already have firm plans for a
UK staycation
this summer, a figure that could rocket if coronavirus restrictions stop others from taking a holiday abroad, according to research carried out by the RAC.
1
While only 13% of the 2,100 drivers surveyed in April said they hoped to head abroad this summer, nearly half of this group (48%) said they would try to take a holiday somewhere in the UK if coronavirus restrictions made going abroad impossible – which could have the effect of swelling traffic volumes during the summer months.
A quarter (24%) said they would look to delay their trip to another date when restrictions are hopefully eased, whereas 16% say they would simply forego a holiday this summer. One-in-10 (11%) were uncertain as to what they would do in that event.
With official data showing that 19 of the 20 countries to which UK residents make the most visits in the summer are currently on the Government's 'red' and 'amber' list2 and are effectively off-limits, the RAC research points to the possibility of an extremely busy summer on the UK's roads.
Of all of those planning to get away, a quarter (24%) took the decision to book last year while another quarter (25%) waited until this year. But the remaining half (51%) say they plan on sorting out a summer break at shorter notice. More than four-in-10 (44%) of the those surveyed don't expect to take a summer holiday at all this year.
As to when people will take their holidays, the study found the number of holidaymakers was equally divided into three distinct time periods: those looking to get away before the schools break up (33%); those going away in the school holidays (32%) and those who will head away once the children have gone back in September (35%).
Self-catering is by far the most popular holiday choice with 45% saying that's what they will be doing. This was followed by hotels and guest houses (29%) and camping (14%) with 12% saying they would make other arrangements. The RAC suspects the camping figure may rise if hot summer weather is forecasted.
One thing's for sure: the car will be central to 2021 holidays with nearly three-quarters (71%) using theirs to get away. Four per cent of those surveyed said their holiday will involve a motorhome while the same proportion (4%) will be opting for a caravan.
RAC Breakdown spokesman Simon Williams said: "With months of being locked down now behind us there's a clear and very understandable desire from most people to have a summer holiday of some sort. That said, a significant proportion don't intend to get away at all, perhaps worried about a possible third Covid wave or, more optimistically, hoping for a better opportunity of going abroad later on this year.
"For those heading off in the UK this summer it's very apparent that the car is going to be the transport mode of choice. What's more, if those who have foreign trips planned can't take them there is every chance the roads will be far busier than they would be in a normal summer, especially if we're blessed with good weather as this will cause the number of day trips and weekend breaks to rocket.
"If traffic volumes really do swell this summer, it could turn out to be more important than ever that drivers check their vehicles before setting out to avoid a breakdown at the roadside – oil, coolant and screenwash levels should be checked, and all tyres should be free of damage and inflated to the right levels for the load being carried, particularly if the whole family is on board and the car is jam-packed. Anyone who's put off getting their car fixed or serviced during Covid should take action sooner rather than later to avoid their staycation being spoilt by a breakdown.
"For those who do end up needing help at the roadside, our expert local patrols will be on hand to pick up the pieces and get the holiday back on track as quickly as possible. Even though RAC members can make their trips with complete peace of mind, it's always best to do all you can to prevent a breakdown by checking your car over yourself well before setting out and maybe even bringing its service forward slightly if it's due just after your trip."
Remember your car checks with Summer FORCES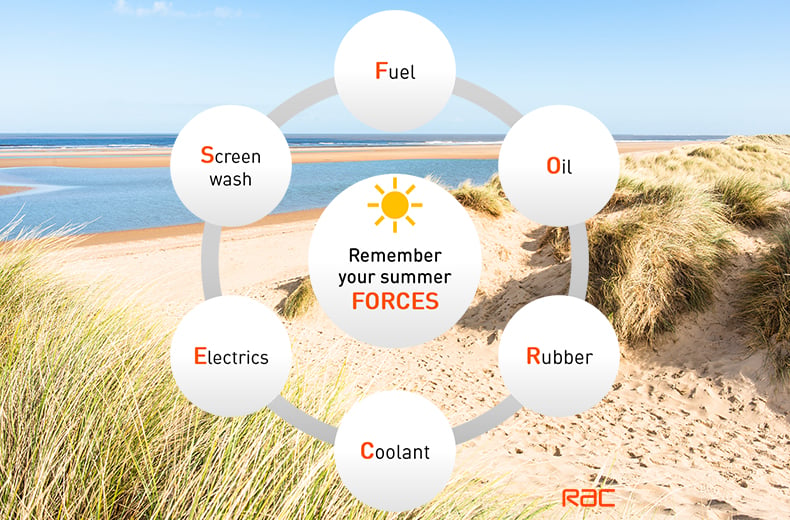 Remember the acronym 'FORCES' and you'll go a long way to ensuring your car is ready for any long drive.
F is for FUEL
Ensure you have enough fuel for your journey. Cars use more fuel in heavy traffic and start/stop conditions which can be regular occurrences, especially in warm weather.
O is for OIL
To avoid engine damage and a potential breakdown, remember to check your oil level and top up when necessary to reduce the chances of overheating in traffic.
R is for RUBBER
Your tyres can tell you a lot about how your car is performing. If they aren't wearing evenly, then tyre pressures may be mismatched or there could be a fault with the steering.
Check that all four tyres have at least 3mm of tread and are inflated to the correct pressure - this is vital to maintaining good grip in wet and even icy conditions. For everything you need to know about how to check your tyres you can read our how to check your tyres advice complete with short video.
Also take a look at your wiper blades to ensure they're clearing the screen effectively and that the rubber has not perished.
C is for COOLANT
This does a vital job in ensuring the engine runs at the right temperature. If it's not between the 'min' and 'max' levels, this could be the sign of a problem so contact a good garage without delay. Here's our video guide for checking and topping up your coolant.
E is for ELECTRICS
Your wipers will help keep your windscreen clear of bugs, and you'll need your lights on during any heavy downpours. The electrics also control your indicators and windows, so check there are no problems.
S is for SCREENWASH
Top-up your windscreen washer fluid by using a good quality screenwash, nobody wants bugs and seagull poo all over their windscreen after a trip to the beach. Here's how to check and top up your windscreen wash properly.
---
1 Research conducted online with 2,109 members of the RAC Opinion Panel in April 2021
2 https://www.ons.gov.uk/peoplepopulationandcommunity/leisureandtourism/articles/redamberandgreentravellistsandoverseasvisitsfromtheuk/2021-06-10
Breakdown cover from just £7.95 a month*. Plus up to £150 of driving savings!