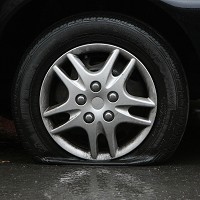 As a new survey points to the fact a fifth of UK motorists are reliant on fitting part-worn tyres in a bid to save cash, drivers are being warned over the dangers of cutting corners.
An alarming 22% of drivers have at some stage opted for second-hand tyres over new - 9% of whom have done so in the past year.
RAC spokesman Simon Williams said: "It is vital that car-owners regularly check the condition of their tyres. Punctures are one the biggest reasons for patrol callouts and very often a damaging blowout is caused because of a worn tyre. If you're unsure about what to look for the RAC website's motoring advice pages makes it clear how to maintain your tyres.
A separate study suggests as many as 12 million drivers don't bother to have their car checked over before the onset of winter, seriously compromising safety and causing damage to their cars.
It seems checks connected to car oil, brake fluid and other crucial aspects are being overlooked on a grand scale.
Simon Williams continued: "We would urge everyone to ensure their car is prepared for the winter and that they have carried out the basic checks such as oil, coolant, screen wash, wiper blades, lights, tyre pressure and tread.
"Time spent planning your journey in advance during the winter period, and checking on the RAC's Route Planner for alternative routes will benefit you if you encounter difficult conditions on your route. For more information on driving in adverse weather conditions visit the RAC's advice pages."
Copyright Press Association 2014