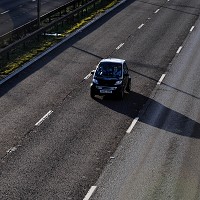 Cars with automatic emergency braking technology (AEB) could start saving thousands of lives if incentivised, it has been suggested.
Car insurance researchers Thatcham said initial UK data shows cars equipped with AEB lead to around 18% fewer third-party injury claims.
Thatcham's chief executive Peter Shaw appeared at Westminster to call for the Treasury to fund £500 incentives for people who buy new cars fitted with AEB.
He said the scheme would result in the entirety of the UK new car fleet being fitted with AEB by 2025 which could prevent more than 17,000 deaths and serious injuries on the UK's roads in the 10 years from 2015.
Human error or distractions cause 90% of road crashes and the average injury crash carries a total bill of £90,000, according to Mr Shaw.
There are also 550,000 whiplash claims each year in the UK that cost £2 billion and add £90 to the average car insurance premium.
"A responsible driver who pays extra to reduce the potential impact of their car should benefit from a helping hand from the Government," he commented.
Pete Williams, head of external affairs at the RAC, said: "Every piece of research we conduct on driver distractions bears out the fact that it is both incredibly prevalent and potentially dangerous.
"Concentration is an essential and critical part of driving, but it is difficult to maintain a high level of focus on one particular task for a sustained period of time, which is a challenge for every motorist. The mind wandering is probably the single biggest obstacle to maintaining concentration aside from the in-car distractions of passengers.
"While AEB should not be seen as a reason to be complacent or to act as a 'safety net', any scheme or incentive that helps car and fleet buyers chose the safest of vehicles and encourages manufacturers to implement it in cars of all ranges is very much welcomed."
Copyright © Press Association 2014