After a two-year wait, the world's biggest ever festival of electric vehicles and clean energy will take place at Farnborough International from 3-5 September, and the RAC is pleased to be a key part of it.
Fully Charged OUTSIDE brings the popular YouTube show to life showcasing every commercially available electric car available, many of which drivers can try themselves in the RAC-sponsored test drive programme.
While Tesla's Model 3 still sets the bar, there are some incredible cars now on offer, including Hyundai's Ioniq 5, KIA's EV6, Polestar 2, VW's ID.3 and ID.4 amongst many others. There will also be a focus on new electric cars that are due out soon, as well as some concepts and prototypes that are likely to be the future of transport. The show also offers an incredible selection of classic cars that have been converted to electric, as well as a rarely seen electric car from 1906.
Visitors to Fully Charged OUTSIDE will have the chance to ask all the questions they have about running electric cars and will be able to discuss all the charging options available, both at home and away from home. In addition, there are two theatres packed with useful information for beginners, including sessions on understanding running costs, EV myth-busting and deeper dives into how batteries are being recycled, and where the materials that make them come from.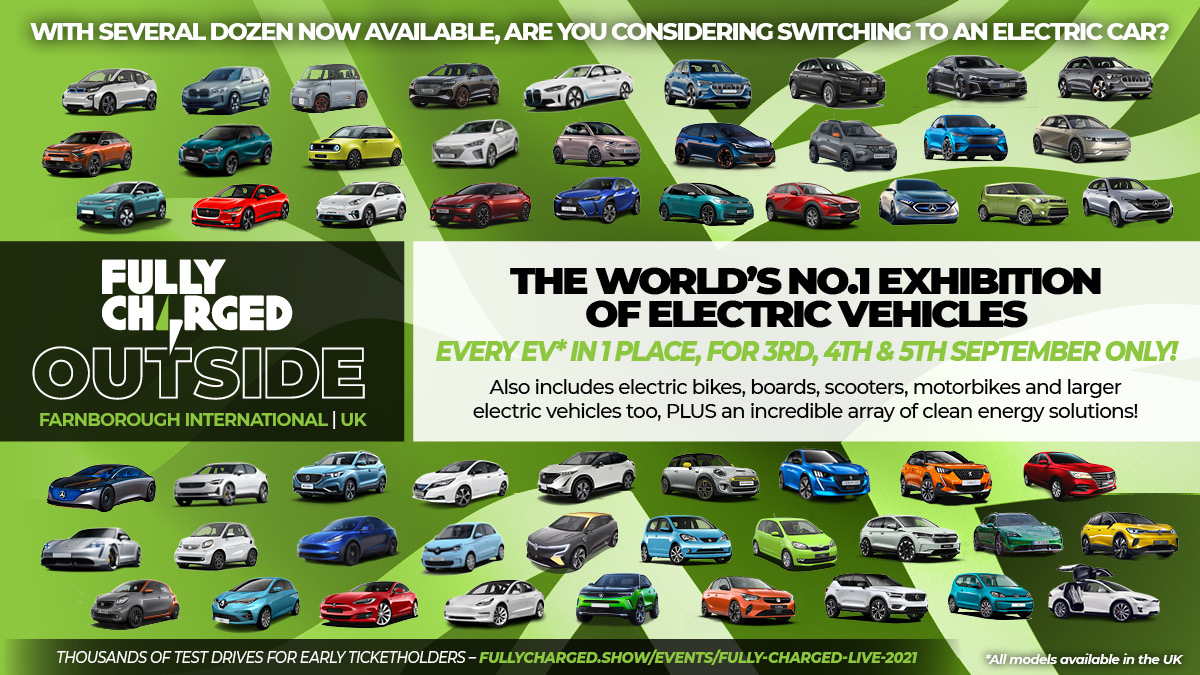 Other forms of electrified transport will also be on show. From electric monowheels to skateboards, from scooters to bikes and trikes, and from mopeds to motorbikes, visitors will be spoilt for choice at Fully Charged OUTSIDE. At the other end of the spectrum, electrification is coming in for serious consideration for larger vehicles. To that end, lots of commercial electric vehicles, especially coaches, buses, trucks and vans, will be showcased to give businesses an understanding of how they can benefit from the cleaner, greener options coming to market.
Another important focus of Fully Charged OUTSIDE is cleaner technologies for the home. Visitors will be able to learn about the latest in insulation, energy efficiency, smart thermostats, thermal storage, air source heat pumps, ground source heat pumps and the newest zero-emission heating technologies.
As well as hundreds of solutions on display, there are more than 50 'live sessions' hosted by our presenters including Fully Charged founder, actor and television presenter Robert Llewellyn, TV presenter Maddie Moate and physicist Helen Czerski, supported by 200 industry experts. If you have questions about the switch to electric, this is the place to be.
Robert Llewellyn said: "It's difficult amidst all the doom and gloom, but at Fully Charged we choose to focus on the positives. While it has advanced civilisation immeasurably, combustion, alongside consumption, is the driving force behind a warming world. Thankfully, there are cleaner technologies that don't rely on burning fossil fuels and that, in our experience, are better than what's been before.
"We believe that 'the hero' of this story is set to be electric vehicles of all shapes and sizes, ably supported by cleaner, greener technologies like wind, solar, hydro, geothermal and energy storage too. On the Fully Charged Show it is our privilege to cover all of these technologies and Fully Charged OUTSIDE simply brings everything to life in one place."
The RAC, which is also working hard to help drivers make the switch to electric by offering market-leading EV leasing deals and making it easy to get a home charger installed, is providing complimentary breakdown assistance to anyone attending the event, should they encounter any issue on site.
Drivers will also have the chance to see the RAC's unique EV Boost lightweight, van-mounted EV charging system and the pioneering All Wheels Up rapid recovering system which enables patrols to recover EVs safely with all four wheels off the road.
Some tickets are still available, so if you're looking for something to do this bank holiday weekend, grab them quick.
The easy way to go electric. Get all the benefits of a brand new car, without the hassle of owning it. Find your brand new electric car today!