The Report on Motoring asks drivers to name the four motoring-related issues that concern them most, from a list of 20.
This data has been used to create a percentage that shows the level of overall concern among drivers about each issue. Below is a chart with them all to show how concern of these issues has changed compared to last year. The grey figure indicates the total level of concern among drivers in 2020, the orange figure the corresponding level in 2021.
As the chart shows, the poor condition and lack of maintenance of local roads is once again the top concern among Britain's drivers. This year, 46% of drivers say that the state of local roads is one of their four most serious motoring-related concerns, sharply up from 38% 12 months ago. Indeed, the deterioration of local roads is by a considerable distance the biggest single problem facing drivers of all ages at present.
The dangerous, careless or illegal behaviour of other road users is another major issue for drivers. Three in 10 (31%) say that other drivers' use of handheld mobile phones at the wheel is a top concern, in line with the 32% recorded in 2020.
Some 27% say that the poor standard of other people's driving is a major concern, the same percentage as a year ago. And a quarter (25%) cite the aggressive behaviour of other drivers as a top concern.
The cost of fuel is also clearly on drivers' minds, with 25% saying it is a top concern, up from 21% in 2020, reflecting an upward trend in pump prices. Meanwhile, there has been a dramatic uptick in worries about the safety of the UK's growing smart motorway network: this year, 24% of drivers say this is a top concern, up from just 16% 12 months ago. Read our in-depth research into drivers' views on the safety of all lane running smart motorways.
Finally, 16% of drivers this year say that the environmental impact of motoring is a top concern: while this is a relatively low level in comparison with the issues highlighted above, it is the continuation of a trend over recent years that suggests it is of increasing concern to drivers. For younger drivers, this is a more significant issue: among those aged between 17 and 24, 23% say environmental impacts are a top concern while the rate is 19% for those aged between 25 and 44.
The Report provides further evidence that Britain's network of local roads continues to deteriorate in the face of inadequate maintenance investment and following harsh winter weather conditions.
Well over half (58%) of drivers believe local road conditions where they live have deteriorated over the past year, a rise on the 52% recorded in 2020 and 49% in 2019. While the state and maintenance of local roads is the top motoring concern for all drivers, the issue is felt particularly keenly by older drivers: in the 65 and over age group, 54% say this is a top concern this year (46% among all drivers). But it is worth noting that the state of local roads is the top concern for drivers in every age group, according to the 2021 Report.
Local roads
Only 6% of drivers believe local roads have improved over the past year, the same proportion as 12 months ago and well down on the 11% reported in 2019. The vast majority who cite local roads as a concern point to problems with road surfaces as one of the main reasons (98%), while more than half (56%) complain of faded road markings. Other notable issues include the amount of litter by the road (a growing problem, as it is cited by 37% this year against 35% in 2020 and just 23% in 2019), signage visibility (33%) and lack of grass or foliage maintenance (21%).
The RAC's Pothole Index provides insight into the state of Britain's roads based on the proportion of patrol call-outs that are most likely to be related to pothole damage. Recent data from the Index backs up the Report on Motoring's findings. In April, the RAC found that, despite the ongoing UK-wide pandemic lockdown, there had been a three-fold increase in the number of pothole-related breakdowns in the first three months of 2021 compared with the previous quarter – the sharpest quarterly rise ever recorded. Between January and the end of March this year, 2.4% of all call-outs were linked to pothole damage such as broken suspension springs, distorted wheels or damaged shock absorbers. This was the highest proportion recorded since 2017.
Long-term lack of investment
While the particularly cold and wet winter may have exacerbated the poor state of the roads, an ongoing lack of investment is undoubtedly the most significant problem. The most recent edition of the annual survey carried out by the Asphalt Industry Alliance (AIA) suggests that local authorities in England and Wales continue to lack the necessary funding to keep roads in good repair.
The AIA's 2021 Annual Local Authority Road Maintenance (ALARM) report points out that, while there was an increase in highway maintenance budgets in the 2020-21 financial year, these were not sufficient to return budgets to their 2019 levels following swingeing cuts in 2020. The AIA estimates that more than £10 billion needs to be spent to address the backlog of maintenance on roads in England and Wales.
Motorists would very much like to see at least some of the revenues raised from the likes of Vehicle Excise Duty (VED) ('car tax') and fuel duty ring-fenced for spending on local road maintenance. This year, 81% of drivers support this idea, an almost identical proportion to 2020 (82%). At present, revenues from VED in England are used to fund maintenance spending but only on the motorway and high-speed road network.
There is some limited support for the idea of paying a higher rate of fuel duty provided the extra revenue was ring-fenced for local road maintenance: 43% of drivers back this idea against 35% who oppose it. Overall, however, three-quarters (74%) of drivers take the view that the motoring taxes they already pay are not sufficiently reinvested into local roads.
Motorways and high-speed roads
Drivers are on the whole happier with the state of the UK's motorways and major A-roads. Only 11% say that the state of motorways and high-speed roads is main concerns, although 28% still say that the condition of these roads has deteriorated over the past 12 months.
While this is a substantially lower proportion than the 58% who think local roads have worsened since 2020, it should be noted that only 5% of drivers say the state of motorways and dual carriageways has improved.
For those drivers who say motorway and major road conditions have deteriorated, the biggest issues relate to the road surface itself (88%), faded lane markings (47%) and roadside litter (39%). As mentioned above, VED revenues in England are now used to fund spending on motorways and high-speed roads: 54% of motorists think this is a good idea against just 14% who oppose it.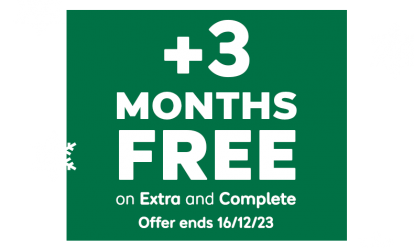 With 12 months of cover, new customers get an extra 3 months for free*.
*Added after 12 months, excludes Basic cover. New customers only. Ends 16/12/23, 7am