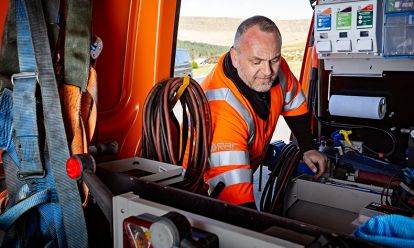 You can get covered in our half price sale from just £5.75 a month.* We're the UK's best breakdown cover provider as voted for by Auto Express drivers 2021.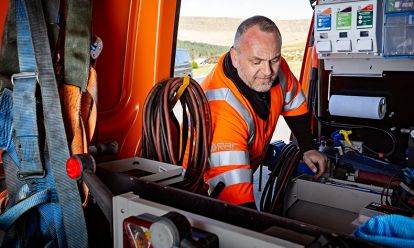 BY STEVE WALKER
Introduction
The booming compact 4x4 market in the early years of the 21st century prompted a number of car manufacturers to do something completely out of character - they built compact 4x4s. Some held out longer than others but as sales of these downsized off-roaders stuck to their upward course, it became too costly for the big names not to try and grab a slice of the pie. Like Renault, Citroen, Peugeot and others, Volkswagen had little pedigree in this area of the market but figured that a compact 4x4 with the basic qualities of its popular Golf hatchback would hit the right notes with buyers. The Tiguan is that car.
Models
Models Covered:
(5dr 4x4 1.4TSI, 2.0 TSI petrol, 2.0 TDI 140, 2.0 TDI 170 diesel [S, SE, Match, Sport, R Line, Escape])
History
Arriving at the tail end of 2007, the Volkswagen Tiguan was amongst the last models to join the compact 4x4 gold rush. It wasn't a particularly opportune moment with the market starting to look a little overstuffed with competitors but Volkswagen was confident in its classy approach to car design having the capacity to differentiate the Tiguan from the crowd. The vehicle looks like a jacked-up Golf and is based on the MkV Golf platform but its suspension is similar to that of the larger Passat saloon. The extended bumpers and wheelarches make it a substantially larger than the Golf in length and width, then there's the obvious extra height, courtesy of the raised suspension.
The Tiguan hit the streets with a pair of turbocharged petrol engines and a TDI diesel. The entry-level 1.4-litre TSI petrol unit is Volkswagen's so called twincharger engine that combines supercharger and turbocharger technology to achieve its hefty power outputs. In the Tiguan, it was offered in 148bhp or 168bhp states of tune and buyers finding those insufficient could choose the 2.0-litre TSI turbocharged engine from the Golf GTI. Here, there was 197bhp to play with. The diesel was a 2.0-litre direct injection unit available in either 138bhp or 168bhp guises.
Trim levels were based around Volkswagen's familiar S, SE and Sport hierarchy but there was also an Escape model which made more of the Tiguan's supposed off-road prowess with various modifications to prevent the car coming to harm out in the wilds. They look rather silly with their cutaway front bumper and underbody protection. The R Line models were launched in 2009 and took the opposite approach to the Escape ones. A sports styling pack gave the Tiguan a lower, more planted look and sports suspension enhanced on-road handling. The Match model replaced the SE in 2010.
What You Get
The Tiguan is largely as you would expect a Volkswagen off-roader to look, the marque not known for its radical styling departures. The glasshouse is a good deal narrower than the lower section of the car which fills out at the shoulder line to chunky effect. There might even be a hint of Porsche Cayenne about the rear view. Inside, the design is lifted directly from the MkV Golf and Golf Plus models so you know it's going to have that Volkswagen air of quality.
We know that the Tiguan is based on the MkV Golf but Volkswagen did a typically thorough job of converting their family hatch favourite into a 4x4. The Golf uses an all-aluminium sub frame but this was deemed not sufficiently strong to handle the buffeting that committed owners might subject their Tiguan too. As a result, the vehicle uses a modular sub-frame that's aluminium at the front and steel at the rear. The Tiguan was also the first vehicle to receive Volkswagen's electric steering system which was designed to eliminate kickback and enhance accuracy.
What You Pay
Refer to Car & Driving for an exact up-to-date valuation section. Click here and we will email it to you.
What to Look For
The Tiguan is an off-roader but as a used buyer, you probably don't want to get involved with one whose previous owner has taken this too literally. Check for damage to the wheels and the flanks as well as the under-body as this is where regular off-road jaunts will take their toll. The Escape model is set-up to cope with knocks and scrapes better than the others. These examples are rare but they're far more likely to have been put through the mill than the standard cars.
Replacement Parts
(approx based on a 2007 Tiguan 1.4 TSI ex Vat). A clutch assembly will be around £200 and a new alternator should be close to £1600. Brake pads front and rear are about £50 and £40 respectively. A replacement headlamp is close to £180.
On the Road
Every engine in the Tiguan line-up is turbocharged or supercharged and turbocharged so pulling power shouldn't be in short supply. It handles neatly on the tarmac without standing out but ride comfort is strong and so is refinement, even with the diesel-engined models.
Whether the Tiguan is any good off-road will be an irrelevance to most UK buyers. Despite our growing affection for 4x4 vehicles, we don't take them off-road very much and people that do make regular forays into the undergrowth make damn sure they do so in a Land Rover Defender or something similarly rugged. That said, off-road ability can be a little bit of a badge of honour for compact 4x4s. Buyers don't need it but they'd like the model they choose to have it all the same. The 4x4 Tiguan uses the basic Haldex all-wheel-drive system from the Golf 4MOTION 4x4 models but with a wider track and ground clearance increased to 189mm. More importantly, it has a nice line in electronic trickery to help it out of sticky situations.
Overall
The Tiguan might have represented a step outside of Volkswagen's comfort zone but by sticking to its tried and tested formula, the manufacturer couldn't go too far wrong. If you like the Golf's class and solidity, this compact 4x4 model seems certain to appeal. It will tackle a fair amount of off-road tribulations but it's designed primarily for use on the black top where it's comfortable and smooth if a little unexciting. The all-round build quality should inspire confidence in used buyers.