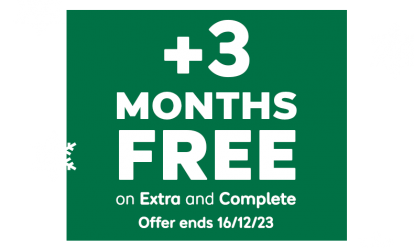 With 12 months of cover, new customers get an extra 3 months for free*.
*Added after 12 months, excludes Basic cover. New customers only. Ends 16/12/23, 7am.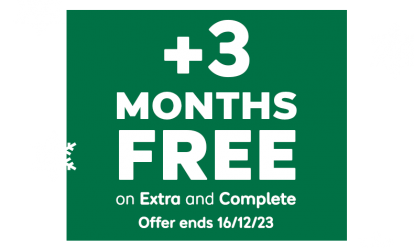 By Jonathan Crouch
Introduction
The second generation version of Vauxhall's Insignia got a last stay of execution in this final facelifted version, which sold between 2020 and 2022. In this form, the car lost its 'Grand Sport' moniker and the single five-door hatch body style remaining in the range was usefully updated, featuring a heavily revised engine range, plus smarter looks, a classier cabin and some hi-tech features. Value was the keynote here - or at least it was in the beginning at this facelifted model's 2020 launch, when it undercut its class competitors on price by a considerable amount. Yet it still broadly matched many of them in areas like ride, refinement and standard equipment. Which, if you're browsing in the medium range D-segment for a car of this kind from the 2020-2022 era, makes this a contender you still can't afford to overlook.
Models
Models Covered: (5-door hatch) 1.5, 2.0 petrol / 2.0 CDTi diesel [Design, SRi, Elite, GSi])
History
Earlier on this century, the Insignia would have numbered amongst Vauxhall's most important models. By 2020 though, this medium range hatch was merely a sideshow to the brand's SUV line-up, yet still had a small market, mainly in fleet sales. This second generation 'Z18'-series model got a final round of updates in late 2020, creating the car we're going to look at here. Which didn't have a particularly long production life. The Griffin brand's then owners Stellantis were then talking about reinventing the Insignia as an SUV, but in 2020, it continued as a Mondeo-class hatch.
This second generation Insignia was first launched back in 2017, at which time this hatch derivative was known as the 'Grand Sport'. Vauxhall rarely bothered with that title afterwards and it wasn't needed with this facelifted model for body shape differentiation because by 2020, the previous alternative 'Sports Tourer' estate body style had been dropped. That's one thing which hobbled this car in its fleet appeal. Another was the fact that the kind of large discounts previous customers were used to weren't so easy to get by 2020 from Vauxhall. That was because this Insignia was a General Motors-era design without the Peugeot/Citroen-derived engineering that had characterised more recent Vauxhall models and as such, Stellantis still had to factor in a payment to GM for every Insignia it sold.
Even so, at the launch of this facelifted MK2 model in 2020, it was in its mainstream guises still easily the most affordable model in its segment. And the mid-term update that brought us this particular car delivered us slightly smarter looks and a more efficient engine line-up. It wasn't enough though, to see this Insignia through its final years and the car left the price lists in mid-2020.
What You Get
At its original launch back in 2017, this second generation 'Z18-'series Insignia aimed to make the idea of running a large Vauxhall feel a little more aspirational. The flowing shape, based on the brand's Monza concept car was significantly larger than the previous 'G09'-series model - but did it make enough of a driveway statement?
Vauxhall obviously decided not because in 2020, this facelifted car got a few tweaks aimed at making it stand out a little more in the office car park, most of the changes concentrated at the front. The LED headlamps were new and gained little outer tick-shaped elements, while their daytime running light strips were relocated to the bottom, rather than the top, of the headlight unit so that they visually flow into the chromed central grille strip.
We mentioned the front grille: that was also subtly different for this updated model, being slightly wider and featuring more prominent slats, which were supposed to make the Vauxhall logo in the centre appear larger. Further down, the previously horizontal corner cut-outs for the fog lamps became vertical. The original pre-2017-era 'G09'-series Insignia was one of the first cars in this segment to pioneer the coupe-style rear side window line subsequently adopted by premium models like the Audi A5 Sportback and the BMW 4 Series Gran Coupe. This replacement design continued with that theme, matching it with a crisp crease flowing back through the door handles, along with what designer Mark Adams called the 'sweepspear', a sculptural blade-like lower swage line that starts behind the front wheel arch, then further back, flows dramatically up towards the rear door handle.
There wasn't the budget to make sweeping changes inside, so apart from a few extra bits of chrome trimming, there weren't very many. Which means that in this Insignia, you're transported back in time to that not so-distant era when car designers didn't mind filling fascias, dashboards and steering wheels with proper buttons. Still, there are compensations. The brilliantly supportive 'Ergonomic active' driver's seat might on its own really sell this car to us if we regularly commuted over long distances. The central infotainment screen will be either 7 or 8 inches in size, depending on spec and offers the usual features, including 'Apple CarPlay' and 'Android Auto' 'phone connectivity. On plusher variants, there's a further 8-inch screen in the centre of the instrument cluster, the centre of which you can customise with a digital speedo, trip computer info, safety stuff or efficiency read-outs. White-stitched touches and double-stitching along the central part of the dash attempt to add a premium feel. And there's a reasonable amount of cabin storage.
Another area of this car that might really sell it to you is the back seat. Once inside, you really notice the benefits of this second generation design's extra 92mm of wheelbase. As you'd expect from a car that's nearly 5-metres in length (so nearly as long as an enormous Audi Q7 SUV), there's plenty of room for one really tall adult to sit behind another. Just as impressive is the cabin width - as you'd expect it might be given that this car is wider than supposedly much bigger 'E-segment' models like BMW's 5 Series or Mercedes' E-Class.
Finally, let's consider the boot. All that emphasis on extra rear seat space saw carriage capacity drop by 10-litres over what was provided by the previous generation 2017-era Insignia model, which meant that the 490-litre boot had to be 95-litres smaller than a rival Volkswagen Passat. Vauxhall, rather hopefully, believed that potential buyers wouldn't really notice. A Skoda Superb owner certainly would; there, you get 135-litres more cargo room. If you need more room, then pulling on the cargo sidewall catches to flatten the rear bench frees up a 1,450-litre cargo area.
What You Pay
Please fill in the form here for an exact up-to-date information.
What to Look For
The Insignia seems to have a reasonable quality record in this MK2 form, but we did come across complaints of cabin rattles in the interior. One owner found that the door locks failed - and he experienced an ECU wiring loom fault that caused his car to go into limp home mode. It also had a diesel particulate filter fault. As is always the case with mainstream brand 'D'-segment models, you'll want to keep a look out for thrashed company hacks or ex-hire fleet vehicles. Ensure that the car has been serviced on the button and that the mileage on the service record stamp tallies with what the odometer says. It's also worth checking the car for accident damage, as many cars will be de-fleeted early if they've had a prang and have been repaired. Ask the seller explicitly if the car has had accident damage and inspect the usual points for overspray and kinks in the under-bonnet flitch plates. The engines tend to be tough units with no serious problems to report.
Replacement Parts
(approx based on a 2020 Insignia 2.0 Turbo D excl. VAT) Using the volume 2.0-litre diesel model as an example, expect to pay around £11 for an oil filter and around £2-£12 for a wiper blade. Front brake discs are around £55-£78 for a set; rears sit in the £85-£100 bracket. Front brake pads are in the £27-£58 bracket; rears are in the £36-£50 bracket. An air filter is around £10.An alternator is around £220.
On the Road
Cars like this one don't spend their lives on open country roads but on endless motorway trips and snarled-up suburban crawls. Dynamically, they should be designed to suit that remit - in the way that this one really is. To some extent, it feels like the bigger car it became in second generation form, the suspension floating you over broken surfaces that would have troubled and impeded the previous pre-2017-era model. Few other models in this segment ride better, which is some compensation for the fact that this isn't in any sense a car that you'd take out to drive for the fun of it. But it's one you'd be very happy to have chosen at the end of a long day fighting against the clock to meet appointments with awkward clients who simply don't care about the difficulties of grappling with Britain's congested highway network.
You might be surprised, given the current environmental zeitgeist, to learn that in this model's 2020-2022 era, nearly all Insignias were still sold with diesel power, though as much as anything, that was down to Vauxhall's refusal to offer this model with sensibly priced petrol units. The usual Insignia driver's choice was the 122PS 1.5-litre three cylinder diesel unit, borrowed from the Astra line-up and available with the option of 8-speed auto transmission, in which form it returns WLTP readings of up to 56.5mpg on the combined cycle and up to 130g/km of CO2. For this facelifted model, there was also a 174PS 2.0-litre Turbo D unit for those wanting a bit more performance, also with that same auto option. For the few who wanted petrol power in this car, Vauxhall offered a couple of freshly developed 2.0-litre turbo powertrains, both wedded to a redesigned 9-speed auto gearbox. One develops 200PS, the other (in the top GSi) puts out 230PS, that flagship model featuring an intelligent all-wheel drive system with a sophisticated built-in rear torque vectoring set-up.
Overall
This last version of the Insignia represented the end of an era. American giant General Motors bought the Vauxhall brand back in 1925 and financed the many family cars we all remember until the sale of the marque to the French PSA Group in 2017. The Insignia was the last of the GM period designs to linger in the Vauxhall model range, which subsequently became a series of re-badged Peugeot/Citroen-derived designs.
This last post-2020 version of the MK2 'Z18'-series design saw out its production run with a more cost-effective efficiency showing from the various units on offer, though the age of this design showed in the total absence of any kind of electrified assistance across the range. Otherwise, the appeal of this car remained much as before. So ride quality is excellent by class standards and you get one of the larger rear cabins in the segment (though not one of the larger boots. Add everything up and you could even see it as a rather clever choice in its segment from its era. But in the 2020-2022 period, its time had passed as the industry moved on into an SUV-dominated era of increasing electrification. This is how middle management executives used to drive - and perhaps, for just a little while longer, maybe still should.