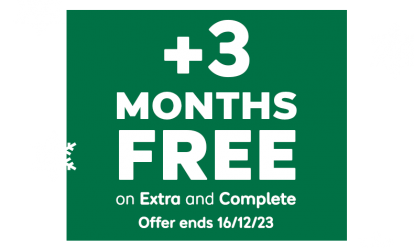 With 12 months of cover, new customers get an extra 3 months for free*.
*Added after 12 months, excludes Basic cover. New customers only. Ends 16/12/23, 7am.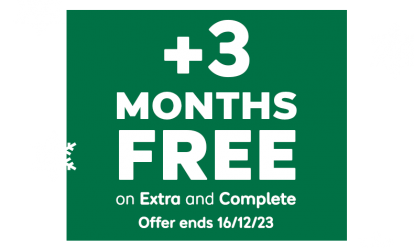 By Jonathan Crouch
Introduction
Vauxhall proved that it was getting serious about every area of the small SUV sector in 2017 by delivering us a more credible small SUV, this Crossland X. It's compact yet surprisingly spacious, as well as being fashionable to look at and efficient to run. There's no pretence at off road capability but in all the areas that really matter, this car looks to be a strong proposition as a used buy.
Models
Models Covered: (5-door SUV) 1.2 petrol [81PS, 110PS, 130PS] / 1.5, 1.6 diesel [99PS, 120PS])
History
Here's a very fashionable little Vauxhall, the Crossland X. A model introduced in the Spring of 2017 and based on the MK1 Peugeot 2008, it's a smartly turned-out, family-orientated compact SUV that claims to be perfectly pitched for its target market.
Here's a car with enough space inside to comfortably function as an ideal family second car, yet one that can also slot into the tightest supermarket space. Under the skin, it shares an upgraded version of the platform that underpins a rival Peugeot 2008, plus it gets almost everything from that Gallic model's engine line-up, which means a range of 1.2-litre petrol engines and a couple of 1.6-litre diesels (alter replaced by a 1.5-litre unit). Vauxhall did build upon the French formula though, with a little of the style that marked out its fashionable ADAM citycar from this period - hence, for example, this car's fashionable contrast-colour roof. This Crossland X sold until late 2020, when it was facelifted and rebadged as the 'Crossland'.
What You Get
Buyers in the smallest SUV segment tend to prioritise aesthetics more than those in larger Crossover categories, so with that in mind, it's safe to say that this Crossland X starts off with something of a head-start. Provided you choose a variant with a contrast-coloured roof, there's something of the sophisticated, personalised feel here.
When it's time to take a seat inside, if you switch to a Crossland X from, say, the kind of Corsa supermini model that flowed down the same Spanish Zaragoza production line, there's hardly any acclimatisation required at all, though you will approvingly note the slightly raised driving position that SUV Crossover buyers like so much. The centrepiece of the smartly styled dash is the beautifully-integrated Intellilink infotainment screen which incorporates the usual DAB stereo, Bluetooth 'phone and informational functions. Get a car whose original owner included the optional satellite navigation system and the screen size increases from 7 to 8-inches.
In the rear, the first thing to say is that the slight advantages this Vauxhall enjoys in overall length over rivals like Nissan's Juke and Ford's EcoSport really show because this Crossland X feels significantly less cramped in the back than either of those two cars. If the optional sliding seat has been fitted, you'll be able to prioritise either load or leg space by pushing the base either backwards or forwards over a range of up to 150-millimetres. Out back, there's a 410-litre boot, accessed through a decently-sized rectangular aperture. Push forward the backrest and up to 1,255-litres of fairly flat space is opened up.
What You Pay
Please fill in the form here for an exact up-to-date information.
What to Look For
The Crossland X seems to have a reasonable quality record, but we did come across complaints of cabin rattles in the interior. One owner found that the auto wipers didn't work properly - another experienced extreme wind noise in the cabin. Ensure that the car has been serviced on the button and that the mileage on the service record stamp tallies with what the odometer says. Favour cars that had the optional third middle rear head restraint fitted; there could be accident whiplash issues otherwise. The engines tend to be tough units with no serious problems to report. As usual, search for signs of interior child damage and scratched alloy wheels.
Replacement Parts
(approx based on a 2017 Crossland X excl. VAT) Using the volume 110PS 1.2-litre petrol model as an example, expect to pay around £5 for an oil filter, around £16-£40 for a pollen filter and around £5-£11 for a wiper blade. Front brake discs are around £14-£44 for a set; rear's are £11-£26. Front brake discs are £33-£72; rears are £95-£115. An LED headlamp costs in the £310 bracket. An air filter is in the £17 bracket.
On the Road
Thanks to its Peugeot-derived platform and light PSA Group engines, this Crossland X has a huge weight advantage over its Mokka X showroom stablemate from this era - around 200kgs - and you really feel that the first time you turn into a bend with any sort of real speed. Don't get us wrong: this Vauxhall isn't any sort of driver's car, but it's certainly a lot more agile and chuckable than you might expect. That's helped by its lower centre of gravity and shorter stance, though body roll remains a factor. Of more interest to likely buyers is the fact that there's a decent quality of ride on offer too - another area where this Crossland X has benefitted from Peugeot engineering. Uneven tarmac that would trouble a Mokka is dealt with here in a more assured fashion, though really poor surfaces can still make themselves felt in the cabin.
Engine-wise, Crossland X buyers are offered a PSA-sourced range of three cylinder 1.2-litre petrol powerplants, plus a couple of that French group's four cylinder diesels developing either 99 or 120PS (initially 1.6, then 1.5-litres in size). If budget is everything, there's a price-leading normally aspirated 81PS petrol unit, but easily the best option in the line-up is the mid-range 1.2-litre 110PS turbo petrol powerplant that most likely buyers will choose. It's the only engine on offer with the option of an automatic transmission, but this gearbox makes quite a dent in the efficiency figures. Stay with a stick shift though, and this unit will give a good account of itself, delivering up to 58.9mpg on the combined cycle and 109g/km of CO2 (both NEDC figures). If you need more power, then the 1.2-litre 130PS model is worth a look.
Overall
In the Crossland X, Vauxhall at last delivered the kind of SUV Crossover that the supermini-based segment of the market really wanted. Thanks to sophisticated PSA Group engine technology and low weight, this little Vauxhall was efficient. Plus models in this segment are all about cosmetic embellishment and there's enough of it here to make some rivals feel very ordinary indeed.
Overall, this proved to be a handsome, comfortable and versatile small SUV that demonstrates just why this class of car is so popular. In short, it's the kind of model Vauxhall needs to make.