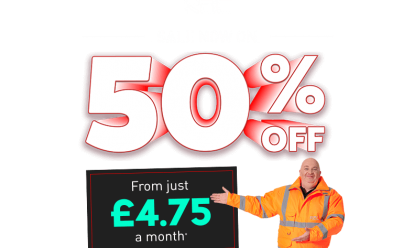 Get covered in our half price Breakdown Cover sale from just £4.75 a month.* We're the UK's best breakdown provider as voted by Auto Express drivers 2021.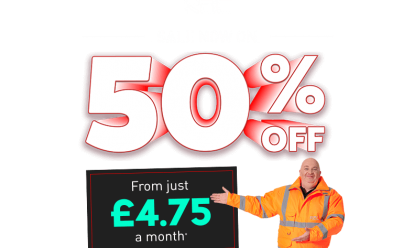 By Jonathan Crouch
Introduction
In early fifth generation form, Land Rover's Discovery continued to offer the toughest, the most practical and the most capable choice in the large SUV sector. Structurally with this much improved design, much was borrowed from larger Range Rover models, along with fresh engine options and more sophisticated media connectivity. The Discovery though, continued to have its own authentic appeal. In many ways, it remains the ultimate expression of the Land Rover brand. Here we look at the early pre-facelift 2017-2020-era Discovery models for the used buyer.
Models
5dr SUV (2.0/3.0 diesel / 3.0-litre Si6 petrol)
History
In fifth generation form, Land Rover's Discovery was re-imagined and revitalised by the Solihull brand to better compete with its less capable large segment SUV rivals.
Without the Discovery model line, it's doubtful whether the Land Rover brand would even exist today. Launched back in 1989, the original version merely bolted more spacious bodywork onto an aging Range Rover chassis, but the sales that this and the subsequent updated 'Discovery 2' design managed to generate were considerable. Enough to save the company and finance development of a properly sophisticated Discovery model, the third generation car launched in 2004. Thanks to its double chassis and air suspended 'Integrated Body Frame' technology, this contender was able to match decent tarmac driving dynamics to Land Rover's legendary off road prowess and customers loved it. So much so that the brand kept the same basic design for the Discovery 4 model of 2009, which added in a smarter cabin and more effective engineware.
When the time came to create the fifth generation version of this SUV though, it was clear that a fresh direction would be needed. So in 2017 at launch, the familiar boxy shape gave way to a sleeker silhouette that borrowed much from the smaller Discovery Sport model. And what lay beneath the curvier panelwork was even more significant, the old heavy duty body-on-frame architecture of the previous designs replaced by the more car-like aluminium monocoque used by modern era large Range Rovers.
Some of the MK5 model changes were controversial - like the decision to dispense with the old split rear tailgate. And some of them were merely sensible - like the introduction of new-era media connectivity and camera-driven safety tech. Ultimately, the object of it all, says Land Rover, was to create a large luxury 7-seat SUV that could compete more credibly with ultra-modern-feeling direct rivals like Audi's Q7 and Volvo's XC90 and attract fresh buyers to the brand. All without upsetting the muddy boot-wearing upper-middle class folk who'd done so much to establish the Discovery model line. The car in this form sold until late 2020, when it was heavily updated with mild hybrid engines and new electric architecture. But it's the pre-facelift 2017-2020-era models we look at here.
What You Get
This MK5 Discovery doesn't look like the kind of version of this model you're probably used to seeing. It was never going to. The square, quite utilitarian-looking previous generation designs in this model line hardly ever featured on the wish lists of customers buying sleeker, if less capable, 7-seat large SUVs like Audi's Q7 and Volvo's XC90. Going forward, Land Rover needed to change that, so Chief Designer Gerry McGovern and his styling team took a clean sheet approach and set out to do something different. Or quite different anyway. The front end was very much a development of the look that by 2017 we were already familiar with from the smaller Discovery Sport model. Plus there's a traditional Land Rover clamshell bonnet . And the stepped roofline and the prominent rear C-pillar were both apparently inspired by Discoverys of the past.
Once installed in the driver's chair, you get a commanding a view of the road ahead that locates your eye line several inches above where it would be in a German rival. In that respect, this car's similar to its Range Rover Sport showroom stablemate, but this cabin (quite intentionally) lacks the purposeful driver positioning of that car and some of the sheer indulgence of its fixtures and fittings. That's not to say it can't be very smart indeed; it certainly would be in a top-trimmed variant, with Windsor leather upholstery extended into the doors and onto a dashboard featuring polished oak veneer.
Less clear and intuitive are the buttons on the four-spoke steering wheel that allow you to access the functionality of that screen. You'll need to spend some time with your nose buried in the instruction manual to figure out both these and the 'InControl' infotainment system, accessed via a centre-dash monitor that can be either 8-inches in size or further up the range was provided in more sophisticated 10-inch 'InControl Pro' form.
What about the rear? Well in many ways, the further back you go, the more spacious this Discovery becomes by class standards, something that's immediately obvious once you pull back the wide-opening side door and take a seat in the second row.
Though the middle compartment can't quite match the roomy feel you get in a rival Volvo XC90, there's 960mm of legroom, so it's significantly more spacious than a longer Audi Q7 can manage to be. The low central transmission tunnel also makes it more viable for the transport of three fully-grown adults, who get their own ventilation controls and ports for almost every conceivable kind of media connectivity. Each seat can slide back and forth - and you can recline the backrests too, all the adjustment being electrically-powered, provided you choose one of the plusher 'HSE' variants.
And the third row? Well if you've the electrically-powered rear seat package fitted, you might reasonably expect the outer second row chair to glide out of the way without any sort of huffing and puffing on your part. In actual fact though, the electric assistance only applies to the seat backrest; you have to push the seat base forward yourself - and tug it back again afterwards. And once you've moved the middle seat out of the way? Well you'd think that the small increase in length of this fifth generation model would make access to the very rear a little easier but it's still not that easy to get to the third row chairs. Dropping the air suspension down to the provided lower 'Access' mode will certainly help with the step up, but the wriggle required through the restricted gap may still be beyond grandma if you're thinking of confining her to the very back of the car on your next Sunday afternoon trip out to the garden centre.
Space in the third row is really very good by class standards, this being one of the only large 7-seat SUVs that really can take two full-sized adults in the very back with any real degree of comfort. The stepped roofline helps here, making possible this car's so-called 'stadium seating' arrangement that sees the 3rd row rear seats positioned higher up than those at the front, so you get a better view out.
The boot features a single-piece tailgate on this MK5 model, which means it can be power-operated. Inside, some of the old model's 'tailgate picnic'-style functionality was retained thanks to a welcome electrically-deployable seat panel. When you push it back up, it helps secure luggage in place - there's a 258-litre cargo capacity with all the seats upright. Flatten the third row chairs - easy if you've got the electric rear seat folding option fitted - and a huge 1,137-litres of carrying capacity will be freed up. That rises further to a massive 2,406-litres of total capacity if you flatten the second row too.
What You Pay
Please contact us for an exact up-to-date valuation.
What to Look For
Land Rover products have been featuring much improved build quality in recent years but our owner survey revealed that the brand still has a little way to go to match its German rivals in this regard. We came across several owners who'd had issues, mostly electrical or infotainment-related. Nothing major though.
Most examples you'll come across will have been used for towing - and quite a few will have seen heavy off road use too, so check carefully underneath and examine the alloy wheels for scratching. Check that the spare wheel (mounted under the rear of the car) hasn't been stolen. Then examine the interior for signs of family damage. There were two product recalls for these 2017-2020-period models, one for a fuel return hose leaking and the other for an issue with the Autonomous Emergency Braking system: check that both of these have been done. And of course insist on a service history.
Replacement Parts
(based on 2018 Land Rover Discovery 5 SDV6 - approx excl. VAT) A fuel filter costs in the £121 bracket and an air filter will cost around £22. An oil filter will be in the £18 bracket. Front brake pads sit in the £65 bracket for a set. For rear brake pads, think around £41. Front brake discs are around £87-£150. For rear discs, think around £135, though you could pay more for a pricier brand. A timing belt will be around £68-£77.
On the Road
There's nothing quite like a Land Rover Discovery and not much comes close to matching the sheer capability of this fifth generation version. From behind the wheel, you get a great view of the road ahead and a real feeling of control that on tarmac you can properly exploit this time around. That's thanks to the significantly improved levels of agility that were made possible in this MK5 model by the installation of the aluminium monocoque chassis the engineers borrowed from the company's two largest Range Rover models. This enabled the brand to offer the option of a smaller 240bhp four cylinder 2.0-litre diesel engine in early MK5 models and thus equipped, the entry-level variant in this MK5 Discovery range proved to be a massive 480kgs lighter than the base derivative in the previous model line-up. Despite that, this SUV remains a significantly heavy thing, with most variants weighing in at well over the 2.2-tonne mark, particularly those fitted with the 258bhp 3.0-litre Td6 six cylinder diesel that most will choose (in 2018 replaced by a superior 302bhp SDV6 3.0-litre six cylinder diesel unit). There's also a rare 340bhp 3.0-litre supercharged six cylinder Si6 petrol option if you want it. A four cylinder Si4 petrol version was offered too.
All Discovery 5s come with smooth 8-speed auto transmission and air suspension - and most have a twin-speed gearbox with a low range setting for really tough off road work. Should you venture on to challenging trails, you'll be glad of the 'Terrain Response' system that'll allow you to set the car up specifically for the ground you're covering. An optional 'Capability Plus Pack' upgraded this set-up to even more capable 'Terrain Response 2' status and added in an 'Active rear locking differential' and the brand's clever 'All Terrain Progress Control' system, essentially a low speed cruise control system for off piste driving. Land Rover said that so equipped, this Discovery was the most capable 4x4 it had ever made. Most owners though, will be more interested in a 3.5-tonne braked towing capability that's massively greater than direct rivals can offer. Those competitors can deliver slightly better efficiency stats, but this Discovery narrowed that gap, this 3.0 Td6 variant able to manage 39.2mpg on the combined cycle and 189g/km of CO2 (both NEDC figures).
Overall
The world takes on a different appearance from behind the wheel of a Land Rover Discovery. It always did and it still does in this Series 5 model. At the helm, you know you're in a car that can take on just about anything, be that a seven-up trip to the Alps or a relaxing ride home on a wet and slippery winter's night.
Thanks to a clever, classless feel that nothing else can quite replicate, this MK5 model brought a wonderful authenticity to its market segment. Enough to make it the world's ultimate family SUV if you're looking for a used large SUV from the 2017-2020 period? Well that depends on your perspective. Those who come to this segment in search of the genuine article will surely think so. One thing's for certain though: there's nothing else quite like it.