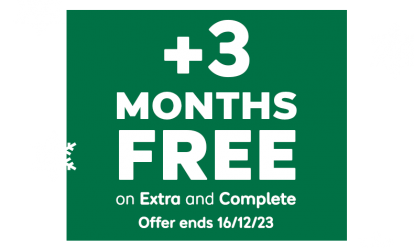 With 12 months of cover, new customers get an extra 3 months for free*.
*Added after 12 months, excludes Basic cover. New customers only. Ends 16/12/23, 7am.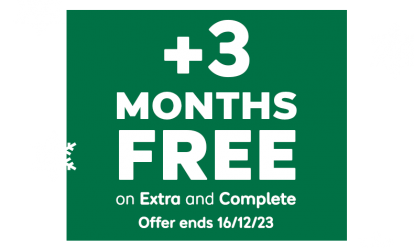 By Jonathan Crouch
Introduction
Cool, calm and connected, the second generation version of Volkswagen's Tiguan sold big for its brand and this updated version, launched in 2020, saw that AD/BW-era design through to the end of its life in 2023. As part of this enhancement, there were smarter looks and an improved media package, along with extra technology and efficiency. Plus the range was widened to include PHEV power and a Tiguan R performance flagship model. There was a classier cabin too and as a result, this car felt just that bit more complete than it ever had before. Does that make it a good used buy?
Models
5dr SUV (1.4 TSI PHEV, 1.5 TSI, 2.0 TSI, 2.0 TDI)
History
This, for the time being anyway, is Volkswagen's most important car. True, in the UK, the Tiguan is outsold by the Polo and the Golf, but worldwide, it's not only the most successful model for Volkswagen but also for the entire Volkswagen Group of brands. Which of course also makes it the world's best selling SUV. Quite simply, people really like it and in testing this updated version of the second generation model, we're going to find out why.
This really is a global car, made not only in Germany (which serves European markets) but also in China, Russia and Mexico and since this model line's original launch back in 2007, over 6 million Tiguans have been sold.
This second generation Volkswagen Tiguan design was launched in 2016 to cash in on an explosion of interest in family SUVs that by 2020 saw this genre account for over a third of all new car sales. Every volume brand of course sought to tap into this but the Tiguan continued to appeal primarily for one simple reason; it provided the look and feel of a premium brand model for not much more than the cost of one from a volume maker: we can all relate to that.
By the end of this century's second decade, rivals of course were busy trying to replicate this clever formula, hence the need in mid-2020 for this updated take on the MK2 model. As expected, it was smarter, more efficient and better connected and there were new drive, assist and entertainment systems. There was also a new diesel engine, an e-Hybrid plug-in petrol option and a really potent Tiguan R high performance flagship variant. You could have clever matrix headlamp and 'Travel Assist' autonomous driving tech - and there was a fresh MIB3 infotainment platform too. It was all enough to sustain the Tiguan model line until an all-new MK3 version arrived in late 2023.
What You Get
Volkswagen's Head of Design Klaus Zyciora describes the look of this updated second generation Tiguan model as 'confident', which is probably a good way to describe what's on offer here. As before, there's a choice of the standard five-seat body shape or the 7-seat Allspace version: it's the five-seat model that's our focus here. It's certainly an intricately fashioned thing, cut like a diamond with super-sharp slashes and creases. And in this updated form, it made a little more of a school run statement than it did before. Mainly at the front, where a wider redesigned grille with an extra lower chrome strip aimed to forge a visual link between the Tiguan and pricier Volkswagen SUVs such as the larger Touareg and the huge Atlas Cross Sport model sold in North America.
The side profile was much as before, emphasised by rather unusual double character lines. It's from this angle that you notice that this MK2 model is larger than it looks - more of a rival to upper mid-sized SUVs like Ford's Kuga than to smaller mid-sized models like Nissan's Qashqai. At the back, changes to this updated model were very much of the detail kind. The 'Tiguan' lettering for instance, moved to a more conspicuous central position below the VW badge. More important though of course, is the stuff you can't see, specifically the stiff, sophisticated Golf-style MQB platform underpinnings that lie beneath the precise, carefully contoured lines.
Inside, it's certainly difficult to fault, with a premium-style feel that you just don't get from cheaper mid-sized Qashqai or Ateca-style mid-sized models in this segment. You sit quite commandingly and as before, the build quality and general ergonomics are difficult to fault. Changes made to this updated model included the introduction of illuminated touch sliders for fan and temperature control. And there were big improvements in media connectivity too, thanks to the incorporation of Volkswagen's MIB3 technology for the central screen, normally 8-inches in size, but upgraded by some original buyers to 9.2-inches. Either way, you get an Online Connectivity Unit with an integrated eSIM that allows access into a wider generation of in-car connectivity through Volkswagen's 'We Connect' media set-up. The three-spoke wheel was new too. And through it, from mid-range trim upwards, you view a customisable 'Digital Cockpit Pro' 10.25-inch screen which replaced the conventional dials.
The back seat is still one of the more spacious ones you'll find in the mid-sized segment, but the main reason we like it is that Volkswagen integrated a sliding feature so that you can prioritise either legroom or boot space behind. Out back, the hatch rises to reveal a spacious 520-litre boot, which with the seat pushed right back is 520-litres in size. Push that rear bench forward and you'll improve this figure to 620-litres, a figure that few other rivals in this segment can match. With the rear seat totally flat, up to 1,655-litres of space can be freed up with conventionally-engined models. And, providing you avoid entry-level trim, you get a feature now rare in this class, a fold-forward front passenger seat, so that really long items like surfboards and ladders can be transported.
What You Pay
Prices start at around £22,250 (around £24,500 retail), which gets you a 2.0 TDI 'Life' diesel variant with base 'Life' trim on a '20-plate, with values rising to around £30,000 (around £33,000 retail) for a mid-'23-plate car. For a 1.5 TSI petrol models, prices start at around £26,750 (around £29,500 retail), which gets you base 'Life' trim on a '21-plate, with values rising to around £31,300 (around £34,000 retail) for a mid-'23-plate car. A 1.4 eHybrid PHEV model with top 'R-Line' trim on a '21-plate values from around £31,800 (around £34,500 retail) All quoted values are sourced through industry experts cap hpi. Click here for a free valuation.
What to Look For
Most Tiguan MK2 owners we surveyed were very happy with their cars, but inevitably, there have been those who have had problems you'll want to look out for. We came across a few issues with the DSG auto gearbox. Another owner reported faulty electric and various faulty sensors, plus problems with the GPS system. Apart from that, check for the usual things - interior child damage, scratched alloys etc. It's unlikely that any Tiguans will have been serious used off road but check the underside of 4MOTION variants just in case. And of course insist on a fully stamped-up service history.
Replacement Parts
[based on a 2021 model 2.0 TDI 150PS diesel] An air filter will be priced in the £8 to £31 bracket, an oil filter will sit in the £6 to £14 bracket and a pollen filter will cost in the £6 to £28 bracket.. The brake discs we came across sat in the £95 to £242 bracket, with pricier-branded discs costing up to £357. Rear discs are in the £80-£140 bracket. Front brake pads are in the £38 to £88 bracket for a set. Rear pads are in the £26-£50 bracket. A starter motor is in the £103-£222 bracket; a thermostat is £15-£33; a headlight is around £254; a tail lamp is around £200-£234. A radiator is in the £194-£246 bracket.
On the Road
A typical customer won't be looking for anything particularly dynamic behind the wheel. He or she will more likely prioritise refinement, comfort and, a little surprisingly if the sales numbers are to be believed, 4WD - around 75% of Tiguan folk order their cars with the 4MOTION system. The volume 2.0-litreTDI 150PS model can be had in lots of flavours - with or without this DSG auto gearbox and with or without 4WD. Both features are mandatory if you have this engine in its more potent 200PS form. Either way, with this improved MK2 model, it was a much improved unit, with almost everything about it redesigned and VW's 'Twin Dosing' tech fitted to make it more efficient. The result sees WLTP readings that see the 2.0 TDI 150PS DSG 4MOTION variant able to return up to 42.8mpg on the combined cycle and up to 173g/km of CO2.
If, rather understandably given the current zeitgeist, you don't want a diesel, there are lots of alternative petrol options. Volkswagen's usual 1.5-litre TSI unit comes in either 130 or 150PS forms. And there are three versions of the bigger 2.0-litre TSI unit, all paired with the DSG auto gearbox allied to 4MOTION 4WD and putting out either 190PS, 245PS or, in the case of the added top Tiguan R performance model, 320PS. Perhaps the most interesting version in the range is also petrol-powered, the Tiguan eHybrid. This is a PHEV plug-in model, featuring the same petrol/electric set-up long used in the brand's Golf and Passat GTE variants. Which means a 1.4-litre TSI petrol unit is paired with a 6-speed DSG auto gearbox, an electric motor and a lithium ion battery, this one 13kWh in size, enabling an all-electric driving range of up to 31 miles when fully charged. Whatever Tiguan engine you prefer, a really dynamic driving experience won't usually be on the agenda. But there's lots of clever tech, including (on pricier models) the brand's latest 'Travel Assist' system, which can take over partial control of the car to make highway and urban driving that bit easier.
Overall
It's not hard to see why the Tiguan is such a popular choice in its sector. There's the potential to get all the quality of a premium-badged mid-sized SUV, for the price of a budget brand contender. You get the tarmac handling ability of a Qashqai-like Crossover, yet at the same time, get the option of virtually all the off road ability of something more capable. And the whole package comes with the enduring appeal of that Volkswagen badge - and the enduring residual values that'll go along with it.
Such has always been this car's appeal and in that respect, not much changed with the enhanced version of this AD/BW MK2 model. Much else was different though. This revised design was smarter, better connected, more efficient and just a little classier, subtly so perhaps, but the changes were for many buyers just enough to lift this car clear of many mainstream Qashqai-class Crossover rivals. Which means you get the meticulous engineering you'd find in something like an Audi Q5 or a Mercedes GLC; at a price more suited to a family budget.
Plenty of cars of this kind cost a lot less, but after spending time with this Tiguan, you realise that they offer less too. Apparently similar Volkswagen Group products like the SEAT Ateca and the Skoda Kodiaq are a little smaller and less sophisticated. And with, say, a Qashqai or something like a Ford Kuga, you don't get the same standard of technology and cabin quality. Of course, this Tiguan isn't perfect. It isn't a car that'll have enthusiastic drivers seeking out their favourite backroads - but then very few models in this segment will leave you wanting to do that. In summary, this product was good enough to meet its wide-ranging and very difficult brief. It says much that there really is something in Volkswagen's claim that, to some extent at least, this model has subtly re-defined what a car of this kind should be. We can't pay it any greater compliment than that.