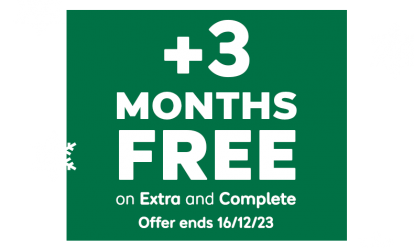 With 12 months of cover, new customers get an extra 3 months for free*.
*Added after 12 months, excludes Basic cover. New customers only. Ends 16/12/23, 7am.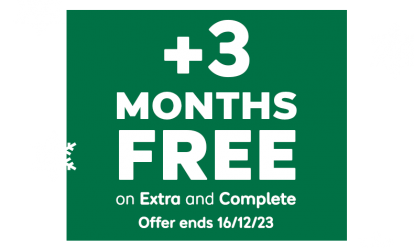 By Jonathan Crouch
Introduction
In 2016, the 124 Spider revived a classic name from Fiat's back catalogue and added some Italian glamour to the affordable roadster segment of the sportscar market. This Type 348 car shares much with the Mazda MX-5, its closest Japanese rival, but a lively 1.4-litre turbocharged engine delivers a unique feel that provides this model with much of its unique character.
Models
2dr Convertible (1.4 MultiAir petrol)
History
Let us tell you a strange story. About a Fiat that was originally going to be an Alfa Romeo but which was primarily a Mazda. Welcome, to the modern era Fiat 124 Spider.
You're going to need some explanation, but to understand it, it's necessary to appreciate a bit of back history. Let's start with this: affordable open-topped sportscar motoring really has three main eras. There's the British one of the Fifties and Sixties, with cars like MGs and Triumph TRs. Then there's the modern one, popularised by today's iconic Mazda MX-5. In between though, there was a period from the late Sixties to the early Eighties when for many people, a car of this sort simply had to be Italian. It simply had to be an Alfa Spider or a Fiat 124 Spider.
Fast forward to the middle part of the 21st century's second decade and you find the Fiat conglomerate wanting to reclaim a slice of that history, primarily because at that time it was trying to re-establish itself in the USA, the market in which 75% of those old roadsters were sold. The problem was though, that sportscars are a niche segment, making it difficult to justify the huge investment required to produce something as good - or better than - the market-leading MX-5. But why bother, Fiat thought? Why not persuade Mazda to donate MX-5 underpinnings to a new product that could be given an Italian look and feel? It sounded like a good idea and was one initially pursued with a view to creating a new-generation Alfa Spider, until it became clear that model in question would have to be fundamentally built in Japan. Which was a problem, given that the Fiat board had just decreed that all future Alfas were to be built in Italy.
Cue a quick change of plan and a decision instead to pursue the same approach but use it revive the Fiat 124 Spider model line. Since the original 124 sportscar, the Turin brand hadn't offered a proper rear-driven sportscar, its only modern-era effort in this regard having been the front-driven Punto-based Barchetta model, launched in 1995. If Fiat was going to a proper rear-driven format and launch a new-era 124 Spider, it soon became clear that the production process would be complicated. Company policy insisted upon the new car using a Fiat engine, the 1.4-litre MultiAir turbo motor used in the Alfa Giulietta and Fiat 500 Abarth. The deal with Mazda though, required the new car to roll along the same Hiroshima production line as an MX-5. As a result, the Italian maker had to ship that MultiAir powerplant to Japan where it got fitted into the 124 and, if the car was to be sold in Europe, turned round and sent straight back again. Was all that effort really worthwhile? And was the car created a credibly different thing from the Japanese model it was based upon? Good questions. Let's try and answer them and decide whether this Fiat, launched in 2016 and on sale until 2020, is a credible used buy.
What You Get
Reinventing any iconic design is always difficult. Get it right, as Fiat did with its new-era 500, and the rewards are massive. Get it wrong and the end result can look awkward and contrived. We'll leave it to you to decide which of these extremes are represented here, but would point out that the Turin stylists did at least make every effort to give this car its own distinct identity, not an easy thing to do given that it's essentially a re-skinned Mazda MX-5.
It's from the side that you appreciate the extra length that Fiat has added to this design - it's 139mm longer than an MX-5. That might not sound much but in the metal, the change is enough to visually reposition this car - to the point where at first glance, you might well see it less as a dinky, nippy little MX-5 rival and perhaps more as a competitor for something like a Mercedes SLC or a BMW Z4. Key visual tweaks include the prominent lower side skirts and the 'swallowtail' rear haunches that directly reference the previous model. It's perhaps more significant though, to note that the alterations made have spoiled the standard MX-5 design's perfect 50:50 weight distribution.
And inside? Well after all the changes made to the panelwork and the engine bay, it's something of a shock to find a cockpit carried over from the MX-5 virtually unchanged. There's a Fiat badge on the steering wheel, revised door panels and a softer touch, plusher material is used on the top of the dash. Otherwise, everything you see is exactly as it would be in the Mazda. We can understand why purists might object to that, but then a purist is unlikely to be considering an Italian sportscar built in Hiroshima anyway. Pragmatically speaking, there was really no need to change an interior that Mazda spent years in perfecting, offering as it does a driving position tailored to fit you like a glove.
We should also talk about the hood, another feature that was unnecessary for Fiat to redesign in creating this car. It isn't electrically operated and it doesn't need to be because the opening and closing process is so simple - you just reach behind and pull up with one hand, a process that only takes a few seconds and requires activation of a simple roof rail clip-on catch. When conditions allow you to retract the roof again, it stows neatly into a compact space in front of rollover hoops separated by a clip-on wind deflector.
One thing the roof doesn't do is compromise your bootspace - which is just as well since, as with any roadster, there's not very much of it. The extra length of this Fiat has freed up 10-litres more trunk room than you get in an MX-5 - there's 140-litres in total - but that's not going to make very much difference to the limited amount you can carry. If that's a problem, go and buy a hot hatch.
What You Pay
Please fill in the form here for an exact up-to-date information.
What to Look For
Our survey revealed plenty of satisfied 124 Spider customers, but inevitably, there were a few issues, things that you should look for. Some 2017 era models had thermostat issues causing a check engine light because the car was taking longer to warm up than the ECU was expecting; this was usually resolved under warranty. Some 2017 and 2018 models have had water pump leaks - again resolved under warranty. Plus there have been some issues with blind spot monitors giving random false positive alerts and a few cars with leaky air conditioners.
Some 2017 and 2018-era Abarth models had issues with the alarm going off randomly (the TPMS in the wheels were interfering with the alarm system - this only affects Abarths). Because this is an open-top, you should check the interior for water damage. Look out for alloy wheels kerb damage - and for bodywork damage too because the 124 uses some lightweight aluminium panels that won't be cheap to repair if dented. There's an owners website - www.124spider.org
Replacement Parts
(approx based on a 2018 124 Spider Classica - Ex Vat) An oil filter is in the £6-£10 bracket. An air filter is in the £8-£18 bracket. Front brake pads sit in the £28 bracket. A wiper blade is around £5-£9. A water pump is in the £39-£46 bracket.
On the Road
This Fiat may share a lot of its underpinnings with a Mazda MX-5, but a crucial difference lies beneath the bonnet. Here, the Italian has a zesty turbocharged 1.4-litre engine that delivers 140bhp and drives through a six-speed manual gearbox. Make the most of its power, along with 240 Newton metres of shove, and it cracks 0-62mph in 7.5 seconds before heading on to a top speed of 134mph. That's brisk enough by today's standards and feels even swifter thanks to the open-top experience you get when the roof is lowered. Use the 124 with a bit more restraint and it can give a combined consumption of 44.1mpg and 148g/km of carbon dioxide output [all NEDC figures]. The more potent 170bhp Abarth model produces the same emissions when coupled to its six ratio manual 'box, but economy drops to 33.2mpg. With both variants, a 6-speed paddleshift auto gearbox is optional.
That extra pulling power of that turbo engine gives this Fiat a torquier, more relaxed feel than you get from its more urgently-orientated normally aspirated MX-5 design stablemate and the Italians also changed the springs, the dampers, the anti-roll bars and the steering calibration in a further effort to give this car a shift in character. The end result is probably closer to the kind of authentic Sixties sportscar feel that Fiat was setting out to replicate: it's certainly closer to the feel of an original 124 Spider. What's not up for debate is the fact that this roadster is huge fun to drive, with precise steering and a lovely snappy gearbox, though ride quality can get easily unsettled on poorer surfaces.
Lowering the roof is easy and quick, so you can enjoy the open air all the way to motorway speeds without being blown about in the cockpit. Raise the hood and the Fiat is actually acceptably refined, so you can listen to the stereo or chat with your passenger without the risk of impending deafness.
Overall
It's easy to be critical when it comes to platform sharing but it's an approach that's always been hard to get away from. The original 124 Spider was based on a humble 124 saloon, just as the MK1 model MX-5 borrowed plenty from a Mazda 323 hatch. So why shouldn't this modern-era Fiat sportscar have shared its fundamentals with a more credible donor model, its Japanese arch-rival? After all, if the Turin brand had developed this car from scratch, we'd all have compared every nut and bolt of it to an MX-5 anyway.
In the event, you might, like us, actually be quite surprised at just how different this 124 actually is. To be frank, we find the retro flourishes to be a little heavy-handed. You may disagree. In any case though, that's not what fundamentally differentiates this car from an MX-5. For that, you've to look beneath the bonnet. Torquey turbo power makes this a more relaxed, more mature thing to drive than the frantic normally aspirated Mazda. Of course, you may not want that in an affordable sports roadster - in which case you'll know what to do. There was room in this segment though, for something different and this Fiat provided it. Ultimately, every love story has its own soundtrack. If this is yours, then we think you'll like this car very much.