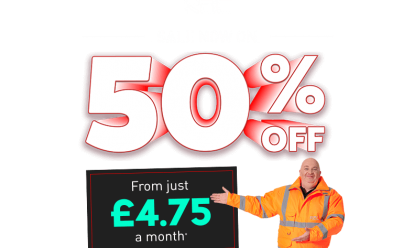 Get covered in our half price Breakdown Cover sale from just £4.75 a month.* We're the UK's best breakdown provider as voted by Auto Express drivers 2021.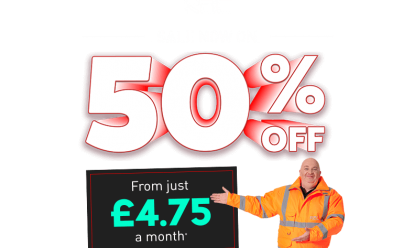 By Jonathan Crouch
Introduction
If your business is looking for a used van and trying to decide between an affordable compact-sized model and a spacious larger one, Fiat's Scudo could prove to be the perfect compromise between the two. It's as spacious as most users will ever need, yet affordable, both to buy and to run. Transit-class buyers need to consider it.
Models
LCV (1.6 JTD 90hp / 2.0 JTD 120/163hp)
History
Fiat's LCV sales have been growing steadily over the last decade thanks to a vast investment in new product. The mid-sized second generation Scudo model we're looking at here lies somewhere in the middle of this little lot and claims to offer all the benefits of a very large van with the affordable running costs of quite a small one.
This generation model was launched in 2007 as a significantly larger design than the Scudo model it replaced, big enough in fact to compete with a whole new army of larger rivals. Not only the Ford Transit of the time but also tough competitors like Volkswagen's Transporter, Vauxhall's Vivaro, Renault's Trafic and Mercedes' Vito. Taking on this lot wasn't something you'd want to do single-handed, so the Italian brand chose to share this design with both Citroen and Peugeot, whose Dispatch and Expert models are pretty much identical. You get clever design, proven engines and low running costs in a package that certainly works on paper.
The second generation Scudo sold until the summer of 2016, when it was replaced by an all-new Talento model.
What You Get
Exactly what LCV category this vehicle fits into isn't immediately obvious at first glance. You can see that it's bigger than something like a Citroen Berlingo or Renault Kangoo-sized Fiat Doblo, but you might question whether it has the volume to take on medium range vans of Transit or Vito size. As we'll see, it has. The windscreen is steeply raked creating a wedge-shaped front end with the usual huge Fiat headlamps and the marque's familiar front grille. Moving backwards, thick rubbing strips protect the flanks and the tail lights are mounted high up to help avoid costly parking knocks.
As for interior comforts, well the low floor means that the cab's easy to get in and though the handbrake lever's oddly situated between the driver's seat and the door, it doesn't get in the way. The seat itself is positioned to suit those who've to jump in and out of their vehicle all the time, with limited height adjustability and a rake and reach-adjustable steering wheel.
An advantage this Scudo offers over Fiat's smaller Doblo is the standard fitment of a properly sized middle third seat. To free up space for this and make it easier for the driver to slide over to the passenger side of the cab, the gearstick has been taken from the floor and mounted on a protruding moulding in the centre of the dash. It still rather gets in the way if you're trying to slide across the cab and limits the middle person's legroom. Still, the third seat is useful to have - and quite adequate for mates on short journeys or kids you might have to drop off on the way to work. If not required, you can place an order for a single passenger seat version.
Those who've to spend their working lives in a cab like this will want to see some evidence of care and attention on the part of the designers and sure enough, this Scudo provides it. The usual shallow bin you get in each door has a moulding designed for a soft drinks can or a small bottle of water, plus there are pull-out cupholders at either end of the dashboard. You can even put drinks on the inside of the lockable glovebox lid, though only if there's no one sitting in front of it to have their knees bashed as it opens.
Other storage includes a deep, strangely-sized bin on the top of the dash on the passenger side, cubbies in each corner, a shelf beneath the steering column, a tray beneath the passenger seat and a full-width overhead shelf.
You'll want some details on loadbay practicality. Looking back, it seems strange to think now that the original first generation Scudo model thought itself big with only 4.0m3 of carriage space to offer, a figure now routinely matched and beaten by many compact little vans. This second generation version is of course, much better provided for, offering from 5.0m3 (if you go for the short wheelbase standard roof version) rising to 6.0m3 if you choose the long wheelbase standard roof model, before culminating at 7.0m3 for those favouring the long wheelbase High Roof version. That latter figure is only 1.0m3 less than Fiat's entry-level Ducato model from the next class up.
A lifting tailgate is an option on the Combi versions and standard on the Panorama minibus model, but all vans come with the standard conventional twin side-hinged rear doors that, as usual, open initially to 90-degrees or back to 180-degrees if you unlock the door stays. Heaving weighty cargo aboard is made easier by a low rear loading sill height that's normally 562mm but with optional pneumatic suspension fitted, can be as little as 490mm. It also helps that a rear door aperture of 1273mm in width and 1272mm in height (or 1630mm in High Roof guise) should enable you to get most loads in quite easily.
Once you do, there's a useful load length of 2254mm in the short wheelbase model (2584mm in the lwb version) and height that's measured at 1449mm in the standard roof version and 1750mm if you've gone for a High Roof. Whichever Scudo you choose, the load area width is 1600mm, which narrows to 1245mm between the wheelboxes. For those occasions when it's easier to get things in at the side, there's a couple of sliding doors provided with apertures (924mm wide and 1293mm high) big enough to accept a euro pallet.
To keep stuff moving from around on the move, eight tie-down points are provided, but if you forget to use them and things slide forward, a pronounced lip at the cab end of the load bed is helpful. It should keep your packages from scraping the half-height protective panels provided on the doors and above the wheelboxes and clanging against the load restraint frame that's fitted to models lacking the optional full width fixed bulkhead that substantially improves cab refinement.
And running costs? Well, you can expect to average combined fuel consumption at between 37 and 39mpg, depending on the engine you choose and the type of journeys you're on. To reduce NOx emissions, all the engines on offer are fitted with an Exhaust Gas Recirculation system, one reason why CO2 returns are especially class-competitive, particularly if you go for this Euro5 2.0 Multijet 163bhp model, where they vary between 181 and 185g/km. Service intervals are set at 18,000 miles, insurance groups are 6-8 and there's a 3 year, 120,000 mile warranty, with no mileage limit in the first two years.
What You Pay
Please contact us for an exact up-to-date valuation.
What to Look For
On your test drive, start the engine from cold with the cab door open and listen for any odd exhaust noises. The exhaust is expensive to replace. On your test drive, try to ensure that your route includes a hill. Going down it, use the gears to slow down, then lift your foot off the accelerator while in third gear. If you hear a droning or whirring noise, it's a sign that the differential needs replacing, and that could land you with a £1,000 bill. Over speed bumps, if you can hear a knocking sound from the suspension then a bottom ball joint may need swapping. It's a cheap and easy job though. If the mileage is approaching 70,000, then the steering rack may need repairing. If the work isn't done, you will end up with excessive play in the steering arms, and that could lead to an MoT test failure. A practical check you'll need to make is on the slide side doors. Ensure that they slide cleanly down the full length of their runners. If they don't, then the runners may have to be replaced.
Replacement Parts
(approx based on a 2010 Scudo 2.0 JTD - Ex Vat) An air filter is priced in the £9 to £15 bracket and an oil filter costs in the £4 to £6 bracket. Brake pads sit in the £35 to £55 bracket for a set; brake discs cost n the £50 to £75 bracket, though you could pay as much as £105 or even as much as £140 for pricier brands. Wiper blades cost in the £4 to £12 bracket, and a replacement mirror glass is around £15 to £20. Try not to damage the wing mirror; a replacement manual unit costs around £50; a replacement headlamp could cost the best part of £140 - or as much as £230 with a pricier brand. A timing belt is around £32, but you could pay just over £80 or even as much as around £125 or so for pricier brands. A radiator will cost around £190.
On the Road
Vans have been becoming more and more car-like in recent years - and this one is no exception. The driving position, though not as high-set as you'd find in the marque's larger Ducato model, is nonetheless commanding. And it's comfortable on the move, coping admirably with the atrocious surfaces offered up by poorer sections of the British road network. That relaxed approach also extends to the power steering, electrohydraulically-assisted in the more powerful versions, which at speed, could offer a bit more feel.
You appreciate its lightness around town though, where this van is impressively manoeuvrable for its size, with a turning circle that can be as little as 12.2m. Indeed, a key factor behind the success of the first generation Scudo was the way it remained compact and wieldy in the manner of smaller, more car-like vans from the class below. This model's bigger of course, but it retains much of that same usability around town, though if you're used to very big vans, you will have to adjust to this one's lower stance. This, combined with the big front overhang, can initially make parking a bit tricky, though rearward vision is helped hugely by these huge door mirrors with their separate wide-angle reflectors.
On the open road, refinement depends a great deal on whether you've specified a full-height bulkhead - or at the very least, specified ply-lining for the load area. As with any van, if you've done neither, then a set of ear plugs will be a boon on a long trip. If you've specified a Standard roof version, then it's worth going for a variant that originally was fitted with the optional pneumatic suspension, a feature able to lower this van's ride height to just 1.9m, giving this Sudo access to underground and multi-storey carparks normally inaccessible to LCVs of this class.
Engine choice in a Scudo is pretty straightforward, provided you've a clear idea of the kind of work you want it to do. Sensibly, all the units on offer are diesels and if your needs are mainly based around lighter loads and short distance urban work, then the entry-level 90bhp 1.6-litre Multijet with its 180Nm of torque will be quite sufficient. For heavier payloads and longer journeys however, you'll be needing the 2.0-litre Multijet model which also gives you a 6-speed gearbox in space of the 1.6's 5-speeder. The 120bhp version is quite sufficient, offering a full 300Nm of torque, quite enough to handle haul a braked trailer grossing at up to 2,000kg. If you do feel the need for more power, then there's also a 163bhp Euro5-compatible version of the same unit on offer boasting 340Nm.
Overall
There's no doubt that this second generation Scudo has what it takes to offer an attractive alternative to the used Transits, Vivaros and Trafics you might be looking at from the 2007 to 2016 period. Whether you'd want one over its Citroen and Peugeot design stablemates though, will depend as usual much upon the deal that you're offered and the proximity and convenience of your local Fiat franchise. Which is where the Italian brand reckons it has an advantage.
An increasing part of the company's dealer network is open 24 hours a day for service and repair work to minimise business downtime and even those that aren't, usually feature flexible and extended opening hours. If you're running a business on tight margins, that's the kind of support you're going to need. Added to the excellence of this Scudo, it could just make for a very attractive business proposition indeed.