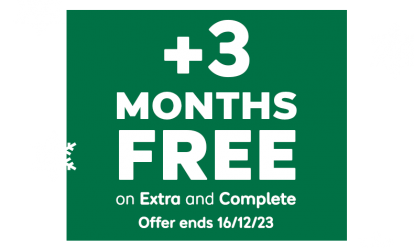 With 12 months of cover, new customers get an extra 3 months for free*.
*Added after 12 months, excludes Basic cover. New customers only. Ends 16/12/23, 7am.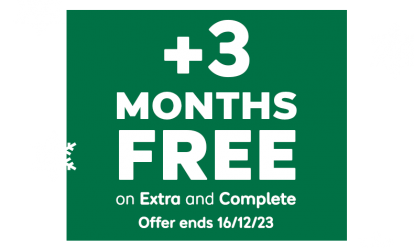 BY ANDY ENRIGHT
Introduction
The Japanese have long been clever lateral thinkers. Adept at taking an undeveloped concept and spotting the potential for leveraging a big profit they seemed onto a winner with the Daihatsu Applause. Market research had shown that hatchbacks sold cars due to their versatility, but many buyers wanted the security of a boot. Daihatsu came up with an ingenious solution. The Applause looks like a saloon, but pop the rear 'bootlid' and you'll find it stretches up to the roofline, making the car something of a stealth hatchback! Others have since realised that this was a neat trick, take today's Skoda Octavia for instance.
The Applause never received much of an ovation with UK buyers and you may have more luck discovering the Ark of the Covenant, the Chinguetti meteorite and Lord Lucan's car keys before you find an example in your preferred colour, condition and trim level. Nevertheless, as a used buy, it's certainly not run of the mill.
Models
Models Covered: 3/5dr hatchback, 1.6 petrol [L, Xi, GXi, GLXi]
History
When the Daihatsu Applause first hit these shores in 1990, the reception wasn't so much lukewarm as absolute zero. Why would the British public want a rather oddly proportioned hatchback masquerading as a saloon when the Rover 200, the Peugeot 309 and the Ford Escort were vying for their attention? There were two versions launched, both with Daihatsu's 16-valve engine - at the time quite an advanced piece of machinery. The 1.6L used a carburettor, whilst the 1.6Xi was fitted with fuel injection and a catalytic converter. The injected version developed 105bhp and 99lb/ft of torque.
In 1993 the carburettor version was dropped, the range then consisting of two mechanically similar models, the GXi and the plusher GLXi. The Applause soldiered on in this form until chronic buyer apathy finally asphyxiated it in 1996.
What You Get
If you like grey plastic, the Applause will be your idea of motoring nirvana. Despite boasting an advanced engine, the Applause harks from a time when Japanese interiors resembled the last memory of a man trampled by a bull elephant. Greyout everywhere, with only some rather bland upholstery to break up the visual sterility. Whilst the feng shui may have been slightly wonky, there couldn't be too many problems with the Applause's practicality. The driving position lacks adjustability but this isn't too much of a problem because it's very good in the first place, and the low waist line of the car gives an airy feeling and helps visibility.
Headroom is, as expected, fine all round, but taller passengers won't want to spend much longer than it takes to develop cramp in the back of the Applause. The Applause GXi was fitted with colour-keyed mirrors, electric windows and mirrors, central locking, a rear spoiler and an adjustable steering column. Steady now. The GLXi added some cross spoke alloy wheels, body coloured door handles, a rear wash/wipe and an RDS stereo cassette, which together would be worth the additional £75 in most people's book. Some owners will have plumped for the optional air conditioning on this model, but they're so few and far between that being choosy could mean no round of Applause for quite some time.
What You Pay
Please fill in the form here for an exact up-to-date information.
What to Look For
The Applause is not known to have developed any significant faults during its existence. It will in all likelihood have transported children, so check the cabin for rips, stains and other damage wreaked by small hands. The backs of the seats should be checked for evidence of wear and tear, as the tweedy trim is not hard wearing.
The plastics quality of the Applause's interior isn't the highest so check for sun damage and dash cracking. The engine tends to be a reliable runner and many Applause owners are of the more mature persuasion which may well mean that it hasn't spent most of its life screaming around the mini roundabouts of Milton Keynes, teetering precariously on its body coloured door handles. Normally, we'd say to look for a service history, but with many Applause models, what you see is pretty much what you get. Just make sure its been looked after. Avoid ex-minicabs and invest in an alarm. There are some very undiscerning thieves about.
Replacement Parts
(Estimated prices, based on Applause 1.6L) You wouldn't want to buy a bargain basement city car and discover parts prices that will require you to take up an evening job to make ends meet. The Applause responds with some very cheap consumables. An air filter is around £8 and a fuel filter retails at round £13. An oil filter is £8 and spark plugs are about £10. A timing belt is around £15, whilst front brake pads are around £30 a pair. A distributor cap retails at around £35.
On the Road
With MacPherson struts all round, a 16-valve engine and power-assisted rack and pinion steering all round, the Applause seems an unlikely candidate for the 'undiscovered funster' label. The performance figures look promising, the fuel injected 1.6-litre cars capable of hitting 60mph in ten seconds, about on a par with the class leader of the time, the Peugeot 309 GRi 1.6. This could be good. As soon as you reach the first corner, the word WRONG crashes from the heavens like a ballistic grand piano and lands smack on the Applause. The light steering, which works so well in town, acts as a sensory deprivation tool, the driver struggling to work out which way the front wheels are pointing when even modest amounts off power send the car lurching onto its outside front wheel mid-corner. The chassis feels fidgety, the car constantly on edge on poorly surfaced roads. The brakes are initially good but fade quickly if used enthusiastically.
Economy is acceptable, the 105bhp engine turning in a decent figure of 29mpg, and the generously sized tank gives a creditable range of 512 miles. As long as you're prepared to take it easy in the Applause, it covers all the bases without any great elan.
Overall
Why? The Applause isn't a bad car per se, it's just that there are plenty of better options about in greater numbers thus affording you greater choice and bargaining power. If your heart is set on an Applause, then go for an early GLXi car to limit your financial exposure. We feel confident in stating that the Applause is unlikely to become a fast appreciating classic.