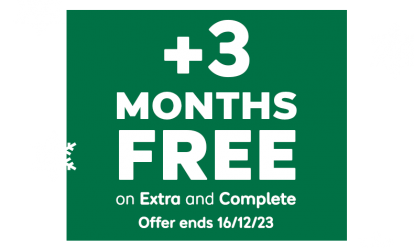 With 12 months of cover, new customers get an extra 3 months for free*.
*Added after 12 months, excludes Basic cover. New customers only. Ends 16/12/23, 7am.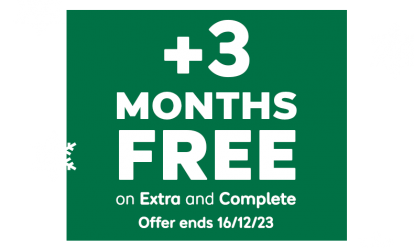 By Andy Enright
Introduction
Citroen have made some fantastic small cars down the years and some very interesting big ones. It's when the company turns its hand to building slightly larger family designs that it can often come unstuck. Let's talk Focus-sized family hatches as an example. The ZX and Xsara models of the Nineties and the early years of this century aren't cars that too many British buyers remember fondly. The first generation C4 of 2004 though, was better and our subject here, the second generation C4 launched in 2011 showed greater promise still. Does it make sense as a used buy? Let's see.
Models
5dr medium range hatchback (1.4, 1.6, petrol, 1.6, 2.0 diesel [VTR, VTR+, Exclusive, Selection])
History
You may well remember the first generation Citroen C4 more for its exploits as an all-conquering World Rally Car or for its dancing robot advertisement than for the actual vehicle that these activities were designed to promote. Back in 2004, Citroen promised to bring us a car that was 'Alive With Technology' and I think it's fair to say that, at the time, the thought of a French car stuffed with complicated electronics may well have deterred more people than it attracted. Those who did take the plunge were rewarded with a thoroughly decent family hatch and much of the technology the C4 pioneered was genuinely useful, clever stuff.
Unfortunately, Citroen perhaps felt that they'd had their fingers burnt trying to introduce too much, too soon, and the car we look at here was introduced at the start of 2011 with much less fanfare. In fact, many didn't even realise the C4 had been replaced at all. There were no dancing robots or technical features like the fixed hub steering wheel. It was all a little conservative in fact, but it was clear that the French company had upped its game when it came to two areas where it was lagging behind; interior quality and efficiency.
After launch, the C4 didn't exactly set the UK sales charts on fire. In fact, it was other C4 variants that grabbed the column inches. The C4 Picasso and Grand C4 Picasso both notched up some decent sales figures and aesthetes loved the later-launched and boldly-styled C4 Cactus crossover model. As for the ordinary standard C4 hatchback, well that ran on, rather neglected until its facelift in 2015. Just about the only point of interest was the launch of the Selection trim level in 2012.
What You Get
The C4 is a bigger car both inside and out compared to its predecessor and Citroen has also clearly made a concerted effort to improve the perception of quality. The old first generation C4 felt a reassuringly solid thing but this MK2 car feels a class above in terms of materials quality and the thought that's gone into the interior aesthetics. The dashboard and fascia are a good deal more conventional than you might expect and all of the controls are easy to figure out without recourse to the manual. It's as if Citroen has gone back to concentrating on getting the basics right and you'd have to say on that basis this C4's approach is well conceived. Instead of pouring design resource into a gadget you might use once a year, Citroen has instead come up with a seat that's supremely comfortable. Rather than ruin the ride with suspension that will delight frustrated racing drivers working for car magazines, they've instead gone for a setup that works well on roads rather than circuits. None of it is rocket science but it's amazing how many car makers lose sight of these fundamentals.
Space inside is about par for the class, with rear legroom an issue if you try to seat tall passengers. Headroom is better than average, as is access, the C4 only offered in practical five-door form. The boot's a decent size too although the rear seats don't fold fully flat. Variants fitted with the optional Denon stereo get a subwoofer that robs you of a bit of boot space. The exterior styling is neat and well resolved but may disappoint those who expect a Citroen to look as if it's arrived from twenty years in the future. The headlights and the deeply scalloped flanks work well but we can't help but suspect that Citroen has played a little bit safe with the styling of this car so that it can let its designers off the hook with more niche models. To us, the C4 looks like that friend who's good looking without being particularly striking. Handsome enough to avoid criticism but won't turn heads.
The Exclusive range-topper is packed with gear like intelligent traction control and a blind spot monitoring system that uses ultrasound sensors mounted in the front and rear bumpers to illuminate a pictogram in the door mirrors when a vehicle enters your blind spot. All very worthy, but a better option to seek out is the excellent Denon stereo. Even if you don't find a car with this premium stereo system, in-car entertainment should be covered as all MK2 C4s got a USB port, a 3.5mm jack plug and a 12V socket on the centre console to keep their owners connected. Need even more connectivity? Look for a C4 fitted with Citroen's WiFi On Board system which uses a 3G/3G+ SIM card to create a wireless network in the car with continuous internet connection.
What You Pay
Please fill in the form here for an exact up-to-date information.
What to Look For
Not too much goes wrong. Look for the usual scrates and scrapes of family use. And the sagging seats of ex-rental cars. Warranty Direct, an independent company not given to any partiality or bias, rated the C4 as one of its most reliable vehicles, scoring better than a BMW 3 Series, a Honda Accord or a Lexus IS. If you find an example fitted with the semi-automatic EGS gearbox, you may well think the transmission to be a jerky thing - but don't automatically suppose that there's something wrong with it; they all clunk into gear if you don't ease off the gas to help the thing along. You just have to get used to it. We'd choose an ordinary manual 'box instead.
Replacement Parts
(approx based on a 2012 C4 VTR+ HDI) A replacement exhaust (front to the catalyst) will set you back roughly £245, while a new clutch will be around £185. A replacement alternator should be around £175 and a starter motor about the same. A new wing mirror is in the region of £145, while a headlamp is a hefty £250.
On the Road
Most UK customers chose their MK2 C4s with 1.6-litre diesel engines. The 110bhp diesel powerplant is no ball of fire in the acceleration stakes but a sprint to 60mph that just nudges under 11 seconds means that you won't be glued to your rear view mirrors in terror when accelerating onto a major road either. In fact, the Citroen, as with all good turbodiesels, offers plenty of urge for just this sort of thing. Even the leisurely EGS automated gearbox which seems so out of place when teamed with the quicker C4 models isn't a source of continual annoyance in the laid back diesel.
It's a shame that Citroen has done away with the fixed steering wheel boss that was such a talking point in the first generation C4, but apparently a more conventional wheel saves 3.5kg. This is a theme that runs through this car. It feels a lot more sensible, more grown up than before. It's quite soft, extremely relaxing and very different to what you might be expecting. Despite many of the previous C4's more extrovert features being consigned to history, there are one or two quirks remaining such as the fact that you can tailor the sound of individual warning chimes or the indicators as well as the colour of the instrument lighting.
The C4 also scores when it comes to safety equipment. At launch, it gained a five-star EuroNCAP rating, the car scoring 97% in the 'Safety Assist' test - at the time the highest score achieved for any vehicle of its type. That's due to the sheer array of driving aids fitted as standard. You get anti lock brakes with Electronic Brakeforce Distribution and Emergency Braking Assistance while ESP stability control is fitted across the range. Six airbags are also fitted as well as cruise control with a speed limiter.
Overall
The second generation Citroen C4 might be one of the greatest used buys you've never considered. You'd be excused for not really fancying a Citroen filled with complex technology, but its reliability record doesn't lie. The C4 is extremely well screwed together. What's more, the mass market hasn't really cottoned onto this fact yet, so prices are relatively low. Find one that's been a second or third car and is carrying low mileage and you might well score yourself one of the biggest bargains in the family hatch sector. We wondered when the C4 would really come good. It just has.