The road to becoming a legal motorcycle rider can seem long and confusing.
But budding riders: fear not. Here's everything you need to know about the practical and theory tests you have to pass in order to get your motorcycle license.
Motorcycle theory test
The motorcycle theory test follows a similar format to the standard driving theory test. It comes in two parts:
multiple choice questions
hazard perception test
You'll be given 57 minutes to answer 50 multiple choice questions and have the option to flag and return to any question to change your answers.
You have the option of a three-minute break before starting the hazard perception test and you don't have to use the full time allocation if you don't need it.
The hazard perception test includes 14 video clips that feature everyday road scenes and contain at least one 'developing hazard'.
It's your job to recognise the hazards early and click the screen to earn a maximum of 5 points per video clip. You only have one attempt at each clip.
Motorcycle theory test cost
The motorcycle theory test costs £23 as of December 2019.
You'll need your driving licence number, email address (or book by phone) and a credit or debit card to book it.
Do I need to take a motorcycle theory test if I have a full UK driver's licence?
Yes, you must pass a motorcycle theory test before taking the motorcycle practical test, irrespective of whether you have a full driving licence or not.
Motorcycle compulsory basic training (CBT)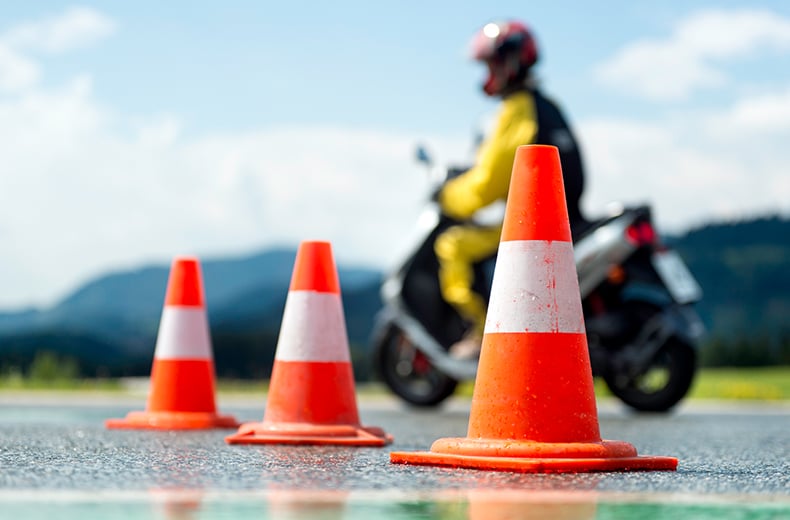 Compulsory basic training (CBT) is a course designed to make sure you can ride a motorcycle or moped safely on your own.
You must take it before riding a moped or motorcycle on the road, and an instructor can refuse to issue your certificate if they feel your riding is dangerous.
The Government's website provides a handy CBT course finder tool.
You can be fined up to £1,000 and collect six penalty points for riding without a valid CBT certificate.
What does motorcycle CBT involve?
Your compulsory basic training covers a syllabus delivered over 5 elements:
Element A - introduction: the aims of CBT, making suitable decisions about equipment and clothing, and meeting eyesight rules
Element B – practical on-site training: how the motorcycle or moped works, what maintenance checks are needed, and getting a feel for the weight and balance of the vehicle
Element C – practical on-site riding: carrying out manoeuvres safely and under full control, using the brakes, changing gear and carrying out observations
Element D – practical on-road training preparation: meeting the legal requirements to ride, attitude, positioning, separation distances, speed, anticipating what other road users may do, and preparing for developing hazards
Element E – practical on-road driving: Riding in typical traffic conditions (including traffic lights, roundabouts, junctions, pedestrian crossings, gradients and bends), and carrying out a U-turn and emergency stop. This ride should last two hours
Motorcycle CBT cost
Your motorcycle training school sets the CBT course price, and costs can vary depending on location and whether you use your own bike.
As an example, A1 motorcycle training school charges £90 for CBT using their 125 or 50cc bike.
What do motorcycle lessons cover?
Motorcycle lessons are largely learner-focused, as many learners choose to improve their skills by driving with experienced riders rather than professional motorcycle instructors.
However, riding schools teach everything you need to know to be a safe and responsible rider and to meet the national standard for riding mopeds and motorcycles.
Motorcycle practical test
The motorcycle practical test is split into two modules:
Module 1: An off-road riding test lasting 20 minutes
Module 2: An on-road riding test lasting 40 minutes
You must pass module 1 before you can take the module 2 test.
What does module 1 of the motorcycle practical test involve?
Module 1 of the practical test lasts about 20 minutes and is held in the off-road motorcycle manoeuvring area. It includes:
wheeling the moped or motorcycle and using the stand
riding a slalom and figure of 8
a slow ride
a U-turn
cornering and a controlled stop
cornering and an emergency stop
cornering and hazard avoidance
To pass module 1 you must:
make no serious or dangerous faults (majors)
make no more than 5 riding faults (minors)
What does module 2 of the motorcycle practical test involve?
Module 2 of the practical test lasts about 40 minutes and can only be taken after passing module 1, both modules can be booked at the same time. Module 2 includes:
an eyesight check, where you'll have to read a number plate from 20 metres
two 'show me, tell me' vehicle safety questions, which can include checking the oil level, checking that lights are clean and functional, and checking that the brakes are working, amongst other questions
road riding to test hill and angle starts, and normal stops
10 minutes of independent riding
To pass module 2 you must:
read a number plate successfully in the eyesight check
answer two 'show me, tell me' questions correctly
make no serious or dangerous faults (majors)
make no more than 10 riding faults (minors)
How much does the motorcycle practical test cost?
Module 1 costs £15.50 and module 2 costs £75 (or £88.50 on weekends), as of December 2019.
Occasionally, things do go wrong while you're out on the roads, so be sure to have motorbike insurance in place just in case. If you want roadside assistance if your motorcycle breaks down, make sure to have motorbike breakdown cover.
Read next:
Bike Insurance for less than £79 (that's what 10% of our customers paid).†