It's easy to overlook the small print on our driving licences, not to mention the letters and numbers that fill the table at the back of our photocards.
However random they might seem, these characters tell us a lot about the types of vehicles we can drive and much more. That's why we've decided to break it all down to help you better understand driving licence codes and driving licence categories.
Read on to help make sense of them all.
What are driving licence codes and categories?
The seemingly random letters and numbers on driving licences can be split into two groups:
Driving licence categories given in letters or a combination of letters and numbers e.g. 'C' and 'C1'. These tell us which vehicles we're allowed to drive.
Driving licence codes given in numbers only e.g. '01' and '79(2)'. These tell us the conditions a driver should meet to drive. For example, '01' is a common code indicating someone needs glasses or contact lenses to drive.
Find the full list of driving licence codes on the gov.uk website.
Driving licences explained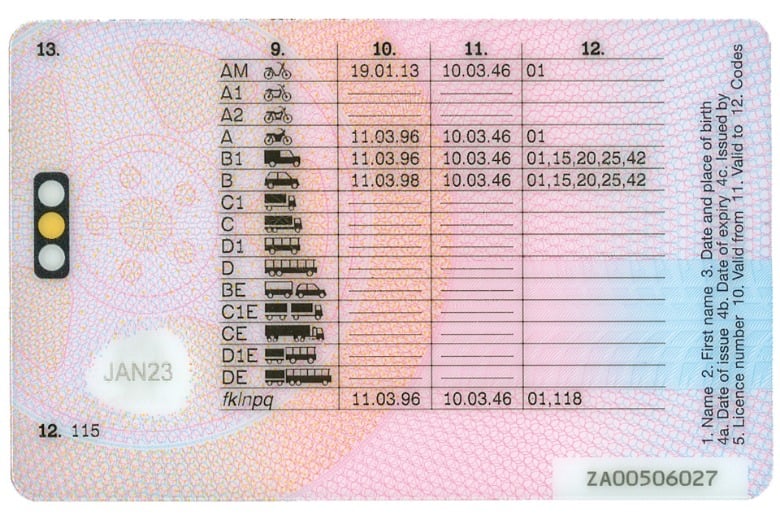 The easiest way to see which categories your licence covers is to look at section nine of your photocard.
Found on the front of the card, this section shows driving licence categories represented by letters separated by commas or slashes. Capital letters refer to categories recognised across Europe, while lower case letters refer to national categories.
On the back of your driving licence, you'll notice a table with three columns:
Column 9 shows types of vehicles you can drive
Column 10 shows the licence start date
Column 11 shows the licence end date
Column 12 shows driving licence codes
What driving licence categories apply to cars?
B
Category B can mean one of two things depending on when you passed your test.
If you passed before 1 January 1997, you're allowed to drive a vehicle and trailer combination with a maximum authorised mass (MAM) of 8,250kg. You can also drive a minibus with a trailer over 750kg MAM.
See categories D1 and D1E for more on minibus categories.
If you passed your test on or after 1 January 1997, you can drive vehicles up to 3,500kg MAM with up to 8 passenger seats and with a trailer up to 750kg. You can also tow heavier trailers if the total MAM of the vehicle and trailer is no more than 3,500kg.
Category B licences also allow you to drive motor tricycles with a power output higher than 15kW if you are over 21 years old.
B auto
This one's simple, you can drive any of the vehicles included in Category B but only with an automatic transmission.
BE
The BE category currently appears on drivers' licences if the holder has passed a car and trailer driving test. However, the DVLA hopes to change the law so this test isn't needed and all new photocard licences will include the category.
Drivers who passed their test from 1 January 1997 face tighter towing restrictions until these rules change.
New rules were originally scheduled for 15 November 2021 and are likely to come into force in the near future. Keep an eye on the gov.uk website for more details.
B1
This category appears next to the image of a small van on the back of your licence. It means that you can drive a vehicle with '4 wheels up to 400kg unladen or 550kg if they're designed for carrying goods.'
We've included it here as the code features on all licences when drivers have passed a standard test.
Get covered in our half price Breakdown Cover sale from just £4.75 a month.* We're the UK's best breakdown provider as voted by Auto Express drivers 2021.
What driving licence categories apply to vans and lorries?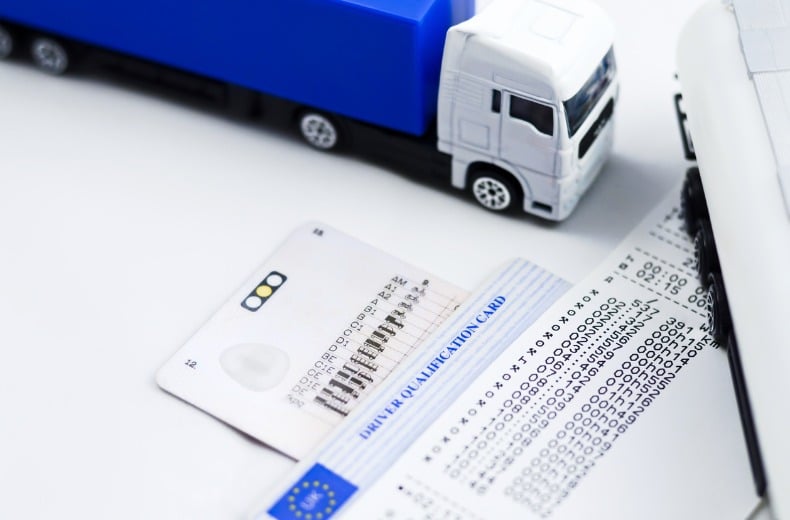 C
Category C refers to large goods vehicles, meaning you can drive anything over 3,500 kg (with a trailer up to 750kg MAM).
To get a Category C licence you'll need a full car driving licence and to apply for a provisional lorry licence.
If your doctor decides you're healthy enough to drive a larger vehicle, you can then take the four-part CPC (Driver Certificate of Professional Competence) test.
CE
Almost identical to Category C but you can also tow a trailer over 750kg.
C1
C1 is a little more restrictive than a Category C, as it only lets you drive vehicles between 3,500 and 7,500kg MAM (with a trailer up to 750kg).
C1E
Category C1E drivers can drive C1 vehicles with a trailer over 750kg. The combined weight of both cannot exceed 12,000kg.
What driving licence categories apply to motorbikes?
A
Holders of a Category A licence are allowed to drive any bike of any sized engine.
The licence is only available to riders aged 24 and over, or 21 and over if you've held an A2 licence for two years. You need to have completed your compulsory basic training (CBT) and passed a theory and practical test.
A1
Category A1 riders can drive light motorbikes with an engine up to 125cc and a power output up to 11kW. The category also allows riders to use motor tricycles with a power output up to 15kW.
Riders need to be 17 or over to take a test and must complete their compulsory basic training (CBT) and have passed a theory test and practical test.
A2
Category A2 is a step up from A1 and lets licence holders ride bikes up to 35kW. Bikes can't be derived from a vehicle more than double its power and you need to be 19 years old to apply for a test.
AM
The AM category applies to mopeds rather than motorbikes. It allows a licence holder to drive two-wheeled or three-wheeled vehicles with a maximum speed of 28mph.
It also allows riders to use light quad bikes with the same max speed and unladen mass of 350kg (not including batteries if it's an electric vehicle).
To get an AM licence you'll need to be at least 16 years old, to have a valid CBT certificate and to pass the motorbike theory test and two-module practical test.
p
Another moped category, the letter p appears in italics and lower case on photocard licences to show that the holder can drive two-wheeled vehicles with a maximum design speed of over 28mph but no more than 31 mph.
Engines must be no more powerful than 50cc and the category appears on all standard full driving licences.
q
Category q lets licence holders drive two and three-wheeled vehicles without pedals if the engine size is no more than 50cc and the maximum design speed doesn't exceed 15.5mph. The category also includes e-scooters.
What other driving licence categories are there?
Other categories include:
D - You can drive any bus with 8 passenger seats and a trailer up to 750kg.
D1 - You can drive minibuses with no more than 16 passenger seats, a maximum length of 8 metres and a trailer up to 750kg.
D1E - You can drive D1 minibuses with the option to tow a trailer over 750kg. The combined weight cannot exceed 12,000kg.
f - agricultural tractors
G - Road roller
H - Tracked vehicles
k - Mowing machine or pedestrian-controlled vehicles
l - Electrically-propelled vehicles
M - Trolley vehicles
n - Exempt from duty