Electric car tech is rapidly developing, but is it the right time for you to go green?
While there are obvious ethical benefits, the fact remains that it is still an expensive business and might not be possible given your budget.
Here we look at a range of financial factors from government incentives, upfront costs, fuel savings and more to help you work out: whether you can afford to go green, if it will save you money in the long run and if so when?
Electric cars: where are we currently?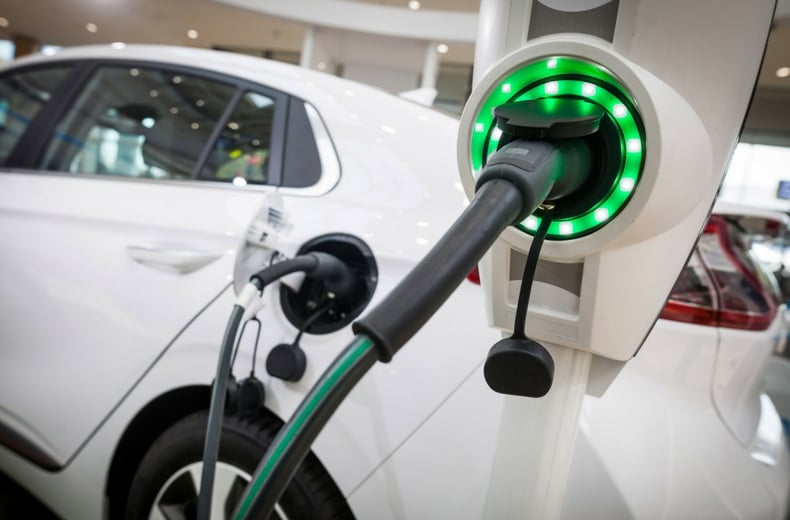 At the end of 2017 there were over 132,000 fully electric and plug-in hybrid cars (EV) registered in the UK.
But the upfront cost of buying an EV can still be twice as high as the average equivalent petrol or diesel car.
READ MORE: CO2 emissions 50% less with electric vehicles
Still, the ever-falling cost of battery technology - plus innovative battery-leasing schemes - means the price of EVs is creeping down, and a more mainstream appeal is emerging.
And with the Government planning to ban the sale of new petrol and diesel cars from 2040, along with more charges being brought in for higher polluting vehicles, you may be thinking about making the switch to electric sooner than previously thought.
Buying an EV at this point won't save you money in the immediate term, let's make that clear.
But a recent study by the University of Leeds suggests pure electric cars are now cheaper to own and run over four years than petrol or diesel cars in the UK – albeit with the help of government subsidies.
So the real discussion is if you switch now, how long before you begin to see the return on you investment? And is now a good time to make the switch given your situation?
Should you buy an EV this year?
One of the main factors for choosing whether or not to go green in 2018 is your current financial situation.
There are financial pros and cons of buying electric now, but the overall benefit depends on you as an individual.
Before we look at some set scenarios to help you make a decision, here are the key financial pros and cons:
Cost benefits include:
Fuel savings

The biggest day-to-day saving with EVs is the cost of fuel. Depending on your tariff, charger type and time of charge, you can travel 100 miles in an electric car from under £2, compared to the best-value £12 in a petrol-powered vehicle.

Lower maintenance costs

Electric motors have fewer parts – no spark plugs, radiators, oil filters or exhausts – so there shouldn't be as many trips to a mechanic. In theory, your annual service could be up to £300 cheaper, but until regular garages get up to speed with EVs, you may have to take your car to a specialist dealer.

No Vehicle Excise Duty
High upfront costs

Electric cars are expensive to buy. For an entry-level model, you can typically expect to pay at least £20,000, going up to £50,000 for a mid-range car and £100,000 for a top-of-the-range sports car.

Higher insurance premiums

Because EV technology is still relatively new and repair options are limited, insurance costs tend to be higher than for traditional cars, currently by up to 45-50%.
Subsidies

Subsidies are available from the Government to help you go electric. Under the Plug-In Car Grant, you can receive up to £4,500 towards a new all-electric car and £2,500 towards a plug-in hybrid.

Grants

The Government also provides a grant of up to £500 towards the cost of installing a home charging point, which reduces the overall spend to between £200 and £400.

Schemes

Under a particularly innovative scheme, owners of the new Nissan Leaf will be able to earn money back by renting out their EV battery while they're at home, via a pioneering 'vehicle-to-grid' scheme. Nissan, which has teamed up with energy supplier Ovo to offer the service, says the savings available to owners will cover the £350-£400 annual cost of charging an electric car, so they effectively drive for free.
For more information on the pros and cons of EVs, visit our ultimate guide to electric cars.
When will my electric car investment pay off?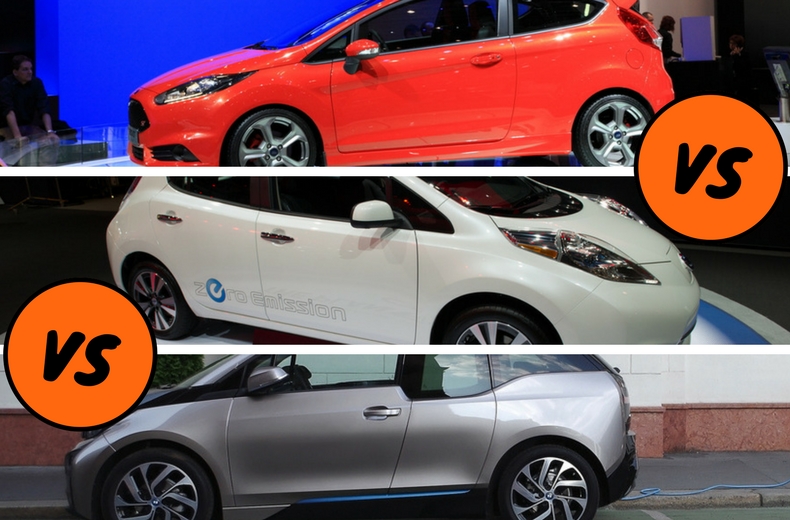 Compare first year costs and future running costs of two popular electric cars against Britain's most popular hatchback.
The Ford Fiesta (the control)
Let's start by looking at a popular, traditional new car - the Ford Fiesta.
Model: Ford Fiesta
List price: from £12,945
Grants available: £0
Cost of refuelling: 100 miles fuel = £14 average
Servicing costs: from £200 average
Insurance premium: £500-600 approx. (based on 30-year-old driver)
VED: First-year £100, standard £140
Average first year running costs, based on 10,000 miles = £15,200.
After that: £2,300 a year.
Despite the lack of any Government cashback, plus the costs of VED and fuel, the traditional car's price tag keep its initial outlay down.
The Nissan Leaf
Now let's look at two of the most popular EVs on the market - starting at the entry-level Nissan Leaf.
Model: Nissan Leaf
List price: from £26,000
Grants available: £4,500
Cost of charging: 100 miles charge = £3-£4 average
Servicing costs: £120-£150 approx
Insurance premium: £750-£850 approx. (based on 30-year-old driver)
VED: £0
Average first year running costs, based on 10,000 miles = £22,785
The BMW i3
Now let's take a look at the slightly higher-end (and more expensive) BMW i3
After that: £1,285 a year.
Model: BMW i3 hatchback
List price: from £34,000
Grants available: £4,500
Cost of charging: 100 miles charge = £1.70-£3.50 average
Servicing costs: £240 approx
Insurance: £1,100-£1,200 (based on 35-year-old driver)
VED: £0
Average first year running costs, based on 10,000 miles = £31,120
After that: £1,570
Conclusion
As we can see, in both cases the first-year cost of the EVs far outweighs that of their fuel-powered counterpart.
If you're looking for an instant impact, now's probably not the time to invest.
But let's look at the continued running costs - most importantly the cost of charging vs refuelling. Over 10,000 miles our EVs are making huge annual savings of between £800 and £1,000.
So in spite of the current higher insurance costs our EVs prove far more economical once the initial outlay is out of the way.
On this basis, the Nissan Leaf would start to repay its value in between the third and fourth year of ownership, proving more economical overall when pitted against the Fiesta.
The more expensive BMW i3 has more ground to recoup on the Fiesta, and at today's prices, the relative savings would not come into effect for at least two additional years.
From a purely financial point of view then, it only makes sense to switch right now if you can afford to wait for the pay-off.
READ MORE: The real facts about 'dirty' diesels
Should I lease an electric car instead?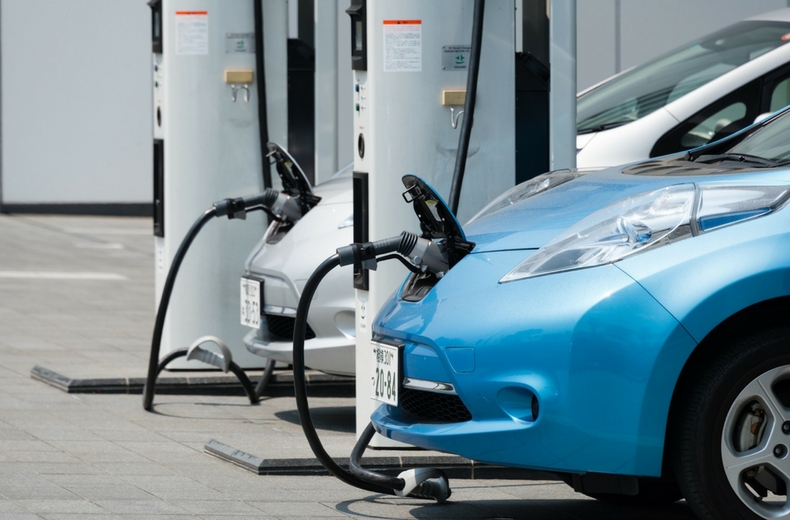 Leasing can be a more affordable way to drive the latest EVs, particularly as running costs are so low. Most electric and hybrid cars that have come on to the market in the past few years, including the Renault Zoe, Citroen C-Zero and Nissan Leaf, are available to lease – some for less than £250 a month.
A Guardian report shows that the Leaf can be leased for about £240 a month with a deposit of £2,000. That's £70 a month more than the petrol-powered Nissan Juke.
Should I buy a used electric car instead?
The choice in second-hand EVs is somewhat limited, but you can get a used Nissan Leaf from around £7,000, or a Renault Zoe from £4,500.
It is worth noting, however, that it's unlikely you'd be able to sell it on again, so consider it a one-off purchase.
If not now, when?
If buying an electric car now isn't the best option for you, but you're still keen to go green, when will you be able to, realistically?
Industry analysts expect that demand for EVs could rise sharply from 2018 as upfront costs continue to fall and battery durability increases.
In fact researchers at Bloomberg New Energy Finance forecast that EVs will be cheaper than conventional cars on a total cost of ownership basis by 2022.
As in our calculations, estimates like these take into consideration the total cost of car ownership, including the purchase price and depreciation, fuel, insurance, taxation and maintenance.
At the moment, almost everything depends on your resources. Start your electric journey with the knowledge that your initial financial outlay will take some years to recoup through day-to-day savings.
Our standard comparison shows you're looking at an investment that will only start paying financial dividends in 3-4 years, regardless of the environmental benefits.
But as the cost of EVs continues to come down, they'll steadily start to prove a viable alternative to petrol and diesel for more and more everyday drivers.
Keep up to date with the latest electric car developments with RAC Motoring News.